VirtueMart Templates by HotThemes
Virtuemart templates are Joomla Ecommerce templates based on popular VirtueMart component. This component is recognized as one of the most popular platforms for Joomla Ecommerce. Our VirtueMart templates have everything that you need to start your own Joomla site enabled with Ecommerce. You will get modern Joomla template design and VirtueMart template design. HotStart installer is in every template package.
VirtueMart templates are bundled with appropriate Joomla templates for the best experience of your web shop. You can't use our VirtueMart templates with your existing Joomla template. On the other side, you can use those templates even if you don't need VirtueMart component.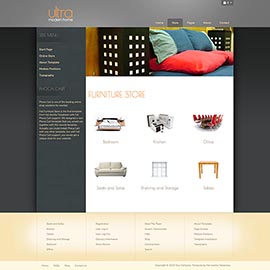 This is our very first template with support for the popular e-commerce component VirtueMart. Inside the template package, you will find the VirtueMart template that you would use together with this Joomla template. Full VirtueMart compatibility of the HOT Furniture Store creates an unique style throughout your e-store.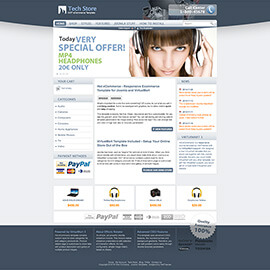 What's important for a site that sells something? Of course, to put what you sell in a striking position. Not to be swamped with graphics, but to allow visitors quick and easy shopping. Joomla eCommerce template - Hot eCommerce is exactly like that. Clean and fully customizable.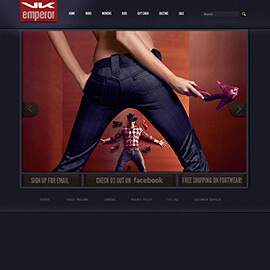 Our third release for popular e-commerce component VirtueMart. This time, the theme is Joomla fashion store. Therefore, we "tailored" the template with modern strong backgrounds, in the forms of denim, leather and blue textile. The start page is simple and reduced: it's main purpose is just to welcome your visitor/buyer.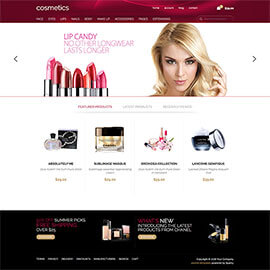 For the hot summer days, while you are looking for sunscreen sprays and lotions, we released another hot Joomla template with support for VirtueMart e-commerce component. Our fourth virtual store template is dedicated to the cosmetics web stores.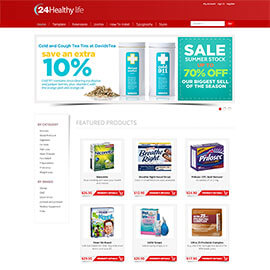 We filled the online store with pharmaceutical products, such as drugs, preparations and medical devices. Those products are often sold online and there are many websites that's primary business is to sell products that improve health.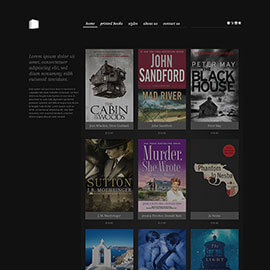 Selling books online is one of the oldest online business activity. Just remember the time when Amazon or Barns and Noble were starting their businesses. They were selling just books.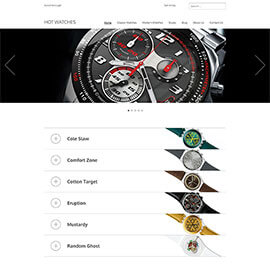 Hot Watches is responsive e-commerce Joomla template (powered by VirtueMart) for online stores that sell watches or any other kind of products that you can think of.