Sparky "knows" what menus you created within Joomla Menu Manager. For each of them, you can assign various menu systems and then control the menu system's parameters for this menu.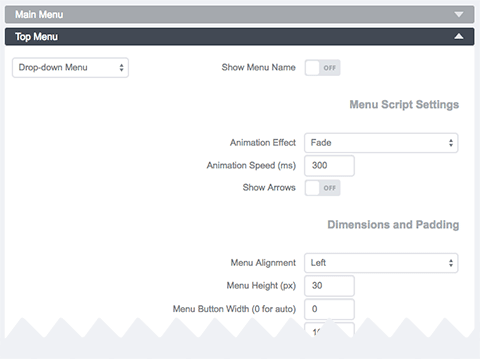 Menus are collections of links used as navigation throughout your website. Sparky helps you to make your navigation better. It lists all of the menus available in your Joomla. For each menu, you can select whether to control its appearance through Sparky or not.
It's possible to select several menu types, such as drop-down menu, classic menu (aligned vertically or horizontally), accordion menu and horizontal menu. Each of those menu types has its own settings, so you can control everything under the Menus tab of Sparky Framework.
You can also control your menus yourself by writing custom CSS code, and in this case simply select None for any menu type which will tell Sparky not to handle layout of that menu. This option is selected by default after initial installation of Sparky.
Another interesting option regarding menus is under the Responsive tab. If you have drop-down menu in your site, Sparky can convert it into the selectbox which is appropriate layout for users who access your site with mobile devices.
Video Tutorial
The following video tutorial explains how to control menus within Sparky. It's assumed that you have a Joomla menu (with submenu items) and a module assigned to this menu. The module position of this menu module is available in the site skeleton (Layout Builder).
Configuration of top menu with drop-downs and classic menu