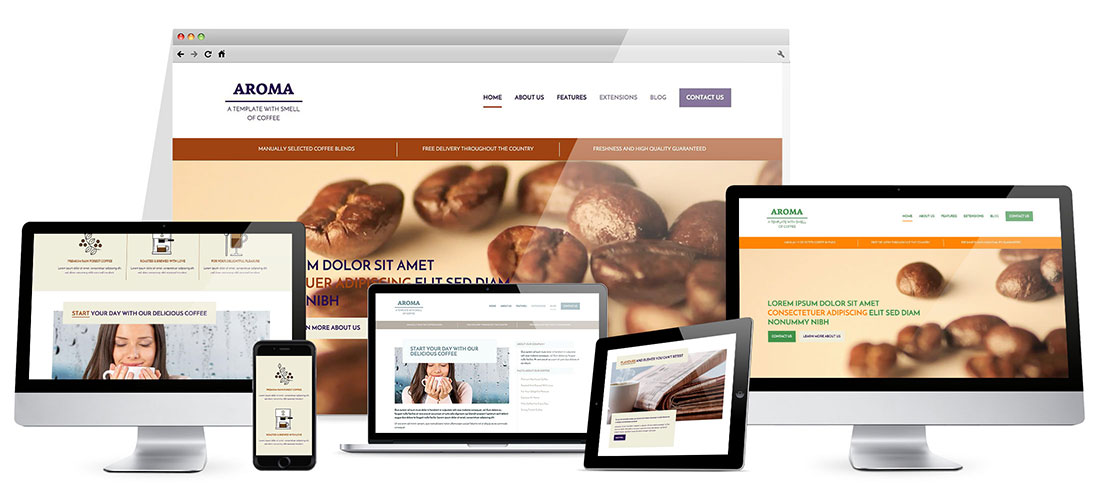 The main inspiration for making the Hot Aroma template we found in our favorite beverage. Coffee keeps us focused after hours of hard work. It helps us to make all these responsive Joomla templates that our customers love! This template includes a big video with a position for text over the video on the home page. Also, there are many CSS animations that open the site content smoothly.
Hot Aroma contains 3 articles on the home page (this number can be changed). Each of these articles contains one big image. The heading text and intro text are positioned in an unusual and interesting way and they are also animated. To make the layout of the content area even more interesting, the odd and the even articles have intro text positioned differently.
The inner pages have less number of elements. However, these pages include the right column where you can place some of your modules. All necessary modules that you may find useful for the functioning of your site are also included with this template (although you can't see them on the home page). Coffee Joomla template Hot Aroma is also equipped with responsive carousels, responsive lightbox galleries, and maps module.
Template Key Features
Hot Aroma is another responsive Joomla template based on Sparky Framework and here's the list of the template's most important features:
Responsive template, based on clean HTML5/CSS3 code, and powered by Sparky Framework for Joomla.
CSS3 and jQuery based animations welcomes visitors of your site.
5 pre-defined color styles. All colors are easily customisable from the Sparky options (infinite color options).
Customisation of the template's layout and adding/removing module positions is easy. It's powered by Sparky's drag and drop Layout Editor. Change layout and element's dimensions easily whenever you need.
One of the module positions is reserved for your HTML5 video.
We included several responsive Joomla modules with this template. Hot Swipe Carousel, Hot Slicebox, Hot Responsive Lightbox (with special hover effects) and Hot Maps v2.0 module. All these modules are included with this template without additional fees (you save $19 per commercial module).
HotStart (SQL dump) available with both single purchase or membership plan. It copies template with all extensions and demo pages easily.
Unlimited number of module positions can be added easily within Layout Editor of Sparky Framework, if needed.
PSD source file and fonts are included.
Total control of all menus through the framework. You can set functionalities and style of all your menus and drop them directly into the layout. Top menu with drop-down sub-levels is included. Two top menus are joined and converted to a button for easier navigation on the mobile devices.
This template has been tested with Chrome, Edge, Firefox, IE9+, Opera and Safari browsers on PC and Mac computers. It's also tested on iOS and Android mobile devices.
Support for RTL (right-to-left) languages.