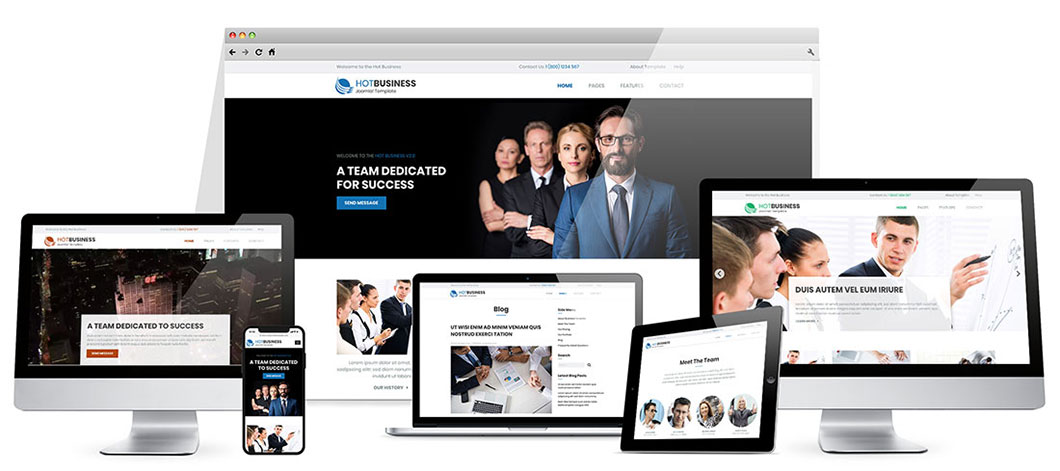 A theme for any kind of business website with 3 home page variants. It's a responsive, SEO-ready WordPress theme, and fully compatible with block editor. All content that you see on our demo can be edited simply using the WordPress blocks editor.
The Hot Business theme includes 3 pre-made home pages for your website. The first has a static hero image with call-to-action text. The second contains a carousel plugin with multiple slides. The third home page variant has a video background with some text over it. Besides the home page variants, this theme also includes many other pages that you may find useful for your website. These pages are the Team page, Portfolio page, Pricing page, FAQ page, etc.
Business WordPress theme is fully responsive and it's optimized for all kinds of popular mobile devices, including tablets and smartphones. The theme layout is responsive-friendly and looks good on all resolutions. Also, the included carousel plugin recognizes touch gestures.
Gutenberg-ready WordPress theme
This theme allows you to edit rich content easily using Gutenberg, the new WordPress blocks editor. All demo posts and pages are made in this editor.
Therefore, by using the Business WordPress theme, you will future-proof your website. The new Gutenberg editor is a part of WordPress core since version 5.0. You don't need any other commercial page builder plugins anymore.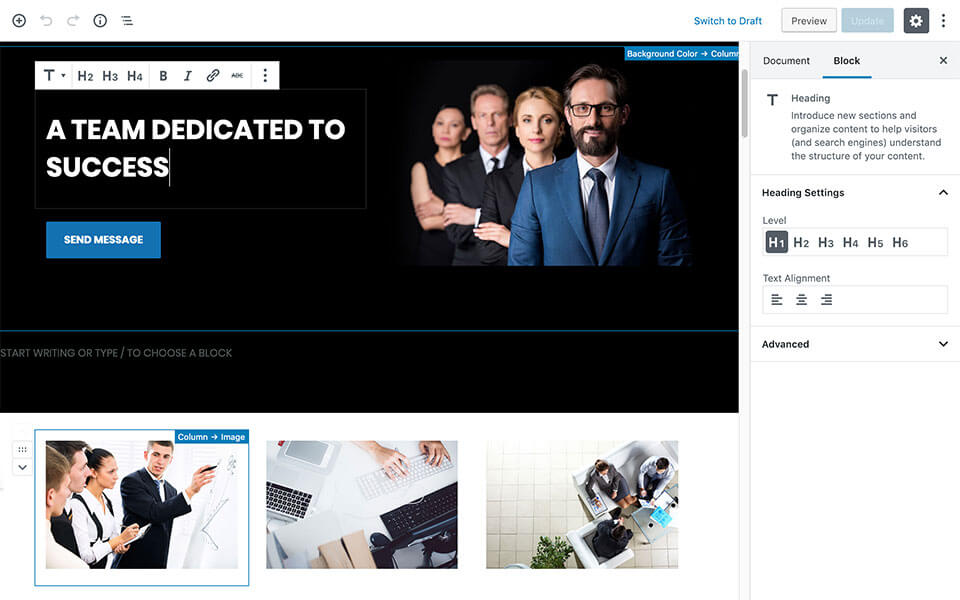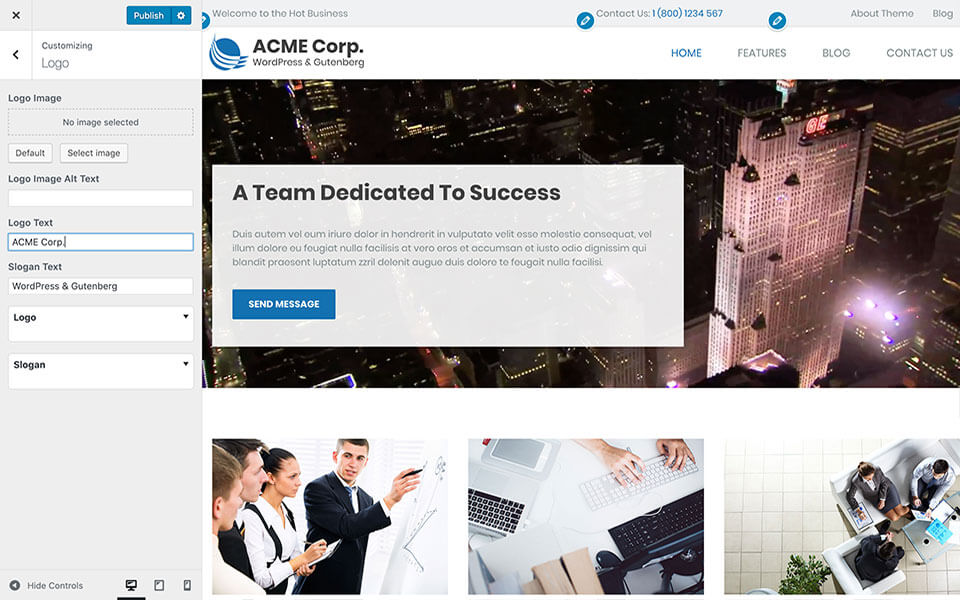 Theme Options from Customizer
It's worth mentioning that the Business WordPress theme is fully compatible with WordPress Customizer.
You can select fonts (Google collection of 800+ free fonts), control colors, set the menus, etc. and see the results of your actions live! There are 4 pre-made color variants included with this theme: Blue, Green, Bronze, and Red. However, you can create your own color combinations through the control panel. Also, from the same place, you can control the layout of the theme. Using a drag-and-drop user interface you can add more widget positions to the theme and other elements.
Hot Blocks Plugin
This theme is 100% Gutenberg-ready and to achieve this, the Hot Blocks plugin with all needed blocks is included with the theme.
It's already mentioned that all content of the theme can be edited using the Gutenberg editor. You can see how all core blocks look and work with this theme. In addition, the Hot Blocks brings some new blocks, like Parallax block, Header block, Accordion block, and many others.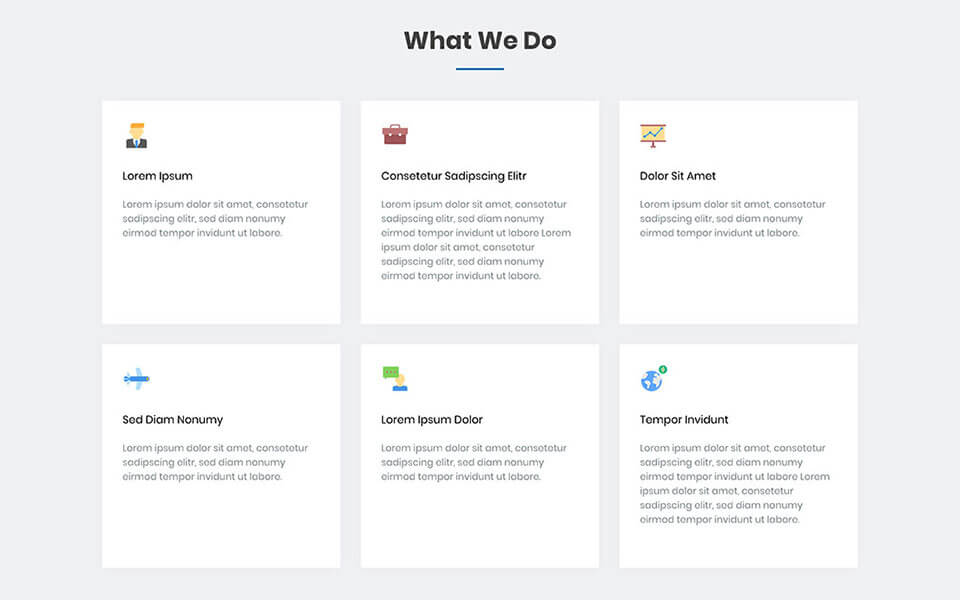 Business WordPress Theme Screen Shots
The following screenshots show several pages of the Business theme.
Theme Features
This theme is based on a clean and valid HTML and CSS code. We tested it using the W3C validation tool to make sure it's 100% free of errors.
Hot Business is a 100% responsive WordPress theme. This means it will look good and be optimized on all personal computers, as well as mobile devices (tablets and smartphones). The theme layout is adapting to the available screen space. The menu will be converted to a button on smaller resolutions.
Layout Builder is where you control the theme layout in a few simple steps. Click the "Add Row" button to make some rows. All widget positions and special elements are represented as cells. Drag some of them into the rows. Add a specific name and/or class to any row to select it and style it through CSS. In the background, the theme creates your layout fully automatically accordingly to the settings from the Layout Builder.
Tons of options are reachable via the WordPress Customizer. You can change the logo, background image, all fonts, menus and other aspects of your site and watch the results of all your actions live before saving any changes!
Compatible with new WordPress blocks editor (Gutenberg). All demo posts and pages are created with this editor and can be edited easily. Try editor
This theme is shipped with demo data. If you follow our simple instructions, you will get a pixel-perfect copy of our demo site.
Our products are well-documented, but if you run into the problems with theme installation or usage, simply post your question and our support staff will help.
Tested with Google Chrome, Mozilla Firefox, Microsoft Edge, Apple Safari, and Opera browsers. Tested on Apple iOS and Android mobile devices. Support for RTL (right-to-left) languages.
This theme is shipped with PSD files and fonts. If you need to modify our design or any part of the theme, it can be done in Photoshop, using the source files.
This theme is shipped with sets of .mo and .po files that can be used to translate the theme. Also, the theme works with RTL languages.
All the plugins that you can see on the demo are included in the price. If you install the theme with demo data, all plugins will be installed as well.
This theme contains 15 positions where you can place your WordPress widgets. The detailed "map" of all widget positions is available in the theme options panel.
This theme has an integrated responsive top menu script with support for multiple levels. Sub-levels are displayed as drop-down panes.
All themes found on this site are tested thoroughly using the latest WordPress version. Any discovered incompatibility issues will be fixed as soon as possible.
The full collection of 800+ Google web fonts is available. Fonts can be selected easily, through the WordPress Customizer.