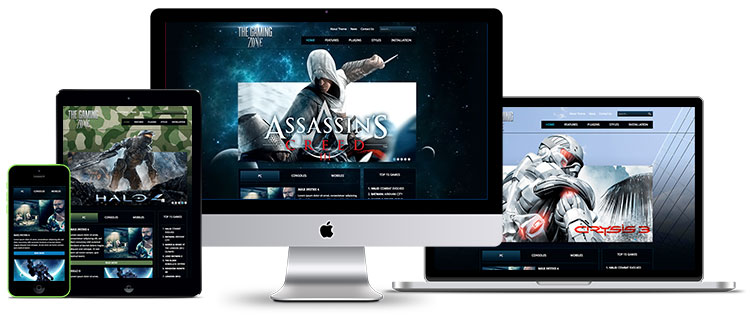 The Hot Gaming Zone is a responsive WordPress theme appropriate for portals related to the gaming industry or for websites about video and mobile games. The dominant place of the WordPress gaming theme is reserved for slideshow. This is a collection of transparent images that represent heroes from video games. These slides can be used as intros to the posts that describe new video games.
On the home page, we used the Hot Effects Rotator plugin. A similar effect can be also achieved with the Hot Slicebox plugin (both plugins are included in the theme package).
News portals present articles related to various topics. Therefore, we categorized the posts on our WordPress gaming theme into 3 tabs. In our demo, those tabs are PC, Consoles, and Mobiles. You can pick categories that are appropriate for your news portal here. Each of these tabs will show posts from the selected category. This can be done easily thanks to the Hot Cat News plugin. These plugins are included with the Hot Gaming Zone theme.
WordPress gaming themes usually show a list of popular games. Before the main content area with the latest posts, Gaming Zone includes the Hot Film Tape widget. It rotates multiple images at the same time. In this theme, we used this responsive plugin to show the boxes of the latest video games. This theme can have one, two or three columns. The middle column is always used for the main content from WordPress, while the other one or two displays the widgets.
We did our best to make this theme as mobile-friendly as possible. When accessing any responsive WordPress gaming themes with a mobile device, the user expects a good UI. Depending on the screen size, this theme will change its layout. We tried to allow users to access all the areas of the news portal easily using tablets and smartphones, and to read the posts with pleasure.
Responsive Theme
Hot Gaming Zone is a responsive WordPress theme. This means it will look good and be optimized on all desktop and notebook computers, as well as mobile devices (tablets and smartphones).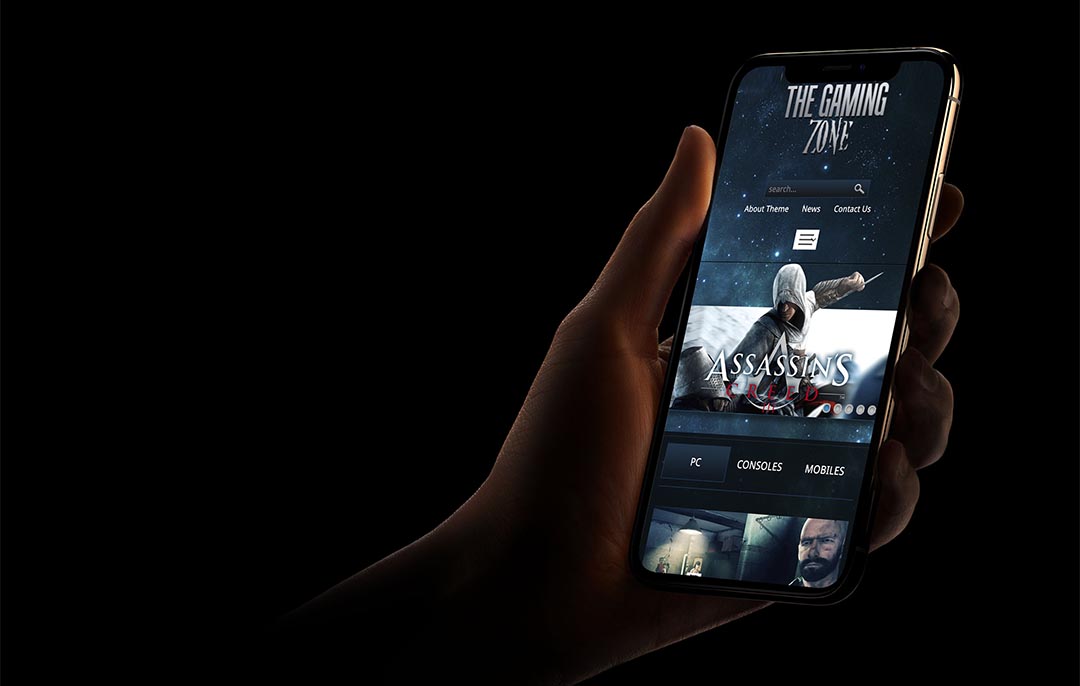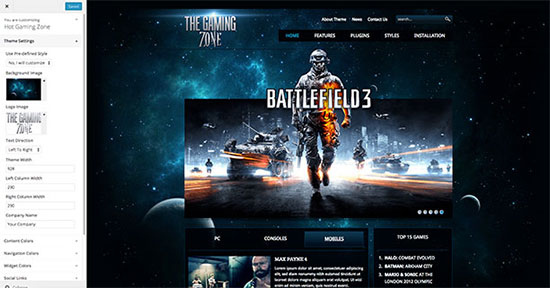 Live Customizer Supported
Gaming Zone WordPress theme supports WordPress Live Customizer.
You can set all options of this theme from the Live Customizer pane and see the results of your settings live. There's no better and no faster way to tweak your site. You can enjoy this unique feature of WordPress altogether with our theme. Change of logo or background image or set different font color is now just one click away.
Gaming Zone WordPress Theme Screen Shots
The following screenshots show several pages of the Gaming Zone WordPress theme.
Theme Features
This theme is based on a clean and valid HTML and CSS code. We tested it using the W3C validation tool to ensure it's 100% free of errors.
The Hot Gaming Zone is a responsive WordPress theme for gaming portals. This means it will look good and be optimized on all desktop and notebook computers, as well as mobile devices (tablets and smartphones). The theme layout will be adapted to the screen size. The menu will be converted to a button on smaller screens.
Support for WordPress Customizer.
This theme is shipped with demo data. If you follow our simple instructions, you will get a pixel-perfect copy of our demo site.
Our products are well-documented, but if you run into the problems with theme installation or usage, post your question and our support staff will help.
Tested with Google Chrome, Mozilla Firefox, Microsoft Edge, Apple Safari, and Opera browsers. Tested on Apple iOS and Android mobile devices. Support for RTL (right-to-left) languages.
This theme is shipped with PSD files and fonts. If you need to modify our design or any part of the theme, it can be done in Photoshop, using the source files.
This theme is shipped with sets of .mo and .po files that can be used to translate the theme. Also, the theme works with RTL languages.
All the plugins that you can see on the demo are included in the price. If you install the theme with demo data, all plugins will be installed as well.
This theme contains 16 positions where you can place your WordPress widgets. The detailed "map" of all widget positions is available in the theme options panel.
This theme has an integrated responsive top menu script with support for multiple levels. Sub-levels are displayed as drop-down panes.