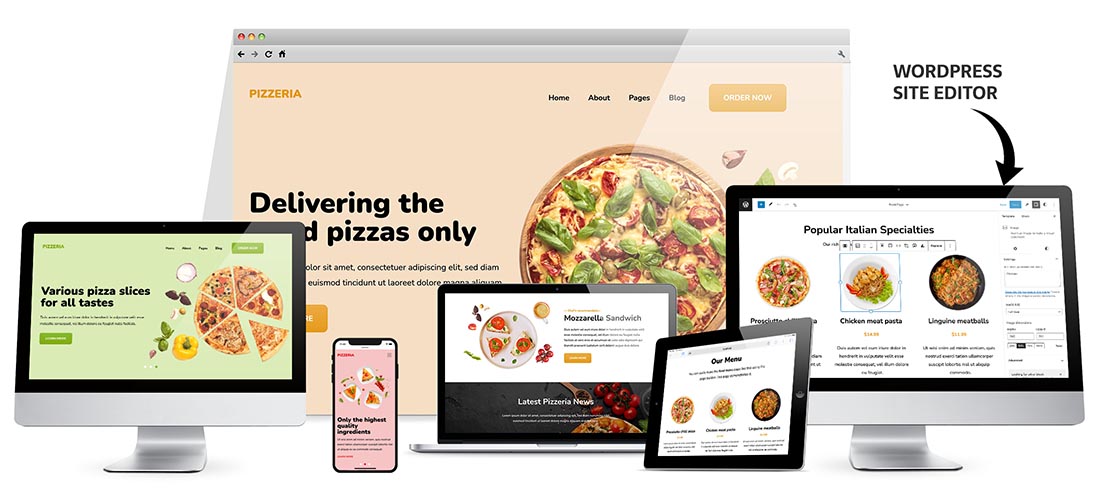 Responsive WordPress block theme Pizzeria is suitable for websites for pizzerias, restaurants, fast-food restaurants, and similar websites related to food and drink. The front page template includes a slideshow with images and text, several sections with featured and most popular products, and a news section. The interior page templates include designs for pages that most pizzeria websites would have, such as menus, short bios of chefs, pricing, and guests' testimonials.
A pizzeria is a restaurant or establishment that specializes in making and selling pizzas. Pizzas are typically made with a thin, round crust and topped with tomato sauce, cheese, and various ingredients such as meats, vegetables, and spices. Pizzerias may also offer other Italian dishes such as pasta, salads, and desserts, but pizza is usually the main attraction. Pizzerias can range from small, family-owned shops to large chain restaurants, and they are popular all over the world.
The Pizzeria theme is developed as a block WordPress theme. The idea behind this technology is to allow webmasters and control all aspects of their websites without writing a single line of code. All these features are bundled into WordPress and it's not necessary to purchase any additional software or to buy expensive licenses.
For Block Editor and Site Editor
The Pizzeria block theme is developed to work with the WordPress block editor (Gutenberg) and site editor. You can use the editor to edit your content pages and to edit the front page, page templates, archive templates, post templates, etc.
Edit all aspects of your site without writing a single line of code. And above all, this editor is a part of WordPress. You don't need to buy any additional software.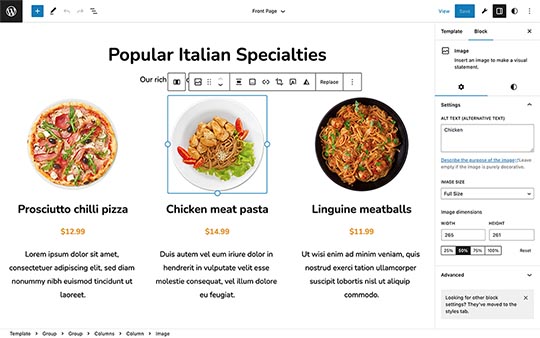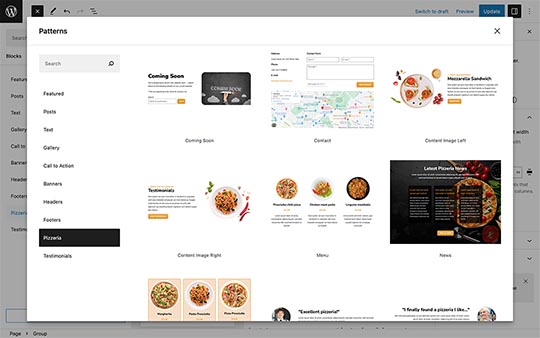 12 Block Patterns Bundled
Each theme section from both the home and interior pages is created as a block pattern and bundled into the theme. Overall, there are 12 patterns bundled with the theme. All you need to do to include a pattern on a page is to find it and click on it.
A pattern is actually a group of blocks. Once you have it on your page, you can edit them easily and replace demo text and media with your real content.
Header & Footer Template Parts
The template parts are supported by the Pizzeria block theme. The header and footer template parts are provided with the theme. If you edit anything in the header or footer from the site editor, your changes will be automatically applied to all pages.
And that's not all. You can also duplicate the existing template parts and create your custom headers and footers.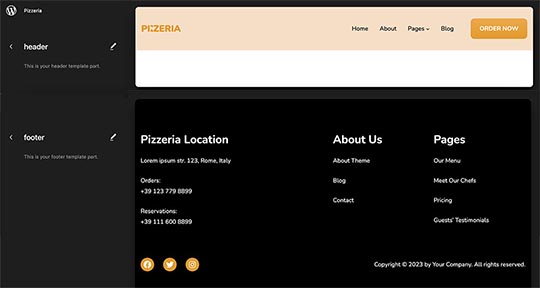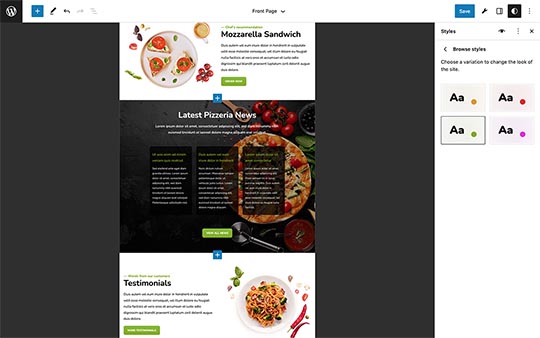 4 Color Styles
Four different color styles are included in this theme. Besides the original color style, additional styles are included as JSON files in the theme, so you change the theme style from the Site Editor. The changes will be applied automatically throughout the site.
Additionally, you can customize the colors and create your own color sets from the same place. Match your brand colors with the theme colors in just a few clicks.
Smart Slider
A powerful and user-friendly plugin that allows you to create slideshows visually without coding.
This popular free plugin is one of the recommended plugins for making slideshows with the Pizzeria block theme. Thanks to this plugin, you can customize our demo slideshow. The demo slideshow can be imported into your Smart Slider installation using the provided file.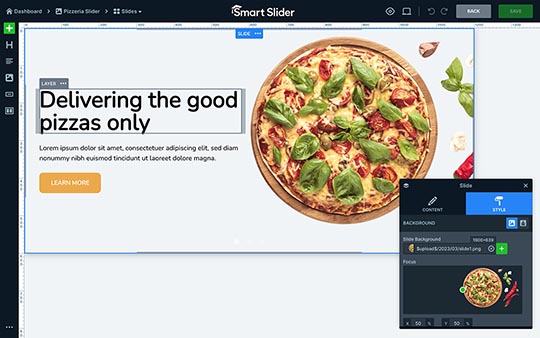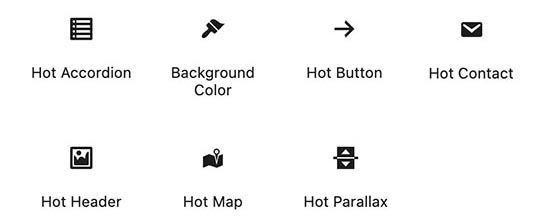 The Hot Blocks Plugin
Besides the plenty of content blocks that are available in WordPress, it's also possible to add customized blocks for specific use cases.
Therefore, we bundled this theme with our Hot Blocks plugin that adds several new blocks. In this theme, we are using the Contact block (for the contact form) and the Map block (to show the location of the pizzeria).
Pizzeria Theme Screen Shots
The following screenshots show several pages of the Pizzeria theme.
Theme Features
Responsive template, based on clean and valid HTML and CSS code. We tested it using the W3C validation tool to ensure it's 100% free of errors.
Compatible with the new WordPress blocks editor (Gutenberg). All demo posts and pages are created with this editor and can be edited easily.
This theme is shipped with demo data. Block patterns are bundled into the theme and you can include them on any of your pages.
The Smart Slider plugin is bundled with the theme. It lets you create slideshows from a user-friendly environment. Demo slideshow is available for import.
The Hot Blocks plugin is bundled with the theme. It adds several new blocks and functionalities to the theme.
This theme has an integrated responsive top menu with support for multiple levels. The top menu is fully responsive.
PSD source file and fonts are available.
All themes found on this site are tested thoroughly using the latest WordPress version. Any discovered incompatibility issues will be fixed as soon as possible.
Tested with Google Chrome, Mozilla Firefox, Microsoft Edge, Apple Safari, and Opera browsers. Tested on Apple iOS and Android mobile devices. Support for RTL (right-to-left) languages.