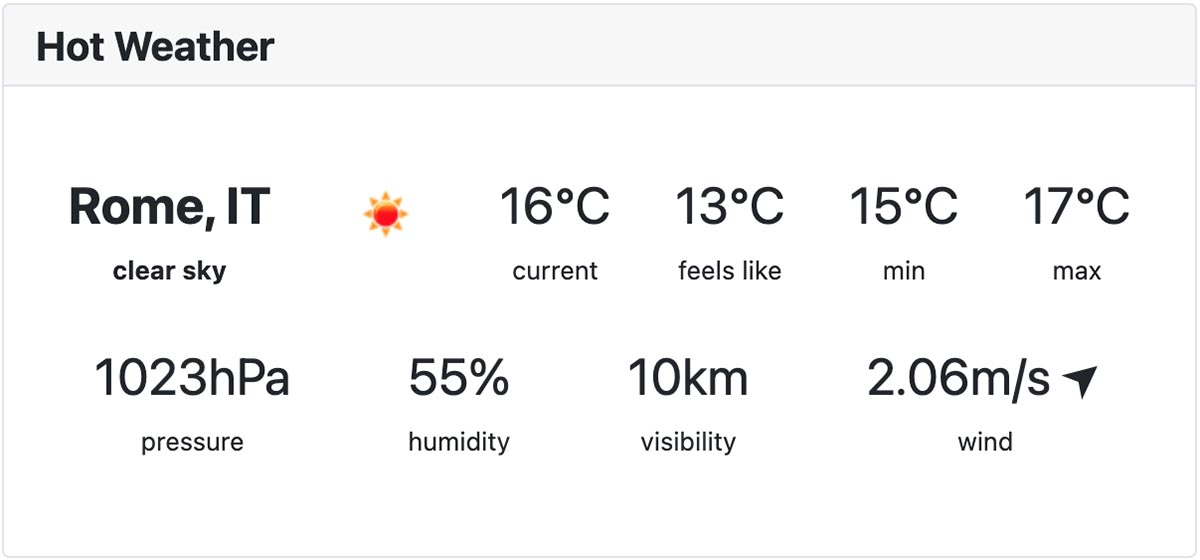 Joomla Weather module Hot Weather can help you to inform your visitors about weather conditions for the selected city. Just enter your ZIP code and select simple mode or 3D mode and you're done! You can also select units (Fahrenheit or Celsius) of your preference.
As always, this module is XHTML/CSS compliant and cross-browser compatible, tested on IE6+, Firefox, Opera, Google Chrome and Safari. Let there be sun!
Usage Instructions
Open Joomla Weather module parameters in Extensions > Module Manager > Hot Weather. You'll see that some default parameters are already there. However, you should change some of them to accommodate module for usage on your site.
DISPLAY TYPE: Select whether to show weather conditions as a small widget with current weather conditions or as a 3D animation with weather forecast.
UNITS: Select whether to show temperature as Fahrenheit or Celsius degrees.
LOCATION: Enter ZIP code if you want to show weather for an USA location, or follow instructions to obtain city codes for other countries.
Locations Outside of the USA
This module can show weather for (almost) all locations worldwide. However, you must enter your city code, not city name in the module parameters. To obtain your city code, please do the following:
Go to http://www.weatherlet.com and type your city name in search box. Weather conditions for this city will be shown. Make sure it's the location you need.
In the left column, under Weather Forecast, you will see three links for your location. Each of these links contains locid parameter (combination of 8 letters and numbers). This is the code that you need for your area. Copy this code in module parameters to get weather conditions for your city.
Change log
Version 1.0.0 (2009/11/12)
Initial release. We will add more weather providers in future release. Please contact us if you encounter any bugs.

Credits
The Hot Weather module is powered by: