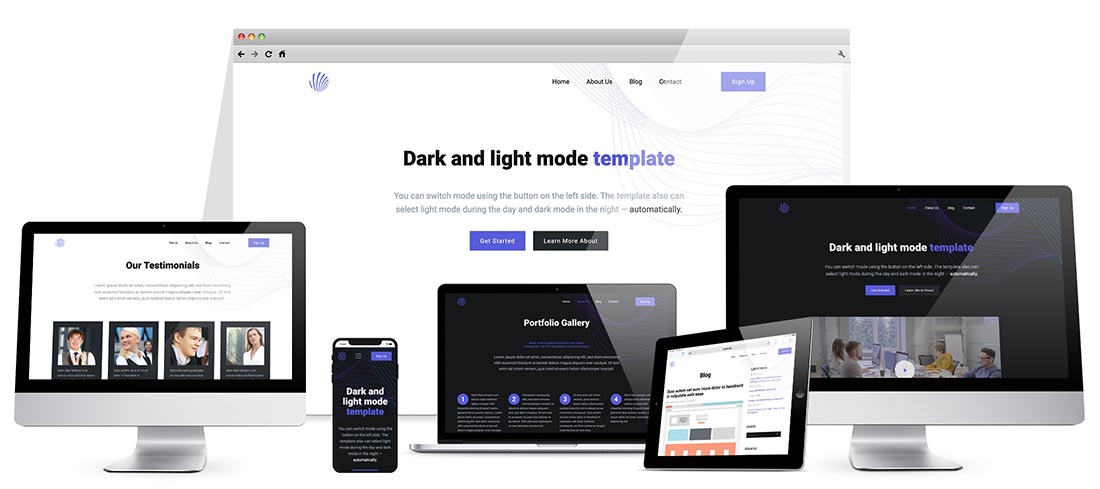 Long-term screen viewing can be tiring for our eyes. A strong contrast between the environment color and the color of our screen speeds this process up dramatically. Therefore, some apps use the so-called dark mode to display light text on a dark background during the night, and light mode to display dark text on a light background during the day. Products for web apps and websites led by this principle are still rare. We are trying to fix this with this responsive Joomla template.
The Dark Mode is a Joomla template with a built-in function that applies special styles to the website depending on the time of the day. During the day, your website will have a light background with dark text and elements with an accent color. During the night, your website will be transformed. It will have a dark background with light text and elements with the same accent color. The mode used will be determined by the time on the visitor's computer.
Although this is the most significant feature of the Dark Mode Joomla template, it's just one of the features. The content of this template is clean, eye-pleasant, and optimized for desktop and mobile devices. You can edit everything easily using just Joomla's default editor. There are 5 styles available. Each style is based on a different accent color.
All interior pages that you might need for the development of a portfolio website are included with this template. The pages included are: Meet the Team, Portfolio Gallery, Client's Testimonials, Pricing, etc. A fully functional Blog page based on Joomla is also included. Four of our premium Joomla extensions are included for free with the Dark Mode template.
Edit the Content Visually
All content that you see on the demo of the Dark Mode template comes from Joomla! articles or modules. Therefore, you can edit everything visually using our Sparky Page Builder (provided with the template). The content is editable from both the backend and the front end. You can rest assured that your website will be compatible with the future major versions of Joomla!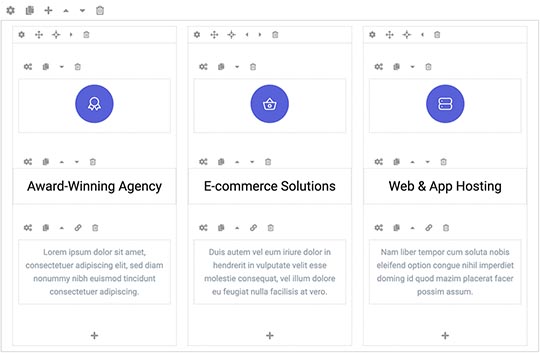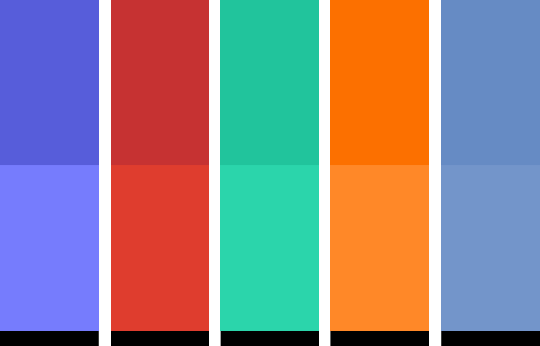 5 Accent Colors
This template is available in 5 different styles. Each style is based on a different accent color and slightly different background images and logos. It's easy to create your own color schemes through the template framework.
The Sparky Framework
The backend of the Dark Mode Joomla template is based on the Sparky Framework. Using a drag and drop technology you can create or edit website layout and other template elements (module positions, menus, logo, special features, etc.). This is also the place where you can visually change the font colors and text styles using a collection of 800+ Google fonts.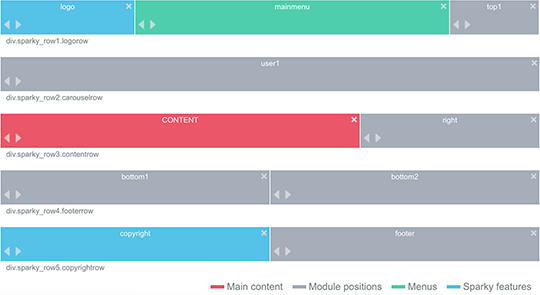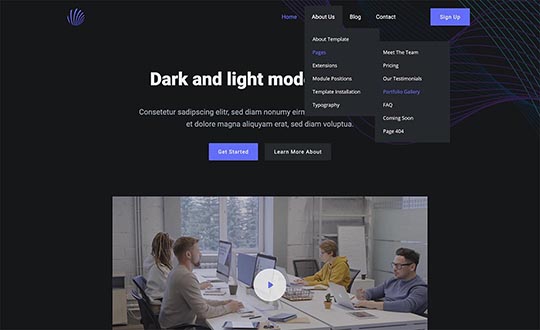 Drop-down Menu
This responsive template has a top menu with submenu items on multiple levels. The sub-menu panes open on mouse-over on desktop. The menu is fully responsive and it's converted to a responsive menu that's easy to handle on tablets and smartphones. All menu options (colors, fonts, sizes...) are parametrized.
Dark Mode Template Screen Shots
The preview images show 4 pages of the template in both light and dark modes.
Template Features
Responsive template, based on clean CSS/CSS3 code, and powered by the Sparky Joomla template framework.
5 pre-defined styles with different colors. Each style comes with dark and light modes. All colors are easily customizable in Sparky options (infinite color options).
Customization of the template's layout and adding/removing module positions is easy. It's powered by Sparky's drag and drop Layout Editor. Change the layout and element's dimensions easily whenever you need.
Hot Swipe Carousel, Hot Maps, Hot Slicebox, and Hot Responsive Lightbox are included with the template. All commercial modules included in this template are free for you if you buy the template (you save $15 per module). All extensions are pre-installed and configured.
All demo content can be edited visually, using our Sparky Page Builder. Compatibility with all future Joomla! versions is guaranteed!
HotStart (quick start installation) is available with both a single purchase or membership plan. It copies the template with all extensions and demo pages easily.
10 module positions are used in our demo. An unlimited number of module positions can be added easily within the Layout Editor of the Sparky Framework if needed.
A selection of 800+ Google Fonts is available through the template options panel. The latest version of the Font Awesome icons collection is included.
PSD source file and fonts are available.
The top menu system with the presentation of the menu items in multiple levels in the drop-down panes.
Tested with Google Chrome, Mozilla Firefox, Microsoft Edge, Apple Safari, Opera, and IE10+ browsers. Tested on Apple iOS and Android mobile devices.
Support for RTL (right-to-left) languages.