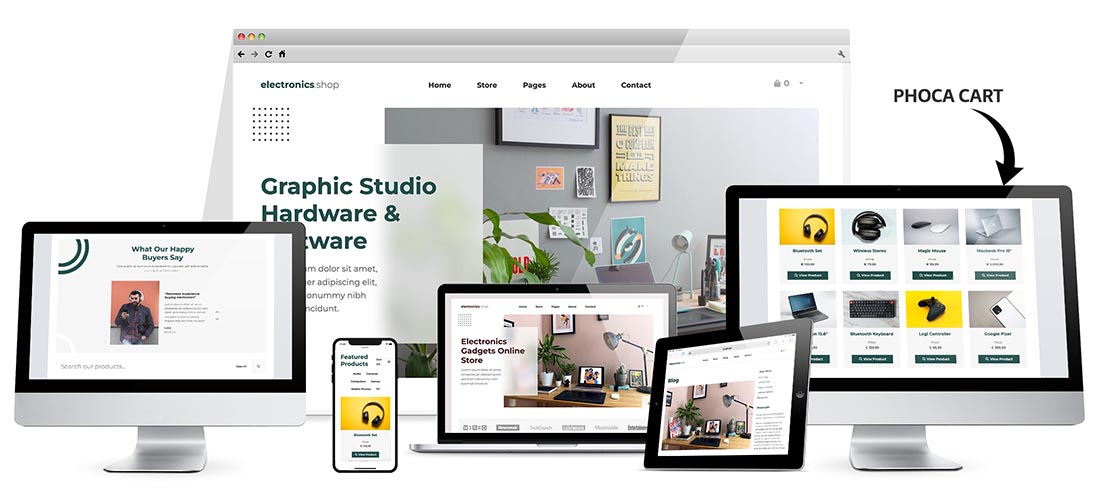 Electronics and gadgets are often sold online and delivered to buyers. Numerous online shops for electronics are therefore available in all countries of the world. The Electronic Shop responsive e-commerce template lets you create such an online shop using Joomla with Phoca Cart extension. Without a big investment and without ongoing expenses for your online shop, you can sell electronics (or similar products) using this ready-made e-commerce website.
When we say ready-made e-commerce website, we really mean it. After the successful installation of the template, your online shop is just a few tweaks away from selling the products. Some demo product categories and products will be imported so you can start entering your own products faster. Also, online shop websites contain other important pages besides the product pages. All of them are pre-designed for you as well.
The home page of the Electronic Shop e-commerce template contains several sections. There are two carousel module instances, one on the top and another in the testimonials section. Also, besides the sections that contain static content (that you can edit with included page builder), there is also a section with featured products that comes from the Phoca Cart module.
In the design of this template, we used some modern and advanced CSS techniques. One of them is a backdrop filter that automatically blurs the image behind the text. Also, the partner logos are converted to grayscale with added opacity in the CSS filters. Therefore, you don't need to edit your images additionally to make them match the original design.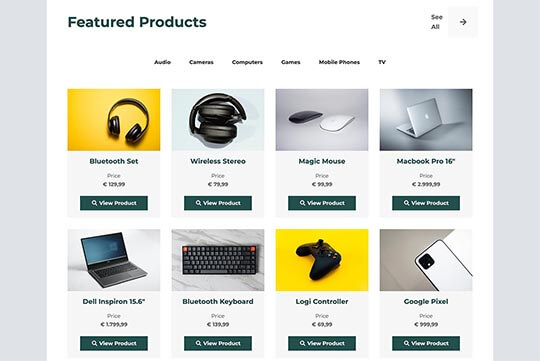 Phoca Cart
Althrough it's relatively a new player in the market of e-commerce extension for Joomla, in our opinion, this is probably the best 100% free extension for e-commerce Joomla websites.
In its numerous module and plugins, it contains all features that you might ever need for your online shop. This extension is developed in accordance with all Joomla coding principles. Thanks to this, it will be compatible with future versions of Joomla! It's designed to be intuitive, easy to use, and fast.
The Electronics Store template is powered by Phoca Cart and all the product pages that you can see in our demo are created using this extension.
Page Builder
The articles, modules, and product page descriptions can be edited with the Sparky Page Builder. This page builder helps you edit Joomla content in a visual way. It's included with the Electronic Shop e-commerce template.
Add and edit text, images, buttons, multimedia, lists, icons, and other types of blocks. Use various typographic styles visually from the page builder.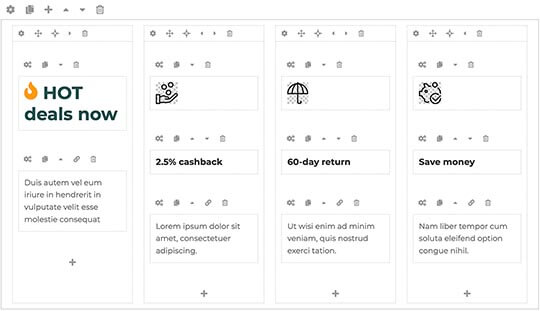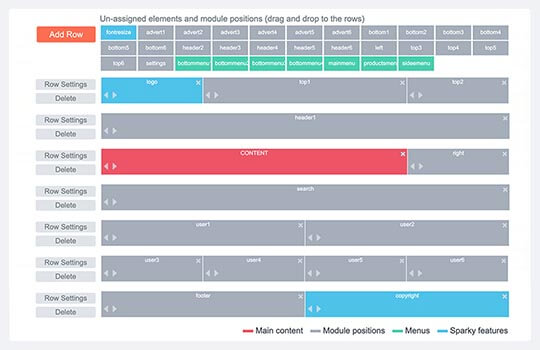 The Sparky Framework
The Sparky Framework is a parent template of the Electronic Shop template. The Electronic Shop template is developed as a child template of the framework and has all its features.
The template options let you change your website layout, select from 1000s of Google fonts, and change colors, menu, logo, etc. Based on your settings, the framework is dynamically making static CSS and Javascript files. This is the best practice for website performance and easy upgrades.
Drop-down Menu
The Electronic Shop template has a drop-down top menu with submenu items available on mouse over (or tap on mobiles).
This menu system is responsive and optimized for use on mobile devices. All the settings for the menu are in the template parameters. You can change the fonts, colors, dimensions, etc. Also, besides the drop-down menu type, the framework lets you use other menu types, such as a mega menu, off-canvas menu, static menus, etc.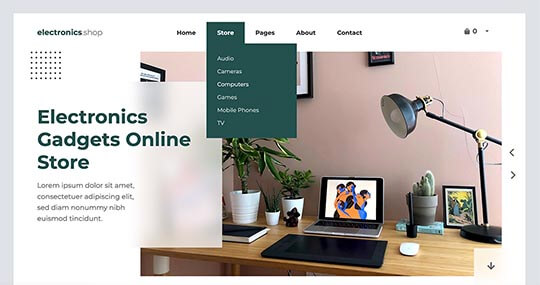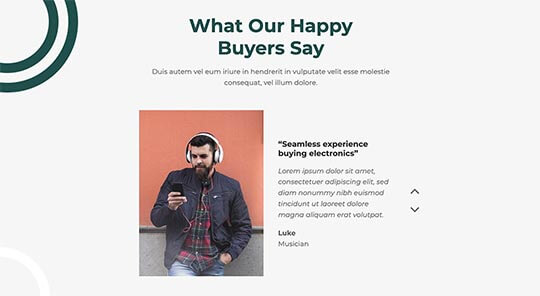 Hot Swipe Carousel
There are two instances of the carousel module on the home page. The first is on the top of the page and can be used for featured products. The second is used for the rotation of buyer reviews.
The Swipe Carousel is a responsive Joomla module that displays slide transitions with a scroll or fade effect. The slides may contain headings, text, and images.
Hot Maps
Shop owners can show the potential buyers where the shop(s) are located on the map.
The Hot Maps module will let you do it easily. All you need to do is to enter the correct address in the module or plugin's parameters.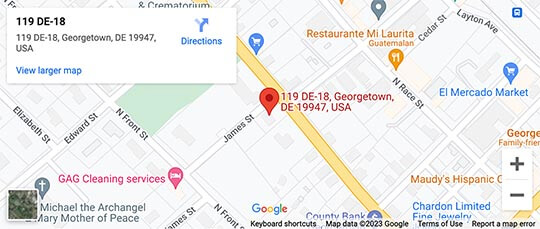 Electronics Shop E-commerce Joomla Template Screen Shots
The following screenshots show different color variants of the home page, product pages, and interior pages of the Electronics Shop responsive e-commerce Joomla template.
Template Features
Responsive template, based on clean CSS/CSS3 code, and powered by the Sparky Joomla template framework.
Customization of the template's layout and adding/removing module positions is easy. It's powered by Sparky's drag-and-drop Layout Editor. Change layout and element dimensions easily.
Sparky Joomla Page builder is included with this template. All demo content is created using this page builder. Edit and create your content effortlessly.
All colors are easily customizable in Sparky options (every color is changeable).
The compatibility with all future Joomla! versions are guaranteed!
Extensions included with template: Hot Swipe Carousel module and Hot Maps module and plugin.
HotStart (quick-start installation) is available with both a single purchase or membership plan. It copies the template with all extensions and demo pages. You can start replacing the demo content with your own content in minutes.
An unlimited number of module positions can be added easily within the Layout Editor of the Sparky Framework if needed.
A big collection of Google Fonts is available through the template options panel. The Font Awesome icons collection is also included.
PSD source file and fonts are available.
The top menu system with the presentation of the menu items in multiple levels in the drop-down panes.
Tested with Google Chrome, Mozilla Firefox, Microsoft Edge, Apple Safari, and Opera browsers. Tested on Apple iOS and Android mobile devices. Support for RTL (right-to-left) languages.