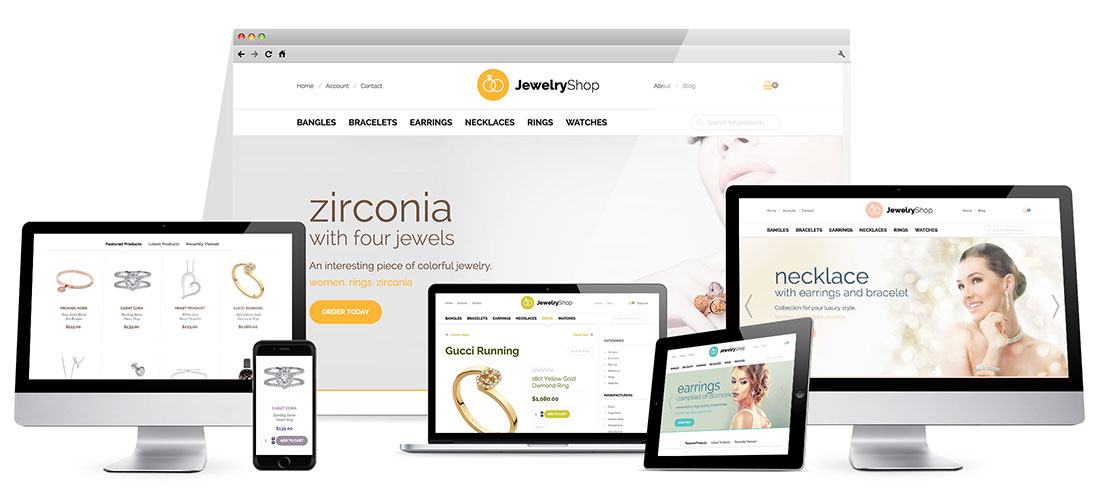 Hot Jewelry is responsive e-commerce Joomla jewelry template, powered by VirtueMart component and dedicated to online stores that sell jewelry, diamonds, watches, gem stones and similar products. After a long period of time, we decided to create a VirtueMart powered e-commerce template. This component has the largest users base in whole Joomla community, so we believe this template will be an useful tool for many e-commerce website owners.
As on our other VirtueMart templates, the Joomla Jewelry template puts the online shop's products in main focus. Regardless of the page that user is currently browsing, it's possible to add products in the shopping basket and checkout quickly with just few clicks.
The home page of the Joomla Jewelry template is reserved for a big responsive touch-friendly carousel where you can put the actual products of your store. Lower on the home page, users can use tabs to switch between featured products (that's marked as featured in VirtueMart component), latest products and recently viewed products (products that visitor recently looked).
The bottom part of the template (above the footer) is used for promotions of the current sales. It's also possible to search the entire website thanks to new Joomla Smart Search core component.
Features of the Jewelry Template
This is the list of the Hot Jewelry template's features with some technical details:
Responsive template, based on clean HTML5/CSS3 code.
E-commerce features, powered by VirtueMart component.
Customisation of the Joomla Jewelry template's layout and adding/removing module positions is easy. It's powered by Sparky's drag and drop Layout Editor. Change layout and element's dimensions easily whenever you need.
Retina ready images in articles, custom modules and carousel. Full support for modern screens with double pixel density.
We included several responsive Joomla modules with this template. Hot Swipe Carousel (retina ready and powered by CSS animations), Hot Slicebox, Hot Responsive Lightbox and Hot Maps. All these modules are included with this template without any additional fees (you save $15 per commercial module).
HotStart (SQL dump) available with both single purchase or any membership plan. It copies template with all extensions and demo pages easily.
Unlimited number of module positions can be added easily within Layout Editor of Sparky Framework, if needed.
PSD source file and fonts are included.
Total control of all menus through the framework. You can set functionalities and style of all your menus and drop them directly into the layout. This template uses Drop-down menu which allows multiple levels of menu items to be included in the drop-down panes.
This template has been tested with Chrome, Edge, Firefox, IE10+, Opera and Safari browsers on PC and Mac computers. It's also tested on iOS and Android mobile devices.
Support for RTL (right-to-left) languages.