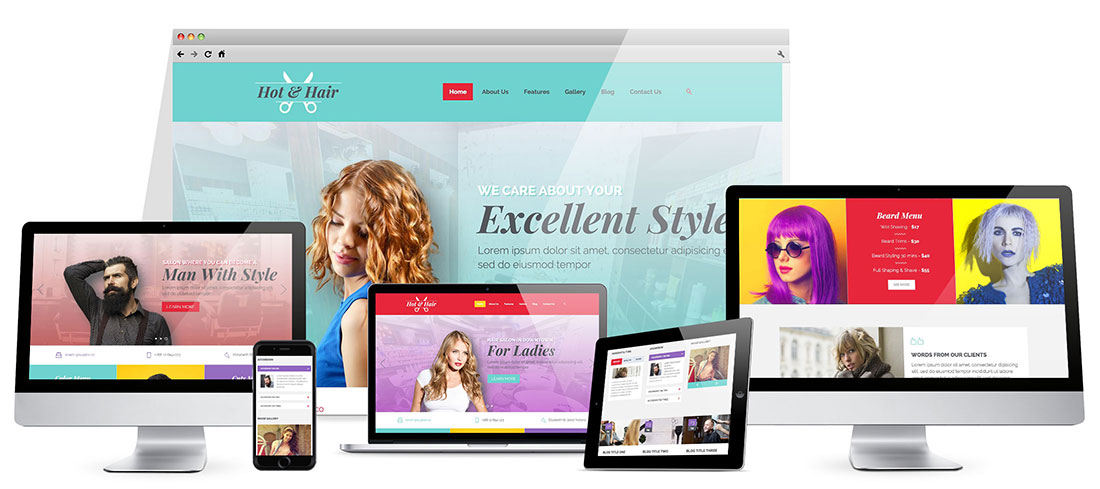 Hot Hair is a responsive hair salon template. It's appropriate for the development of websites for hair salons for ladies and gentlemen and for houses of beauty. It's colorful and fulfilled with different kind of data, especially on the home page. These data are served to the user on several different ways.
The colorful pricing tables for different services allows your clients to familiarize themselves with your services and pricing details. Information about the working hours and hair salon location are presented throughout the site in an interesting and modern way. You can see three different responsive and touch-friendly carousels in the hair salon template (hero carousel, small image gallery and testimonials carousel). All of them are actually differently styled instances of our Hot Swipe Carousel module.
Hair salon template also includes some horizontal tabs and vertical accordion, fully developed with pure CSS. You can fill them with your data appropriate for your hair salon site (or different kind of site).
Above the big map, you can see a handy contact form that allows your visitors to contact site owners from any page of the site. For needs of the hair salon template, we added two new options to our popular Hot Maps module. The first allows you to disable mouse-wheel zooming (this will improve UX). The second allows you to pan the center of the map for desired amount of pixels along the x and y axis. Also, the map on Hot Hair template has a specific color style.
Template Key Features
Hot Hair is responsive Joomla template based on Sparky Framework. This is the list of the template's most significant features:
Responsive template, based on clean HTML5/CSS3 code, and powered by Sparky Framework for Joomla.
CSS3 and jQuery based animations welcomes visitors of your site.
3 pre-defined color styles. All colors are easily customisable from the Sparky options (infinite color options).
Customisation of the template's layout and adding/removing module positions is easy. It's powered by Sparky's drag and drop Layout Editor. Change layout and element's dimensions easily whenever you need.
We included several responsive Joomla modules with this template. Hot Swipe Carousel, Hot Slicebox, Hot Responsive Lightbox (with special hover effects), Hot Maps v2.0 and Rapid Contact module. All these modules are included with this template without additional fees (you save $15 per commercial module).
HotStart (SQL dump) available with both single purchase or membership plan. It copies template with all extensions and demo pages easily.
Unlimited number of module positions can be added easily within Layout Editor of Sparky Framework, if needed.
PSD source file and fonts are included.
Total control of all menus through the framework. You can set functionalities and style of all your menus and drop them directly into the layout. Top menu with drop-down sub-levels is included. The top menu is converted to a button for easier navigation on the mobile devices.
This template has been tested with Chrome, Edge, Firefox, IE9+, Opera and Safari browsers on PC and Mac computers. It's also tested on iOS and Android mobile devices.
Support for RTL (right-to-left) languages.