Real Estate Template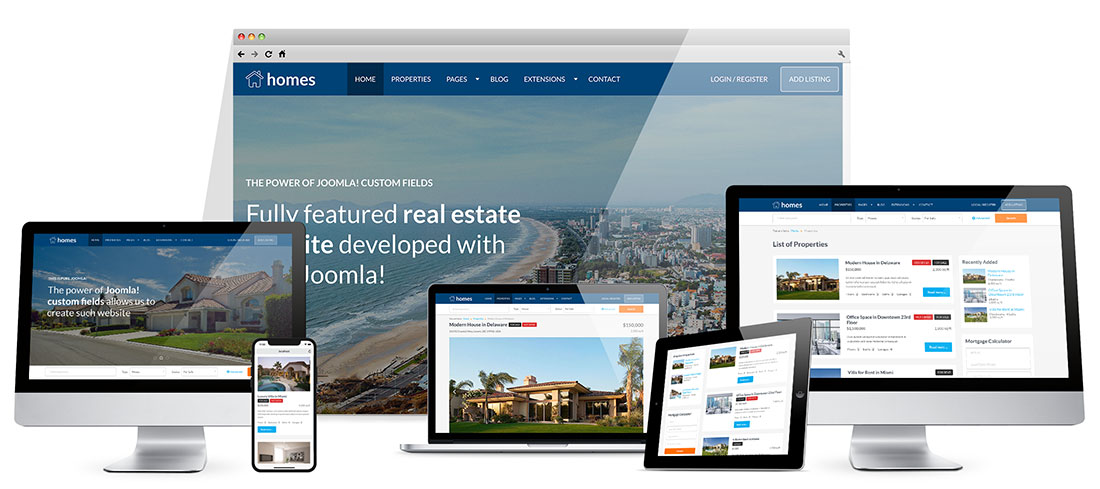 View Demo Download Purchase Homes $39 Get All Templates $49
The Hot Homes is a responsive real estate template for Joomla! It extensively uses a relatively new Joomla! feature: Custom Fields. Thanks to this powerful core feature, our template has everything that's needed for development of a complex real estate agency website. Additional extensions are not necessary! Everything you need is Joomla! and this template.
It's easy to add new properties as well as edit them via backend or front-end of your site. All property listings are actually Joomla! articles and real estate agents are Joomla! users. Additional data to the articles and users are added through the custom fields.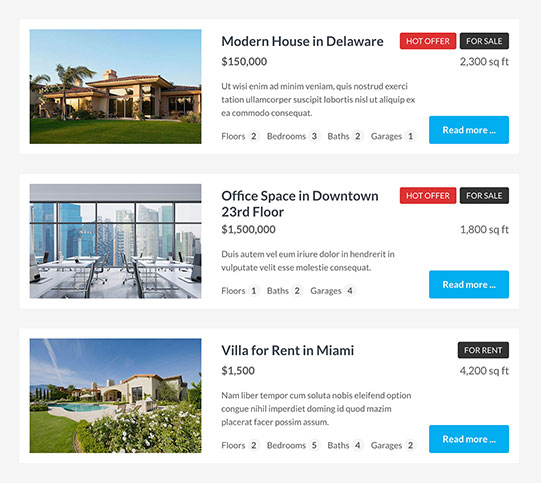 Detailed Information About Properties
Custom Fields are new and probably the most powerful feature of Joomla! It allows us to attach some additional pieces of information to the articles and users. There are various types of Custom Fields. They can be simple, like description text, price, area. But, they can also be more complex.
There are different types of custom fields. They can be in the form of select box (sale or rent), checkbox (hot offer, available features, etc.) or media field (carousel images, floor plans and video). This feature is a part of Joomla! core, so you don't need any additional extensions. Therefore, compatibility with future Joomla! versions is guaranteed! Check the following infographic to learn how the custom fields are related to the property listing elements.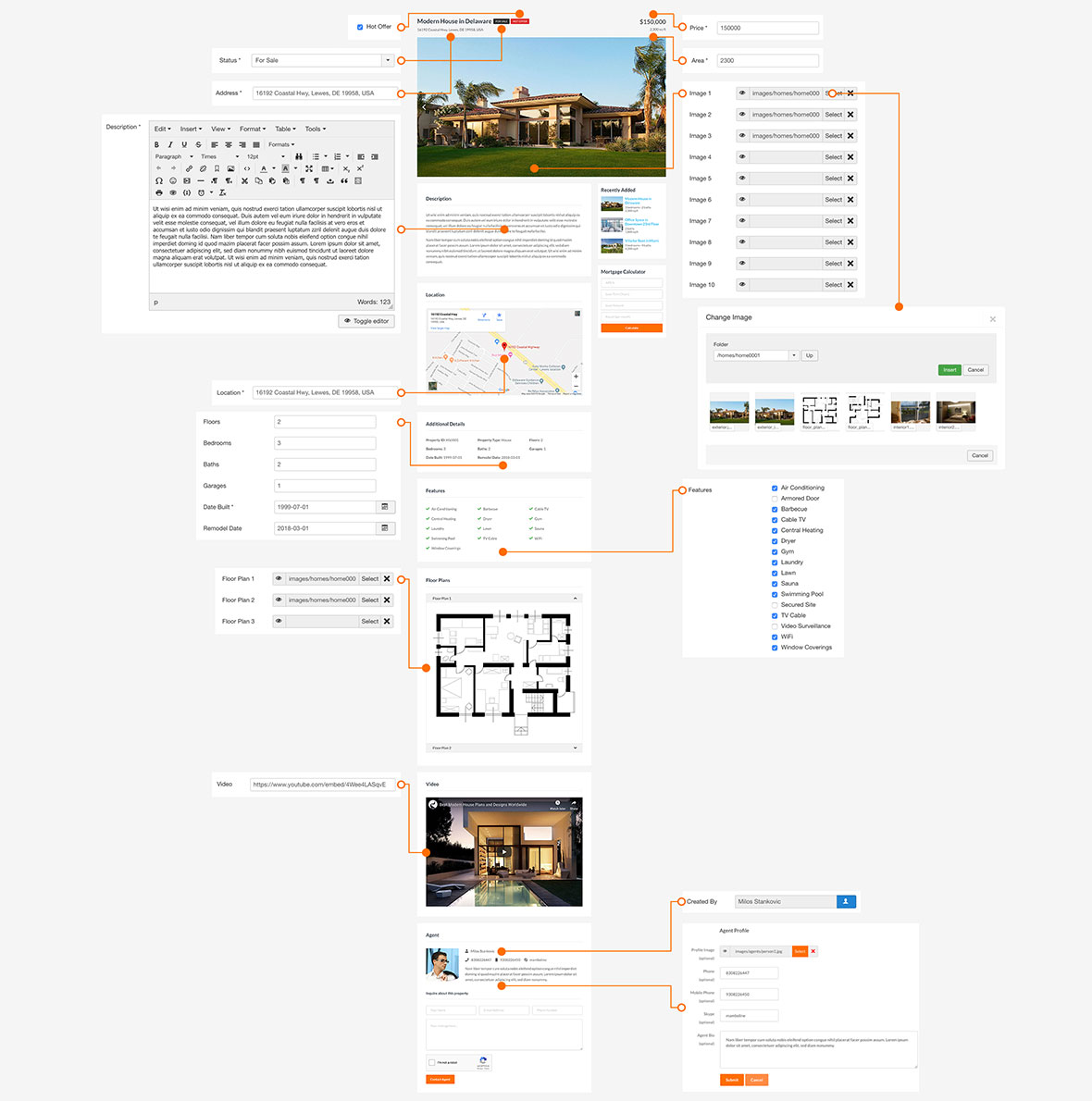 Articles As Property Listings
Real estate properties in the Hot Homes template are actually regular Joomla! articles powered with Custom Fields. When you edit a property listing (actually, an article), you can also edit the additional data on the same page. Such data are categorized in 5 tabs: Info, Location, Details, Features and Media and can be edited from both backend or front-end.
Only articles from the specified categories (i. e. 'Properties' category) have custom fields. Articles from other categories don't have them. Therefore, beside the property listings, you can use Joomla! articles for regular purposes, such as blog posts or informational pages about your company, etc.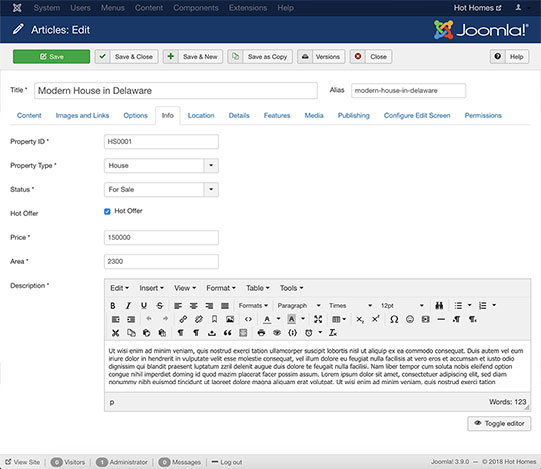 View Demo Download Purchase Homes $39 Get All Templates $49
Customizable Custom Fields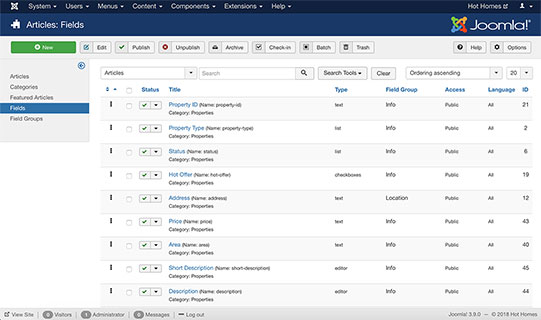 The Custom Fields can be customized easily through Joomla! backend. You can rename each of the custom fields. Also, you can re-group them, change group names or add new groups of custom fields. You can also change custom field's default value and mark some custom fields as mandatory or not mandatory.
It's so customizable that you can even use this template to develop a website for a completely different purpose!
Adding Media is Ridiculously Easy
Real estate property listings are worth nothing without appropriate media attached to each listing! That's where the Hot Homes template shines! All that listing authors (agents) should do is to upload and select media. Everything else is automated!
The real estate template will automatically create a responsive and touch-friendly carousel from the selected images. The floor plan images will be automatically displayed as accordion tabs. Finally, you can even attach a Youtube video to each property simply by entering the video's URL.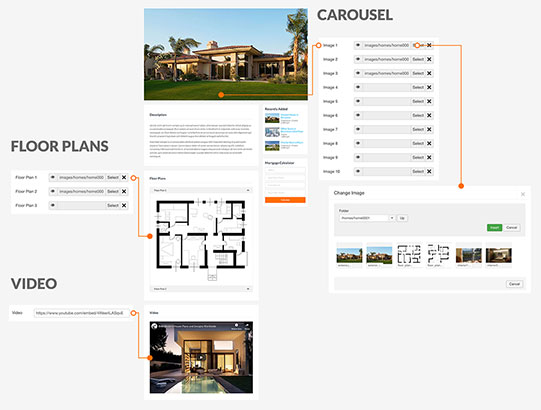 Joomla Users as Real Estate Agents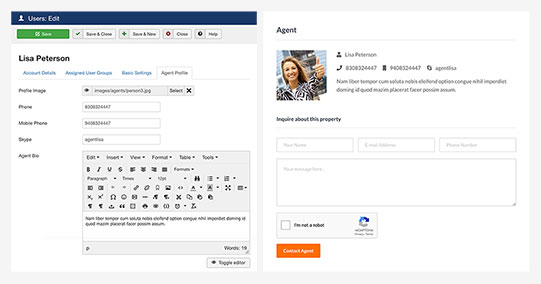 It's possible to assign multiple Joomla! users to act as authors. In the real estate template, these authors are actually real estate agents.
Agents have privileges to add and edit properties through the front-end of the website. The agent's data are displayed at the bottom of each property listing. Through the small contact form (secured with ReCaptcha), potential customers can contact the agent who published the listing.

View Demo Download Purchase Homes $39 Get All Templates $49
Currency and Area Units
Currency symbol and area units can be changed easily in the real estate template parameters. Any value that's appropriate for your country can be entered here.

Powered by the Sparky Framework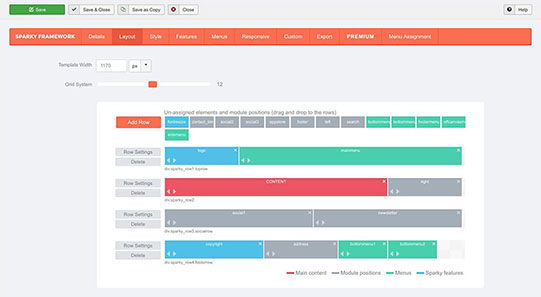 Backend of the Hot Homes Joomla Template is powered by our well-known Sparky Framework. You can use drag and drop technology to add and edit template elements (module positions, menus, etc.). It's also used to control template style. In example, you can change default font or heading font in seconds. Full selection of over 700 Google fonts are just few clicks away!
Features of the Hot Homes - Real Estate Template
Responsive template, based on a clean HTML5/CSS3 code, and powered by Sparky Framework for Joomla.
Extensive use of Joomla Custom Fields in property listings. You can assign price, location, media and many other attributes to each property.
Thanks to the power of Joomla User Custom Fields, user accounts can act as real estate agent accounts. Agents can add or edit properties from the backend or front-end. Prospective customers can contact agent who published the listing directly from the property listing page.
Multiple images can be assigned to each property. The Hot Homes template will automatically create a responsive and touch-friendly carousel from the selected images.
Multiple floor plans can be assigned to each property. The Hot Homes template will automatically create an accordion from the selected floor plans.
Youtube video can be attached to each property easily. You just need to paste Youtube video link in the custom field.
5 pre-defined color styles. You can easily change any color in the template parameters.
We included several responsive Joomla modules with this template. Hot Swipe Carousel (retina ready and powered by CSS animations), Hot Slicebox, Hot Responsive Lightbox and Hot Maps. All these modules are included with this template without any additional fees (you save $15 per commercial module).
Customisation of the template's layout and adding/removing module positions is easy. It's powered by Sparky's drag and drop Layout Editor. Change layout and element's dimensions easily whenever you need.
Mailing list management, powered by AcyMailing Free component.
Retina ready images in articles, custom modules, etc. Full support for modern screens with double pixel density.
HotStart (SQL dump) available with both single purchase or any membership plan. It copies template with all extensions and demo pages easily.
Unlimited number of module positions can be added easily within the Layout Editor of the Sparky Framework.
Total control of all Joomla menus through the framework. You can set functionalities and style of all your menus and drop them directly into the layout. This template uses Drop-down menu which allows multiple levels of menu items to be included in the drop-down panes.
This template has been tested with Chrome, Edge, Firefox, IE10+, Opera and Safari browsers on PC and Mac computers. It's also tested on iOS and Android mobile devices.

View Demo Download Purchase Homes $39 Get All Templates $49