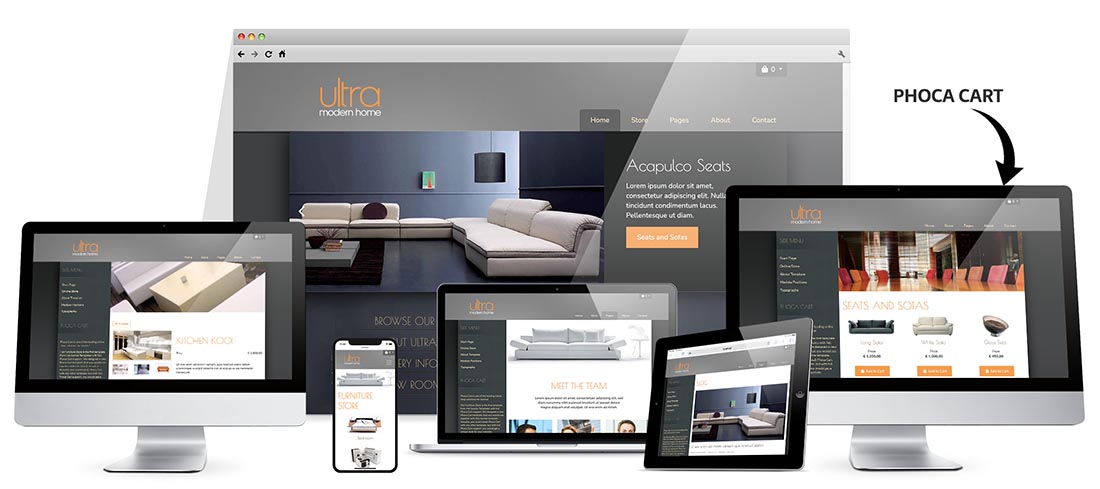 This is our first template that fully supports the popular free e-commerce component Phoca Cart. Inside the template package, you will find the ready-made Phoca Cart online store that you would use together with this Joomla template. Full compatibility of the Hot Furniture Store Joomla template with the e-commerce component creates a unique style throughout your web store.
Actually, you can install the Phoca Cart with any other template, but the Hot Furniture Store template's design is optimized for use with this component. The theme of this Joomla template is the furniture store, but if you like its style, feel free to use it for e-commerce websites for other purposes. Simply, change our demo products with your real products, edit our sample payment methods with yours and you are ready to sell!
Besides the impressive e-commerce component that we mentioned, this template also includes our carousel module to let you make some responsive slideshows of your images. The maps module and plugin are also included. Last but not least, all the content of your articles and product pages can be edited visually without coding using the Sparky Page Builder.
We wish you a lot of success and profit with the Joomla Furniture template! And, of course, a lot of fun!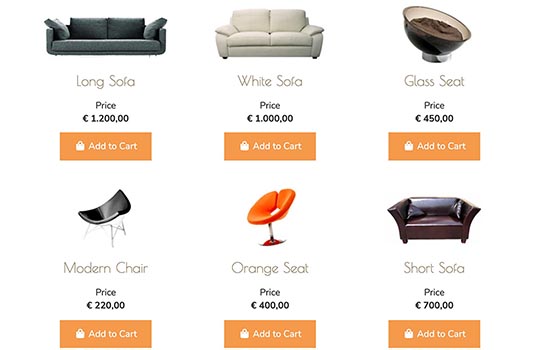 Phoca Cart
Probably the best e-commerce extension for Joomla! It contains all these features that you might ever need for your business, 100% free.
Phoca Store is the first e-commerce component that's developed in accordance with all Joomla coding principles. Therefore, it's intuitive, easy to use, fast, and will be compatible with future versions of Joomla! It includes dozens of modules and plugins that you can use to enhance your web store and increase the number of sales. This is an extension that the Joomla community was waiting for!
The Furniture Store template is powered by Phoca Cart in Joomla 4 and later versions.
Page Builder
The articles, modules, and product page descriptions can be edited with the Sparky Page Builder. This page builder helps you edit Joomla content in a visual way. It's included with the Furniture Store template.
Add and edit text, images, buttons, multimedia, lists, icons, and other types of blocks. Use various typographic styles visually from the page builder.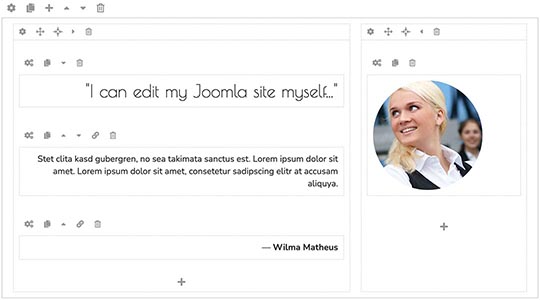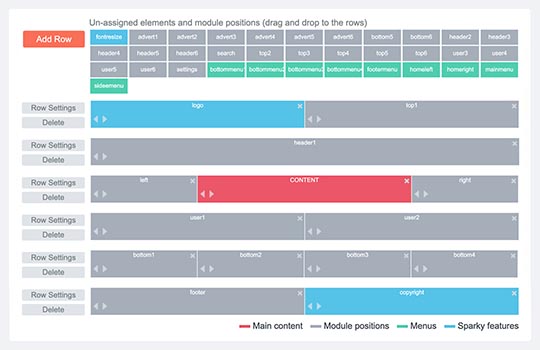 The Sparky Framework
The Sparky Framework is a parent template of the Furniture Store e-commerce template. The Furniture Store template is developed as a child template of the framework and has all its features.
The template options let you change your website layout, select from 1000s of Google fonts, and change colors, menu, logo, etc. Based on your settings, the framework is dynamically making static CSS and Javascript files. This is the best practice for website performance and easy upgrades.
Drop-down Menu
The Furniture Store template has a drop-down top menu with submenu items available on mouse over (or tap on mobiles). This menu system is responsive and optimized for use on mobile devices. All the settings for the menu are in the template parameters. You can change the fonts, colors, dimensions, etc. Also, besides the drop-down menu type, the framework lets you use other menu types, such as a mega menu, off-canvas menu, static menus, etc.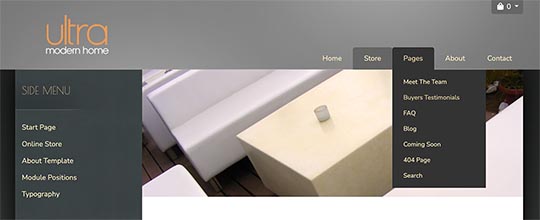 Hot Swipe Carousel
The responsive Hot Swipe Carousel module is published on the Furniture Store template's home page. You can also use it on the interior pages if you need to. It's a responsive Joomla module that displays slide transitions with a scroll or fade effect. The slides may contain text and images and, in this template, the text is located above the image.
Hot Maps
You can precisely show your potential buyers where your furniture store is located so they can view the furniture your store is selling presonally and try it before buying. The Hot Maps module will let you do it easily, but you can also customize your map output in many aspects.

Template Key Features
This is the list of the most significant features of the responsive Joomla Furniture template:
E-commerce template that's powered by the free e-commerce component Phoca Cart (for Joomla 4 and later).
Responsive template, based on clean CSS/CSS3 code, and powered by the Sparky Joomla template framework.
Customization of the template's layout and adding/removing module positions is easy. It's powered by Sparky's drag-and-drop Layout Editor. Change layout and element dimensions easily.
Sparky Joomla Page builder is included with this template. All demo content is created using this page builder. Edit and create your content effortlessly.
4 predefined color styles. All colors are easily customizable in Sparky options (every color is changeable).
The compatibility with all future Joomla! versions are guaranteed!
Additional extensions included with template: Hot Swipe Carousel module and Hot Maps module and plugin.
HotStart (quick-start installation) is available with both a single purchase or membership plan. It copies the template with all extensions, product, and demo pages. You can start replacing the demo content with your own content in minutes.
An unlimited number of module positions can be added easily within the Layout Editor of the Sparky Framework if needed.
A big collection of Google Fonts is available through the template options panel. The Font Awesome icons collection is also included.
PSD source file and fonts are available.
The top menu system with the presentation of the menu items in multiple levels in the drop-down panes.
Tested with Google Chrome, Mozilla Firefox, Microsoft Edge, Apple Safari, and Opera browsers. Tested on Apple iOS and Android mobile devices. Support for RTL (right-to-left) languages.