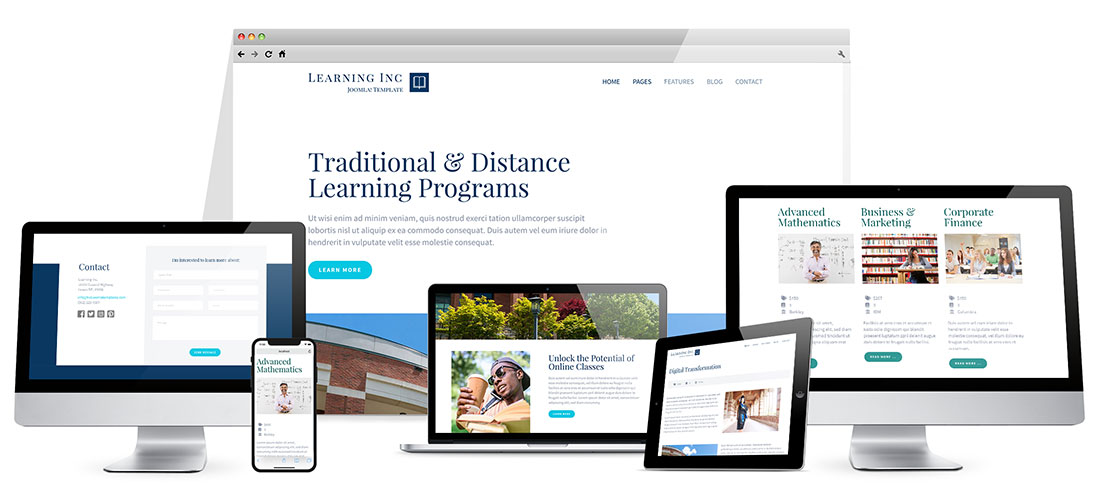 The Hot Learning is a clean responsive Joomla! template suitable for the development of educational websites. This template is a good starting point in the creation process of the websites for both traditional and distance (online) learning programs.
The clean and visually appealing design of this template also allows you to edit its content easily. You can edit the content visually using only the core Joomla! editor. This eliminates needs for additional page builder components. It also secures compatibility with all future versions of Joomla!
Learning template follows the new features and best practices in Joomla! development. Therefore, it supports the custom fields. This is a relatively new feature that allows you to assign additional pieces of data to each article. In the template demo, these additional pieces of data are related to the educational programmes.
Edit the Content Visually
Learning template is a responsive educational template for Joomla! dedicated to traditional and online schools, colleges and universities. All content that you see on our demo, including the home page, interior pages and all the images and text can be edited visually using the core Joomla! editor from the backend or the front-end.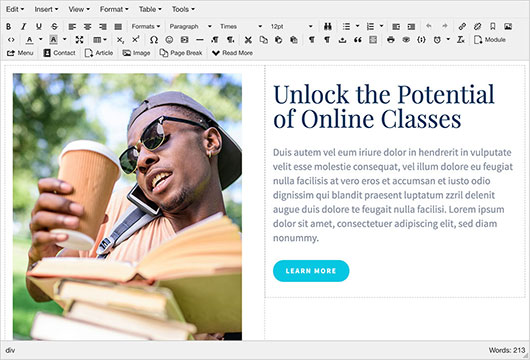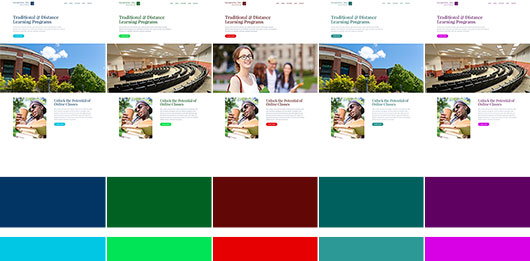 5 Color Schemes
The Hot Learning template is available in 5 color schemes. You can also create your own color schemes through the template framework. All the colors are easily editable with the handy color pickers.
Powerful Template Framework
The backend of the Hot Learning template is powered by the Sparky Framework. Using a drag and drop technology you can edit all template elements (module positions, menus, special features, etc.) and fine-tune the template style, fonts (800+ Google fonts are available), colors, etc.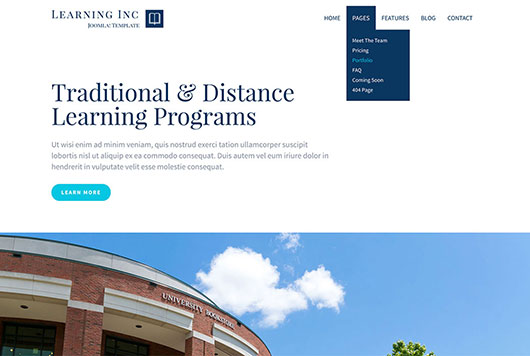 Drop-down Menu
This template has a top menu with nested sub-menus. Sub-menu opens on mouse over action. The menu is fully responsive and it's converted to a hamburger menu on smaller screens. Various menu options are available for all menus that you create in Joomla. You can change colors, fonts, sizes and many other parameters for each menu.
Support for Custom Fields
The custom fields is a relatively new Joomla! feature that can dramatically improve features and maintenance of your website. This template fully supports the custom fields. As you can see on our template demo (in the Programmes section), we are using the custom fields to attach some additional pieces of data to each Joomla! article (learning programmes in this case). So, you can easily add and edit the program price, number of courses and the university that provides the program. All of this is very customizable, so you can customize the existing custom fields or add new that are more appropriate for your website.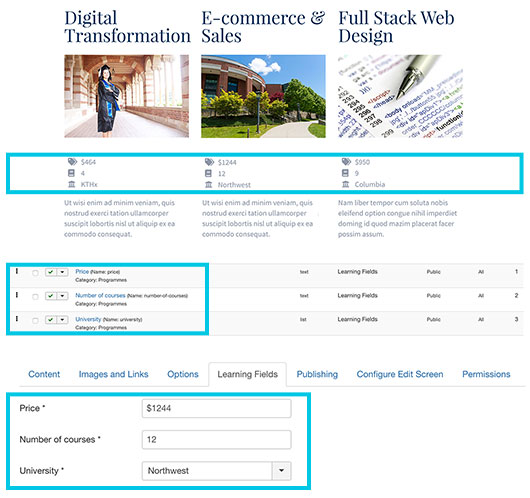 Learning Template Video
Learning Template Screen Shots
Template Features
Responsive template, based on and interesting modern layout and developed with clean HTML5/CSS3 code. Powered by the Sparky Joomla template framework.
Support for Joomla! custom fields.
Possibility to edit the content visually using only Joomla! core editor.
5 pre-defined color styles with different font colors and background colors. All colors are easily customizable in Sparky options (infinite color options).
Customization of the template's layout and adding/removing module positions is easy. It's powered by Sparky's drag and drop Layout Editor. Change layout and element's dimensions easily whenever you need.
Hot Swipe Carousel, Hot Maps, Hot Slicebox, and Hot Responsive Lightbox modules and plugins are included with the template. All commercial modules included in this template are free for you if you buy the template (you save $15 per module). All extensions are pre-installed and configured.
Customized Rapid Contact module included with selection filter field for the learning programmes.
HotStart (quick start installation) available with both single purchase or membership plan. It copies template with all extensions and demo pages easily.
8 module positions are used in our demo. An unlimited number of module positions can be added easily within the Layout Editor of Sparky Framework if needed.
PSD source file and fonts are available.
Drop-down menu system is used for the main navigation with multiple levels of the menu items.
Tested with IE10+, Firefox, Chrome, Safari, Opera. Tested on iOS and Android mobile devices.
Support for RTL (right-to-left) languages.