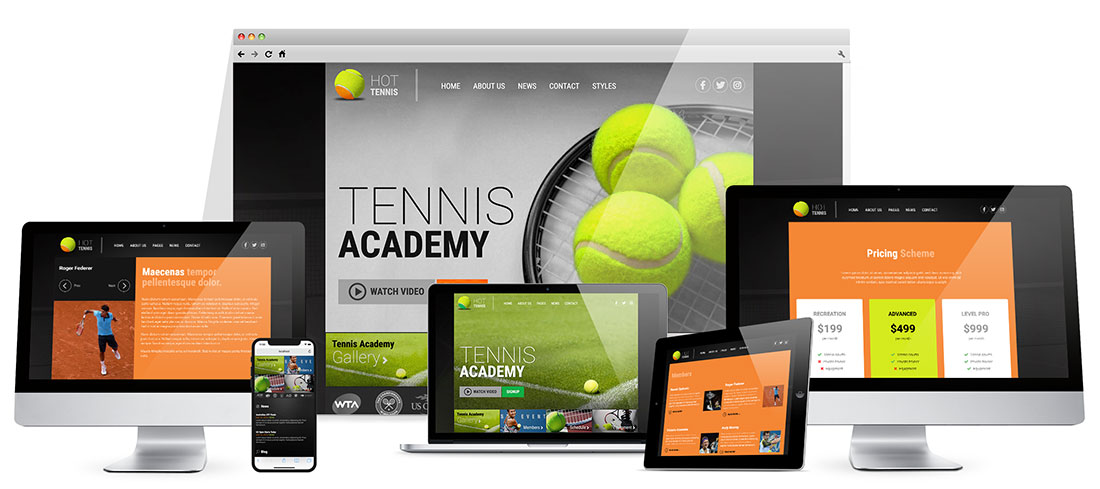 The Hot Tennis, as its name indicates, is a tennis template for Joomla! that we dedicate to the white sport. Tennis is one of the world's most popular sports. There are many clubs throughout the world where people can practice or play tennis. Those clubs usually earn money from renting the tennis courts and equipment and providing coaching services. Like every other business, tennis clubs need websites.
The purpose of the tennis club website is usually to promote the club's services, but also to inform all club members about the availability of the club's courts, equipment, and trainers. The advanced variant of such website can be also used for online reservations (additional components needed). In all cases, the tennis template can be helpful.
As you can see on the Tennis template's demo, it has slightly different designs for the home page and the inner pages. The home page serves as an intro page from where visitors can see the club's promo video (hosted on Youtube and opened in a jQuery pop-up window). This page leads to the other site areas that promote the club's services and inform current club members about news and schedules.
The club gallery has been made with our Hot Responsive Lightbox module. Besides this module, the template also incorporates two more carousel extensions that you can check on our demo. Finally, the Hot Maps module and plugin are included to represent the tennis club's location accurately.
This template is powered by Sparky Framework that gives you the best customizability and flexibility than any other Joomla framework.
Edit the Content Visually
The Tennis template is a responsive sport template for Joomla! dedicated to all tennis clubs or players. All content that you see on our demo, including the content in the pages and modules can be edited visually using the core Joomla! editor from the backend or the front-end.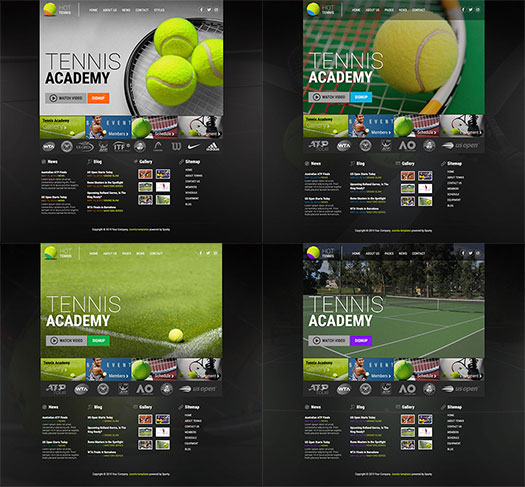 4 Color Schemes
The Hot Tennis template is designed in darker color schemes and it's available in 4 variants. You can create your own color schemes through the template framework. All the colors are easily editable with the color pickers. Also, each color variant includes different background images on the home page and interior pages.
Powerful Template Framework
Using a drag and drop technology you can edit all template elements (module positions, menus, special features, etc.) and fine-tune the template style, fonts (800+ Google fonts are available), colors, etc. All important settings for your Joomla website as well as additional features as just a few clicks away. Each of the rows you can see on the Layout has its own settings. Therefore, for each of them, you can set a background color or image, change behavior on the mobile screens or add custom class and finetune it through the CSS.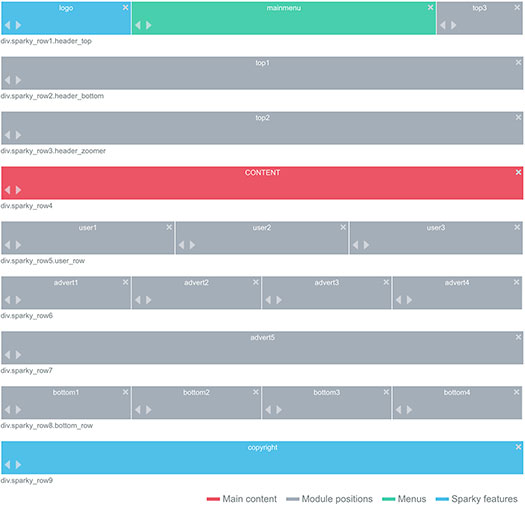 Drop-down Menu
This template has a top menu with nested sub-menus. The menu is fully responsive and it's converted to a hamburger menu on smaller screens. From the template parameters page, you can change colors, fonts, sizes and many other parameters for each menu.
Tennis Template Key Features
Responsive template, based on clean CSS/CSS3 code, and powered by Sparky Joomla template framework.
4 pre-defined styles with different colors. All colors are easily customizable in the template options (infinite color options).
Customization of the template's layout and adding/removing module positions is easy. It's powered by Sparky's drag and drop Layout Editor. Change layout and element's dimensions easily whenever you need.
Hot Swipe Carousel, Hot Maps, Hot Slicebox, Hot Responsive Lightbox are included with the template. Also, we have customized the Rapid Contact module and added a program selection box with filter. All commercial modules included in this template are free for you if you buy the template (you save $15 per module). All extensions are pre-installed and configured.
All demo content can be edited visually, using only the core Joomla! editor. Therefore, the compatibility with all future Joomla! versions is guaranteed!
HotStart (quick start installation) is available with both single purchase or membership plan. It copies template with all extensions and demo pages easily.
21 module positions are used in our demo. An unlimited number of module positions can be added easily within the Layout Editor of the Sparky Framework if needed.
A selection of 800+ Google Fonts is available through the template options panel.
PSD source file and fonts are available.
The top menu system with the presentation of the menu items in multiple levels in the drop-down panes.
Tested with IE10+, Firefox, Chrome, Safari, Opera. Tested on iOS and Android mobile devices.
Support for RTL (right-to-left) languages.