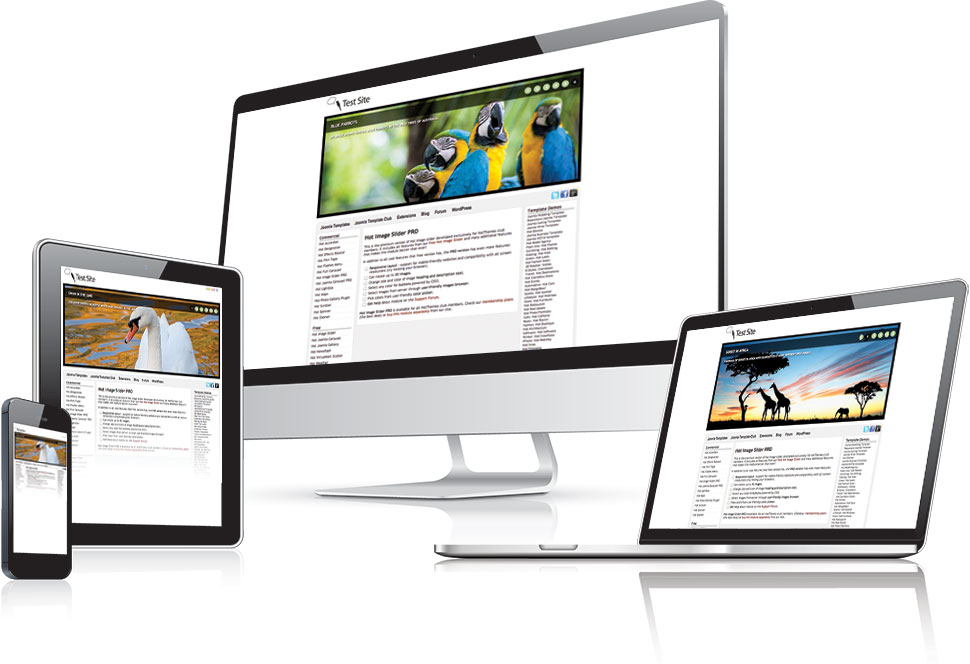 This is the premium version of our free Hot Image Slider module and it's developed exclusively for HotThemes club members and as a supporting tool for our premium Joomla templates. It includes all features well-known from our free Hot Image Slider and many additional features that make this module better than ever! This module is usable together with all contemporary responsive templates, as this module has responsive features as well in the pro version.
Hot Image Slider Pro - Responsive Joomla slider module is a fully configurable image rotator, based on jQuery. In module parameters, you can control the module's output, using many helper tools, such as image browsers or color pickers. The module dimensions are calculated dynamically as per the user's screen size, but you can limit the maximum module width. All text elements, such as image titles, image descriptions, and buttons can be enabled or disabled. It's also possible to control text style in the PRO version. It's possible to make each image in the rotation linked.
Features Inherited from Free Version
Maximum Slider Width: This module calculates size dynamically (responsive), but maximum module size can be limited.
Animation Type: Select Slide or Fade
Border Width: Thickness of border around the images. Enter a numerical value in pixels (i.e. 10) or enter 0 to disable the border.
Border Color: Pick the border color from the handy color picker palette.
Name and Description Text Color: You can select text color from the palette.
Image Title: Title of the slide. It will be shown if showing titles is enabled.
Image Description: Description text of the slide. It will be shown if showing description text is enabled.
Links: Link for this slide, starting with http://. You can use internal or external links (internal link example http://www.yoursite.com/index.php, or external link http://www.google.com). If you don't enter a link, this slide would not be linked.
Additional PRO Features of the Responsive Joomla Slider
In addition to all the cool features that the free version has, the Responsive Joomla slider has even more features:
Responsive layout - support for mobile-friendly websites and compatibility with all screen resolutions.
Can rotate up to 30 images.
Change size and color of image heading and description text.
Select any color for buttons powered by CSS3.
Select images from server through user-friendly images browser.
Pick colors from user-friendly color picker.
Get help about module on the Support Forum.
Hot Image Slider PRO is available for all HotThemes club members. Check our membership plans or buy this module separately from our site.