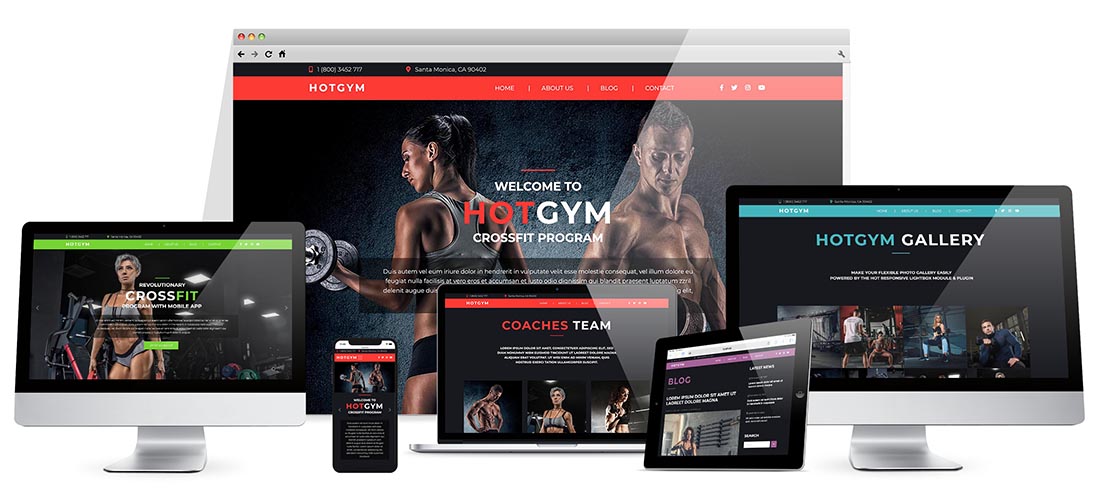 The Hot Gym is a responsive Joomla template suitable for CrossFit studios, gyms, bodybuilding clubs and websites for similar purposes. It's based on dark colors with 5 appropriate accent colors. The home page can have a carousel with text and images or a video background with text. You can select a home page variant that's appropriate for your business. This template is fully optimized for both desktop and mobile devices.
A big part of the demo home page is created as a Joomla article. Therefore, you can edit the program, coaches, and about sections directly in the Home Page Joomla article. You can edit it using the core Joomla editor (no additional extensions are necessary).
The Gym template is a sport Joomla template that can be used for the development of any kind of website related to various sports. Although the main demo data are related to gyms and CrossFit studios, you can easily transform them and use them for a different purpose.
The template comes with a handful of typical interior pages designed for the presentation of your team, the pricing scheme for your services, testimonials, gallery, and so on.
Simply use Joomla Editor to Edit Everything
All content of the Hot Gym template comes from Joomla articles or modules. The editor style is included in the template. Therefore, you can edit everything visually using just the core Joomla editor from the backend or the front-end. No third-party's extensions. Therefore, your website will be compatible with the future versions of Joomla.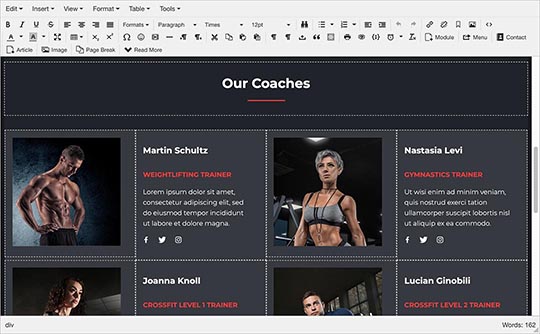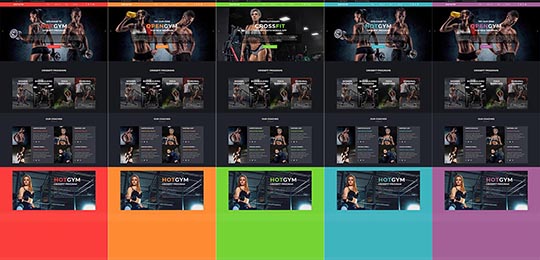 5 Color Schemes
The Hot Gym template is available in dark color scheme with 5 different accented colors. It's easy to create your own color schemes or change pre-defined colors through the template framework.
The Sparky Framework
The backend of the Hot Gym Joomla template is based on the Sparky Framework. Using a drag and drop technology you can create or edit website layout and add or remove elements (module positions, menus, logo) and other template elements (typography, special features, etc.). This is also the place where you can change the font colors and text styles using a collection of 800+ Google fonts with a preview. The framework generates the static CSS files anytime you change something in the settings. Therefore, the resulting website is lightfast and mobile-friendly. No inline CSS!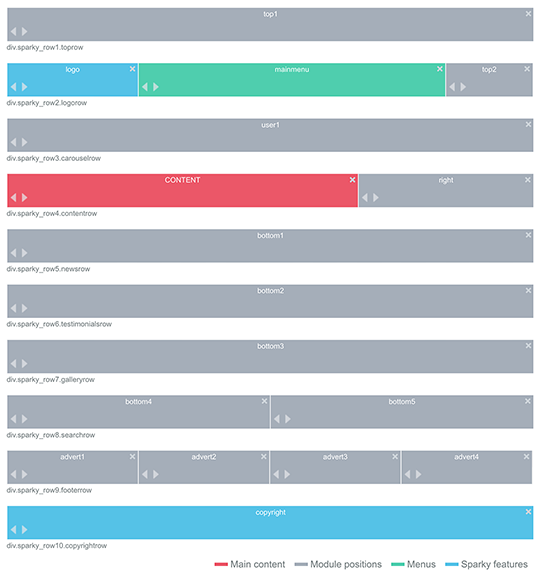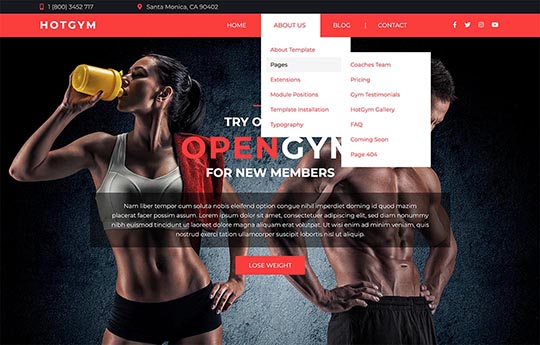 Drop-down Menu and Tons of Menu Options
This template has a top menu with submenu items on deeper levels. The sub-menu panes open on mouse-over on desktop. The menu is fully responsive and it's converted to a button on mobile screens. Therefore, it's easy to handle on all mobile devices. All menu options (colors, fonts, sizes...) are parameterized in the template framework options.
Gym Template Screen Shots
The following screenshots show the several pages of the Gym template in different color schemes.
Template Features
Responsive template, based on clean CSS/CSS3 code, and powered by the Sparky Joomla template framework.
5 pre-defined styles with different colors. Each style comes with the dark and light modes. All colors are easily customizable in Sparky options (infinite color options).
Customization of the template's layout and adding/removing module positions is easy. It's powered by Sparky's drag and drop Layout Editor. Change layout and element's dimensions easily whenever you need.
Hot Swipe Carousel, Hot Maps, Hot Slicebox, and Hot Responsive Lightbox are included with the template. All commercial modules included in this template are free for you if you buy the template (you save $15 per module). All extensions are pre-installed and configured.
All demo content can be edited visually, using only the core Joomla! editor. Therefore, the compatibility with all future Joomla! versions is guaranteed!
HotStart (quick start installation) is available with both single purchase or membership plan. It copies template with all extensions and demo pages easily.
17 module positions are used in our demo. An unlimited number of module positions can be added easily within the Layout Editor of the Sparky Framework if needed.
A selection of 800+ Google Fonts is available through the template options panel. The latest version of the Font Awesome icons collection is included.
PSD source file and fonts are available.
The top menu system with the presentation of the menu items in multiple levels in the drop-down panes.
Tested with Google Chrome, Mozilla Firefox, Microsoft Edge, Apple Safari, Opera and IE10+ browsers. Tested on Apple iOS and Android mobile devices.
Support for RTL (right-to-left) languages.