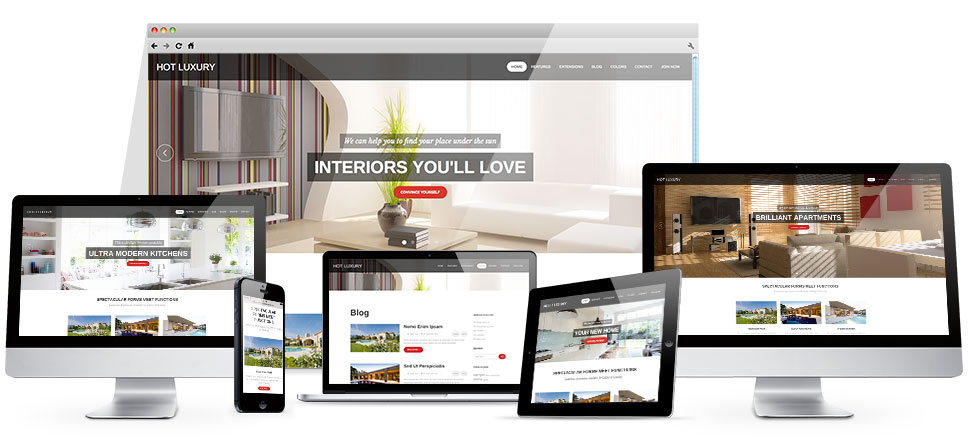 Hot Luxury is responsive Joomla template based on an elegant and visually appealing design. This is a multipurpose Joomla template based on Sparky Framework. In Hot Luxury template, you would be able to see the Hot Maps 2.0 module for the first time.
The demo data of the Luxury template contain beautiful images of interiors and exteriors of houses and apartments. Textual part of the demo data describes an imaginary company that sells and rents luxurious apartments and villas. If you are developing a website for a similar company, it would be very easy to adopt this template. Furthermore, this template is suitable for hotels and touristic destinations. Luxury template's design is clean and modular, therefore you can easily modify it for any other purpose. That said, we can consider the Luxury template as a multipurpose template based on Joomla.
Joomla modules are always accompanied with our premium Joomla templates. This time, we did a major upgrade of the Hot Maps module. It's now based on new Google Maps API. Beside display of a map from any place in the world, it now allows you to style it, change colors, zoom level, enable and disable map elements, etc.
The Hot Luxury template also contains a big carousel on the home page with bold text and call to action buttons. Since counters are very popular on modern web sites, we included Hot Counters module in this template as well. Also, you can see the testimonials section. It's based on Hot Swipe Carousel, the same module that powers the big carousel. There are also, several more modules that you can find useful for development of your website.
Tags core component is a relatively new feature of Joomla. It's very useful for SEO, but still not used on many Joomla websites. Therefore, we tagged demo articles in Luxury template and published the tag cloud on inner pages. We recommend you to check our live demo of the Hot Luxury template. One image is worth as a million words. If you are concerned how this template works on mobile devices, we strongly recommend you to see the demo on any mobile device.
Template Key Features
This is the overview of the template features:
Responsive template, based on clean HTML5/CSS3 code, and powered by Sparky Framework 2 for Joomla.
5 pre-defined color styles. All colors are easily customizable from the Sparky options (infinite color options).
Customization of the template's layout and adding/removing module positions is easy. It's powered by Sparky's drag'n'drop Layout Editor. Change layout and element's dimensions easily whenever you need.
We included several responsive Joomla modules with this template. Hot Swipe Carousel, Hot Counters, Hot Slicebox, Hot Responsive Lightbox and Hot Maps v2.0 module (new version). All these modules are included with this template without additional fees (you save $19 per commercial module). They are styled and configured for this template.
HotStart (SQL dump) available with both single purchase or membership plan. It copies template with all extensions and demo pages easily.
Unlimited number of module positions can be added easily within Layout Editor of Sparky Framework, if needed.
PSD source file and fonts are included.
Total control of all menus through the framework. You can set functionalities and style of all your menus and drop them directly into the layout. Top menu with drop-down sub-levels is included. The top menu converts to a button for easier navigation on the mobile devices.
This template is tested with Firefox, Chrome, Safari, Opera and IE9+ browser. It's also tested on iOS and Android mobile devices.
Support for RTL (right-to-left) languages.