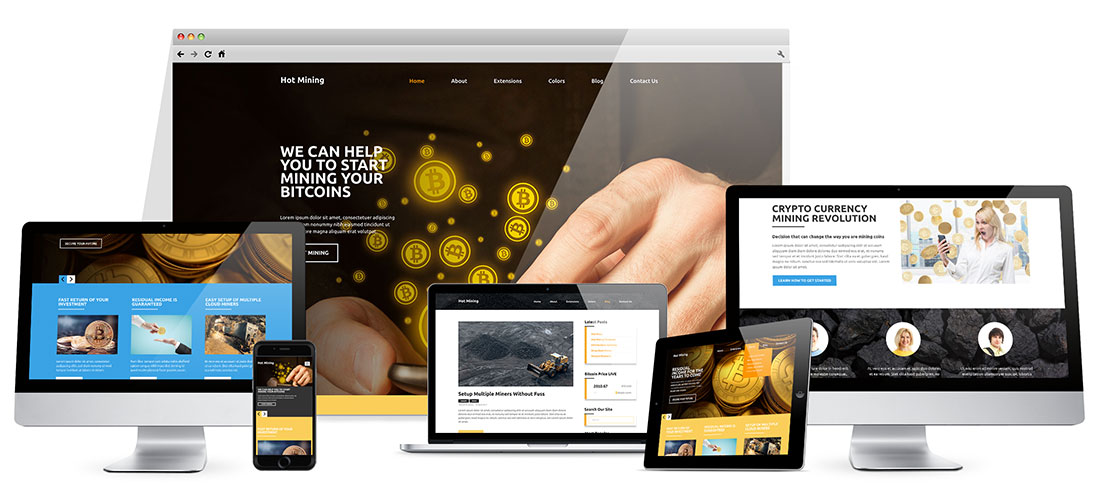 Joomla Mining template makes a connection between two totally different things. The first meaning of mining is extraction of valuable minerals or other geological materials (gold, gemstones, metal, coal, etc.). In return, the miner gets valuable material out of earth. The second, high tech meaning of mining is mining of the crypto values using special software to solve mathematical problems. In return, the miner receives a certain number of bitcoins or other crypto values.
If your job is related to any of the mining types explained above, you can use Joomla Mining template to create a website for your business.
Although it's a much wider term, mining is usually symbolically related to the mining of gold and other precious metals and gemstones. Therefore, we decided to use the color of gold as a default color scheme of the Joomla Mining template. This color also symbolizes Bitcoin currency. It's gold of the modern ages and while we're writing this, its price keeps growing! There are also 4 more color schemes available. Anyway, you can change any color easily.
This template includes 3 widgets that fetch data directly of the official Bitcoin's website. Visitors of your site will be able to see the price of this crypto currency live. They would be also able to analyze its price over time from the live graphics. There's also a widget that fetches links of the latest news from the world of Bitcoins.
Other elements included with the Joomla Mining template are more or less standard for all our Joomla templates. You will get a retina ready and touch friendly carousel module. There's also a responsive lightbox gallery module included and full support for Google maps. Also, this template includes a simple contact form module to allow your visitors to contact you from any page of your site.
Features of the Joomla Mining Template
This is the list of the Hot Mining template's most significant features, followed with some technical details:
Responsive template, based on clean HTML5/CSS3 code, and powered by Sparky Framework for Joomla.
CSS3 based animations welcomes visitors of your site.
5 pre-defined color styles. All colors are easily customisable from the Sparky options (infinite color options).
Customisation of the Joomla Mining template's layout and adding/removing module positions is easy. It's powered by Sparky's drag and drop Layout Editor. Change layout and element's dimensions easily whenever you need.
We included several responsive Joomla modules with this template. Hot Swipe Carousel (retina ready), Hot Slicebox, Hot Responsive Lightbox, Hot Maps and Rapid Contact module. All these modules are included with this template without any additional fees (you'll save $15 per commercial module).
Retina ready images in articles, custom modules and carousel. Full support for modern screens with double pixel density.
HotStart (SQL dump) available with both single purchase or any membership plan. It copies template with all extensions and demo pages easily.
Unlimited number of module positions can be added easily within Layout Editor of Sparky Framework, if needed.
PSD source file and fonts are included.
Total control of all menus through the framework. You can set functionalities and style of all your menus and drop them directly into the layout. This template uses Drop-down menu which allows multiple levels of menu items to be included in the drop-down panes.
This template has been tested with Chrome, Edge, Firefox, IE10+, Opera and Safari browsers on PC and Mac computers. It's also tested on iOS and Android mobile devices.
Support for RTL (right-to-left) languages.