One-page websites are presenting a new trend in web design. Usually, such websites are small, but even more complex websites can be built only on one single page. No loading of additional pages and no waiting after each click. When viewing such websites, user actually has a feeling that he/she is working on an application loaded directly into their browser rather than a classic web surfing experience. One Page template can help you to develop such a website based on Joomla CMS. It's powered by our Sparky Framework and Page Builder (Joomla 4.x and later).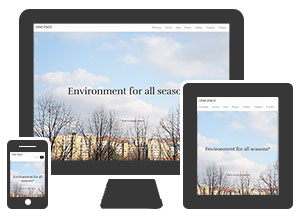 How Joomla One Page Template Works
Joomla One Page template has a long home page with 7 sections that can be edited using the Page Builder. The sections are differently styled and some of those pages load modules (slideshow, lightbox, and tabs). Classic module positions are only on the top (logo and top menu) and the bottom (copyright text).
The template is powered by the Sparky Framework that lets you control all website parameters. You can change colors, fonts, and even edit the layout through the template framework.
The Sections in Our Demo Home Page
The One Page template's demo contains 7 sections and describes a fictional county named Yellow Heights. We will describe each page here and explain how each of those pages has been built. It will help you to understand how to edit the pages.
Welcome: A simple section with textual content.
The Environment: It contains the Hot Responsive Slideshow module and some textual content. This module is inserted into the page using the Joomla Module block.
The Neighborhood: A simple section with textual content and some logo images.
County Management: This section contains 4 tabs. Click on each tab allows us to see the content for this tab. Tabs' content is inserted in the custom content modules in the positions 'tab1-4'. There's also the Tabs Container module. The Tab Container module is inserted into this page with the Joomla Module block as well.
Gallery: This section contains the Hot Responsive Lightbox module that's also inserted into the page with the Joomla Module block. This module spans across the entire screen area. It also contains some text.
Template Features: It contains some textual content only.
Contact: This section contains a module with a contact form. Optionally, it can contain some text or images.
All modules mentioned above are included in the Joomla One Page template package (no additional fees).
Edit Content with the Sparky Page Builder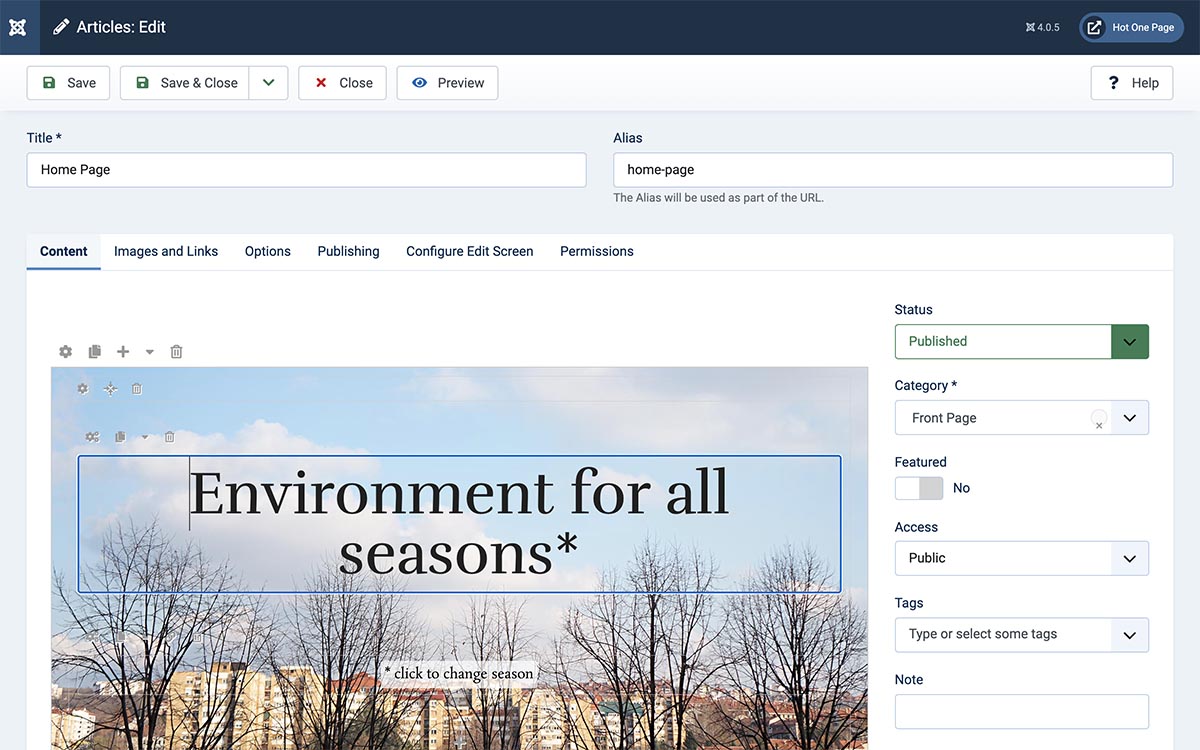 All the content that you can see on our template demo can be edited easily thanks to the Sparky Page Builder. It's bundled with the One Page template (for Joomla 4.x and later versions). You can see how your home page will look as you are editing it. This is also true for inner pages and content modules.
Using this page builder, it's possible to include any Joomla module in the article. In our demo, we imported the carousel, tabs, and form modules into the home page article.
Our page builder works as any other Joomla editor. However, it lets you create a page layout easily and fill it up with blocks of content.
Layout and Responsive Design
The layout of this template is based on the revolutionary Sparky Framework and it's the first template by HotThemes that uses fluid (100%) width. Actually, the width of the textual block on the page has been limited to maximum 900px (for better layout on very big screens), but the header bar, the intro module, the footer area and the Gallery page have fluid width and occupy 100% of user's screen space, no matter how big or small it is.
This is a responsive Joomla One Page template. It looks beautiful and works fine on all devices and on all screen sizes.
100% responsive HTML5/CSS3 powered by the Sparky Framework.
Edit content easily using the Sparky Page Builder.
Hot Joomla Carousel, Hot Responsive Lightbox, and Rapid Contact modules included with template, pre-installed and configured. All commercial modules included in the template package are free, if you buy template.
HotStart (SQL dump) available with both single purchase or membership plan. It installs the template with all extensions and demo data.
"One-page" design. Click on the top menu doesn't load a new page but scrolls the screen to the appropriate page.
Photoshop PSD source file is available. Google Fonts used in design (800+ fonts available in the template options).
Google Mobile-Friendly Test PASSED.
Tested in Edge, Firefox, Chrome, Safari, Opera. Tested on iOS and Android mobile devices.
Support for RTL (right-to-left) languages.