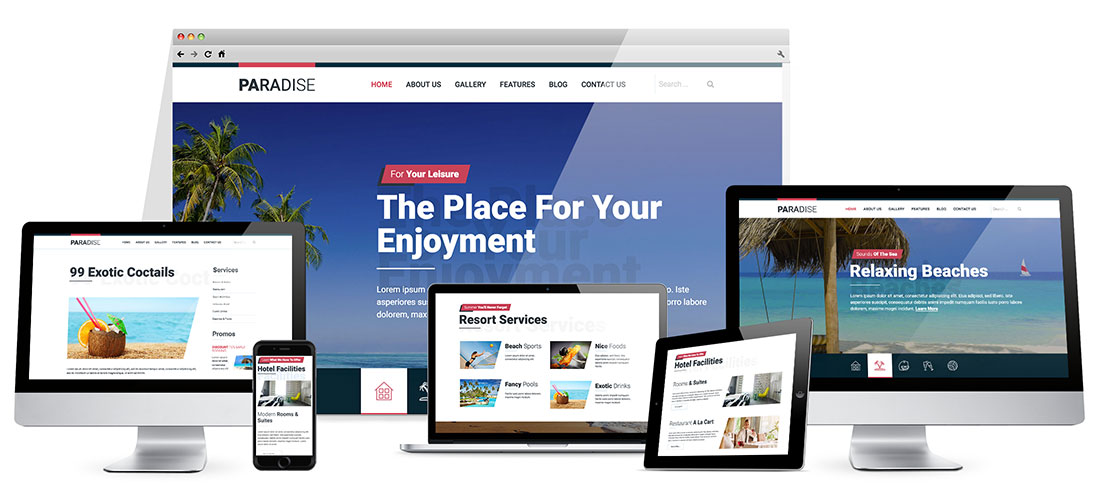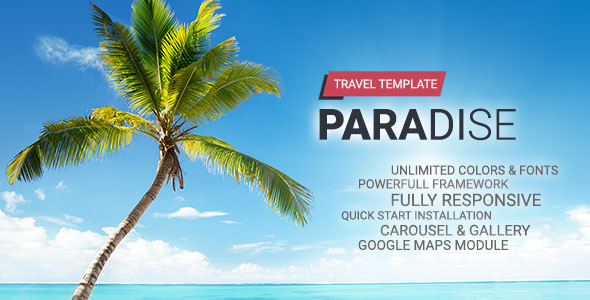 While we are spending hours in our offices, nothing inspires us more than the upcoming summer holidays. This inspiration led us to create another template suitable for hotels and summer resorts. It's also a good choice for all other business websites that offer services for tourists.
Touch-friendly carousel for the Paradise template is modified to show the navigation icons instead of the dots. Also, there are two differently styled headings for each of the slides. Using jQuery techniques, all major headings have a mirror copy. Although it looks like a background image, it's just a regular dynamically created text.
We included our cool Hot Counters module in this template. In this case, it shows some interesting facts about the destination. A pricing table for various services available on the destination is highly recommended for such types of websites. Therefore, we designed and included one in the Hot Paradise template.
A guestbook is also a recommended feature of websites of this kind! Nobody will recommend the destination better than the previous satisfied guests.
There are 4 color styles included with this template for all tastes. Furthermore, you can easily tweak all the colors using our framework to match your brand.
The footer area is usually a place that's not too interesting. We are mentioning it for a reason here. The latest version of the Sparky Framework allows you to set parameters to one Joomla menu and copy them to another menu. Since the footer areas usually contain multiple menus of the same style, this feature will be useful here.
Paradise Template Video
Paradise Template Screen Shots
Template's Key Features
The Hot Paradise is a responsive Joomla template based on the Sparky Framework. This is the list of the template's most significant features:
Responsive template, based on clean HTML5/CSS3 code, and powered by Sparky Framework for Joomla.
CSS3 and jQuery-based animations welcome visitors of your site.
4 pre-defined color styles. All colors are easily customizable from the Sparky options (infinite color options).
Customisation of the template's layout and adding/removing module positions is easy. It's powered by Sparky's drag-and-drop Layout Editor. Change the layout and element dimensions easily whenever you need.
We included several responsive Joomla modules with this template. Hot Swipe Carousel, Hot Slicebox, Hot Responsive Lightbox, Hot Maps and Hot Counters module. All these modules are included with this template without additional fees (you save $15 per commercial module).
Retina-ready images.
HotStart (SQL dump) available with both single purchase or membership plan. It copies the template with all extensions and demo pages easily.
An unlimited number of module positions can be added easily within the Layout Editor of Sparky Framework if needed.
PSD source file and fonts are included.
Total control of all menus through the framework. You can set the functionalities and styles of all your menus and drop them directly into the layout. The top menu with drop-down sub-levels is included. The top menu is converted to a button for easier navigation on mobile devices.
This template has been tested with Chrome, Edge, Firefox, IE9+, Opera, and Safari browsers on PC and Mac computers. It's also tested on iOS and Android mobile devices.
Support for RTL (right-to-left) languages.