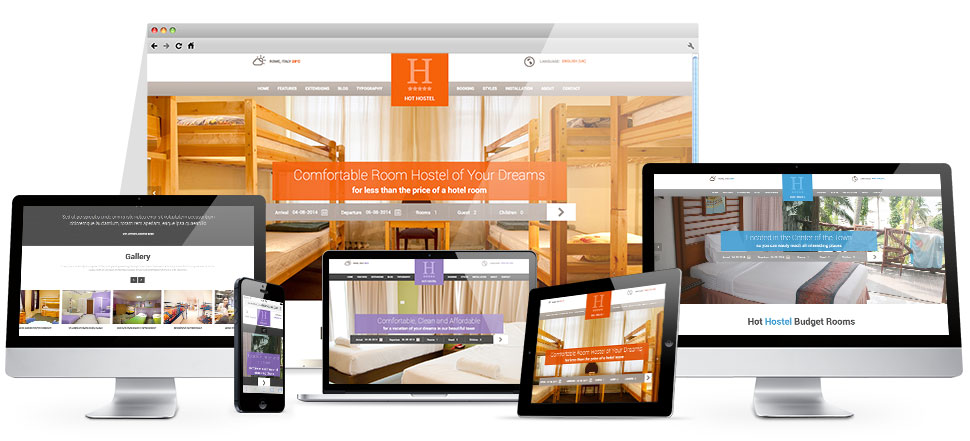 Hostels are cheap hotels usually popular among young travelers throughout the world. They are usually located in the downtown areas. Hostels don't offer as luxurious comfort as hotels, but travelers are usually looking just for a place to oversleep.
We already have a Joomla Hotel template in our collection of premium Joomla templates. That's why we named this template "Hostel". However, this design can be used for the development of websites for both hotels and hostels.
The popularity of websites with elements that have a fixed position led to the creation of this design. As you can see, scrolling up and down has some interesting effects that are created by the combination of static and movable elements. There are also both static and movable background images (parallax scroll, but not too busy and complex).
We used only the responsive modules in this template, so, you don't have to worry because the entire website is responsive and optimized for smaller mobile screens. The home page contains the Hot Full Carousel with a rotation of large images and text. It uses a dominant position on the home page. You create a multi-language website using the core Joomla features. We believe this could be an important feature of all hotel and hostel websites. A gallery module (Hot Film Tape) is below the main content and it's published on all pages. The top menu is divided into the left and the right side, so, this template uses two top menus. However, on mobile screens, these two menus will be merged into a single menu button.
Template Key Features
This is a quick overview of the Hot Hostel's features:
Responsive template, based on clean HTML5/CSS3 code, and powered by Sparky Framework for Joomla.
3 pre-defined color styles. All colors are easily customizable from the Sparky options (infinite color options are possible).
Customization of the template's layout and adding/removing module positions is easy. It's powered by Sparky's drag-and-drop Layout Editor. Change the layout and element's dimensions easily whenever you need.
Responsive Joomla modules included: Hot Full Carousel, Hot Slicebox, Hot Film Tape, and Hot Maps modules are included with Hot Hostel responsive template. All commercial modules included in the Joomla hostel template are free for you if you buy the template (you save $19 per module). All extensions are styled and configured for use with this template.
HotStart (SQL dump) available with both single purchase or membership plan. It copies the template with all extensions and demo pages easily.
18 module positions are used in our demo. An unlimited number of module positions can be added easily within the Layout Editor of Sparky Framework if needed.
PSD source file and fonts are included.
Top menu with drop-down sub-levels is divided into two symmetrically positioned menus. Both top menus convert into a button for easier navigation on mobile devices.
Google Mobile-Friendly Test PASSED.
Tested with Chrome, Firefox, Edge, Safari, and Opera. Tested on iOS and Android mobile devices.
Support for RTL (right-to-left) languages.