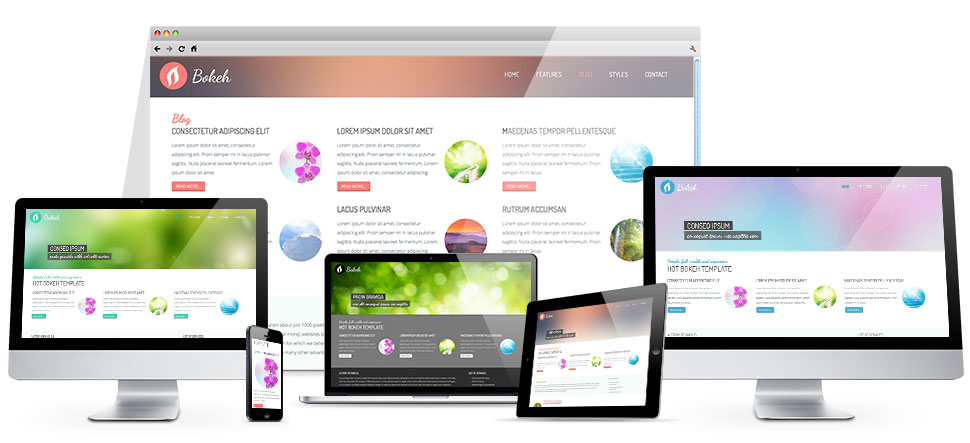 Hot Bokeh is free responsive Joomla template that has variable width and shows content in full screen space on both smallest and largest screen resolutions. Many visitors of our website asked us about free versions of our premium Joomla templates. Hot Bokeh is the first template by HotThemes which comes in 2 versions: free and premium version. The free version is available for free download (no registration needed). Hot Bokeh Free is licensed under GNu/GPL license (as all our other products) and can be used, according to this license, on unlimited number of domains.
Hot Bokeh Free is responsive Joomla template, which means it looks good on all screen sizes. This is our solution for a very complex web design problem of making a site which looks good on both gigantic and the smallest screen resolutions.
This template, as all other newer templates by HotThemes, is based on the latest version of Sparky Framework - the framework that won't make you feel framed! This nicely designed responsive template, powered by CSS3 functions and animations is one more reason to try development with Sparky. The free version of the Hot Bokeh template has these features:
This is responsive template, based on valid and clean CSS code, powered by Sparky Framework for Joomla.
3 pre-defined styles with different colors. All colors are easily customizable in Sparky options (infinite color options).
Customization of the template's layout and adding/removing module positions is easy! It's powered by Sparky's drag-and-drop Layout Editor. Change the layout and element dimensions easily whenever you need.
Hot Joomla Carousel, and Hot Joomla Gallery modules are included with free Hot Bokeh template. All extensions are pre-installed and configured.
HotStart (SQL dump) available for free! It copies the template with all extensions and demo pages easily.
17 module positions are used in our demo. An unlimited number of module positions can be added easily within the Layout Editor of Sparky Framework if needed.
SEO-friendly template code for better success of your site.
Top menu system with presentation of sub-level in drop-down panes. It's converted to a button for smaller resolutions and a better user experience on mobile devices.
Google Mobile-Friendly Test PASSED.
Tested with IE8+, Firefox, Chrome, Safari and Opera browsers on PC and Mac computers. Tested on iOS and Android mobile devices.
Support for RTL (right-to-left) languages.
Hot Bokeh premium features
If you like Hot Bokeh Free, you would like Hot Bokeh premium version even more! All features of Hot Bokeh Free are also present in the free version, and more:
Additional 7 color styles (5 light and 2 dark), overall 10 color styles. Hot Bokeh premium template has the largest number of color variants.
3 commercial modules are included with Hot Bokeh premium template for free (overall value $45).

Hot Full Carousel (free version has just a static image on home page)
Hot Film Tape (responsive rotator for slide shows)
Hot Maps plugin (free version has just a static map image).
AcyMailing component for newsletters management

PSD source file and fonts are available.
Export feature in Sparky Framework - Rename template with one click.
Rebranding and copyright link removal are allowed.
Technical support by HotThemes developers.
How to install after download
Hot Bokeh free is available only as a HotStart installation. This installation method installs Joomla 3.x, template, all extensions, and content as you can see on our demo (without premium features). To learn more about HotStart installation please visit this page.
Specifics for Hot Bokeh template (after installation)
Since this template has an unusual feature (it occupies full-screen space), there are some features specific to this template. If you feel that text becomes too wide (on larger screens), you can use CSS3 columns. All you need to do is to wrap the entire page content inside DIV with class "twocols", for example:

<div class="twocols">
...content for your page here...
</div>

In this case, entire page will be separated in two columns, as on this page. On smaller screens (smaller monitors and mobiles), the template will automatically show a single column and ignore your command for two columns.
It's also possible to make content area fixed width. All you need to do is to enter the page class suffix " fixed" (this is a blank space followed by the word "fixed" - don't omit the blank space!). You can enter the page class in Menus > Main Menu > Item name > Page Display Options > Page Class. The such page will have a maximum width of 960px (or less on mobile devices).
How to upgrade from free to premium version
If you decide to join our Joomla template club or buy a single Hot Bokeh premium template at a time when you already created the site with Hot Bokeh free, upgrade without losing your data is possible. We have detailed Bokeh upgrade instructions, so please just follow it carefully. However, if keeping old data is not necessary or you want to start over, you will receive premium Hot Bokeh HotStart installation which installs all premium features from our demo.