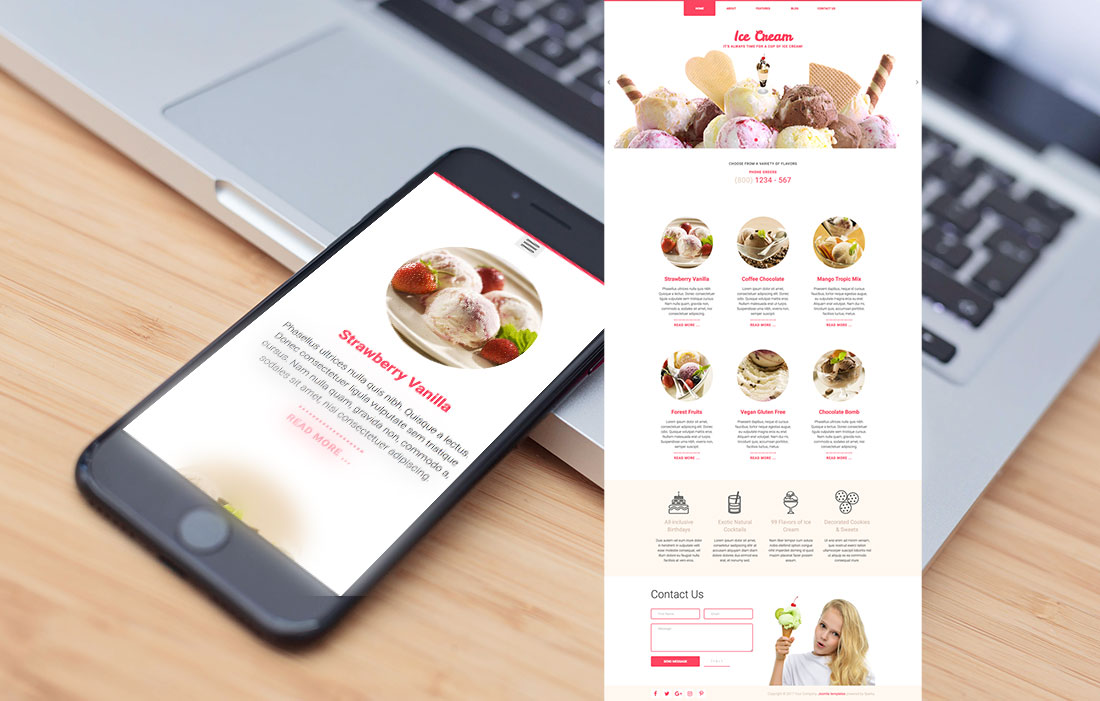 Ice Cream is responsive Joomla template for websites of the ice cream producers, ice cream shops and delivery services and confectioners. This template is based on a clean design with white background color and one accented color. This approach puts the colorful images of the ice cream cups in the main focus.
By default, there is not logo in the top row. However, you can add it easily to the Ice Cream template using Sparky Framework's Layout Builder and Features.
In the original design of the template, site visitors will first observe the big and centrally aligned top menu buttons with big carousel images of various ice cream blends below. The elements below the carousel are normal Joomla articles with intro text and read more buttons. Featured intro images have circular shapes and it's achieved directly in CSS. These articles represents various ice cream combinations and you can add more articles there if that's necessary. You would need to make sure that intro images are selected and they have the same width and height (otherwise, you would get elliptical instead of circular shapes).
The lower area of the Ice Cream template contains 4 modules with slightly different background color. In this row, you can put some facts about your products, offer extra discounts or promote new products.
Finally, there's a simplified contact form with a nice image of young girl holding a cone with ice cream. This form allows you to get in touch with your clients or even receive orders online if your company offers a delivery service.
Features of the Ice Cream Template
This is the list of the Ice Cream template's most significant features, followed with some technical details:
Responsive template, based on clean HTML5/CSS3 code, and powered by Sparky Framework for Joomla.
CSS3 based animations improve overall user experience of your site.
5 pre-defined color styles. All colors are easily customisable from the Sparky options (infinite color options).
Customisation of the template's layout and adding/removing module positions is easy. It's powered by Sparky's drag and drop Layout Editor. Change layout and element's dimensions easily whenever you need.
Featured images of your articles (where available) will be moved to the top, displayed in the full width of screen and revealed through the parallax scroll effect.
Total control of all menus through the framework. You can set functionalities and style of all your menus and drop them directly into the layout. Ice Cream template uses Drop-down menu which allows multiple levels of menu items to be included in the top row.
Responsive Joomla modules included with this template: Hot Swipe Carousel (retina ready), Hot Slicebox, Hot Responsive Lightbox and Hot Maps module. All these modules are included with this template without additional fees (you save $19 per commercial module).
Retina ready images in articles, custom modules and carousel. Full support for modern screens with double pixel density.
HotStart (SQL dump) available with both single purchase or any membership plan. It copies template with all extensions and demo pages easily.
Unlimited number of module positions can be added easily within Layout Editor of Sparky Framework, if needed.
PSD source file and fonts are included.
This template has been tested with Chrome, Edge, Firefox, IE9+, Opera and Safari browsers on PC and Mac computers. It's also tested on iOS and Android mobile devices.
Support for RTL (right-to-left) languages.