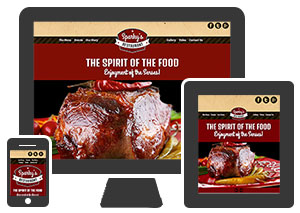 You liked the first template that uses our new one-page concept (everything on one page), so we decided to make one more. Hot Food Spirit is a template designed for restaurants, pizzerias, taverns, cafes, and similar objects. It has a more complex design with very strong background images. Although everything is only on one page, we designed each of the page sections differently.

If you want to impress your site visitors (and potential guests of your restaurant) with a strong, modern, and responsive design, then the Hot Food Store template for the restaurant is ideal for you. It looks great on all screen resolutions, including mobile devices (iPad, iPhone...). This design looks great on desktop screens, but the same situation is if you are visiting the site with your mobile phone. That's what your guests usually do when they are nearby your place.
The template demo contains 7 pages (marked as Featured in Joomla) and describes a fictional Sparky's restaurant. We will describe each page here and explain how each page has been built. It will help you to understand how to edit them. Above the pages, there's module position header1 with the first instance of the Hot Film Tape module (included with template) and a large high-resolution responsive slideshow.
The Menu - A simple page with textual content.
Events - A page with textual content and with a high-resolution image in the background. The image is scaled according to the screen size.
Our Story - This page contains some textual content and a slideshow with a collection of images that are inserted through the Hot Responsive Lightbox plugin (included with template).
Gallery - On this page, you can see another instance of the Hot Film Tape (included with template)
Video - This page contains an iFrame with a sample YouTube video. You can include any video here, just make sure you are editing this page without a WYSIWYG editor.
Contact Us - This page contains the Rapid Contact module and some social networking linked icons.
We Expect You - The last page contains only some textual content.
This template shows several pages (blog view) at once, but each of those pages is designed differently and has unique CSS, backgrounds, colors, etc. The top menu links are not classic links that open new pages. The menu links in this template are actually the anchor links. Such links start with # and contain one word. Click on the anchor link will scroll you to the page that contains the anchor word from the link. For example, clicking on "The Menu" menu item will scroll you to The Menu page.
A detailed explanation of how this template works and how to use it, you can read here.
Template Key Features
The template's most significant features are:
100% responsive HTML/CSS code, powered by the Sparky Framework.
Hot Swipe Carousel module, Hot Film Tape module, Responsive Lightbox plugin (part of the Sparky Framework), and Rapid Contact module are included with the template, pre-installed and configured. We are selling some of these modules for $19, but you will get them for free when you buy this template.
HotStart (SQL dump) is available with both a single purchase and membership plans. It installs the template with all extensions and demo data.
"One-page" template design. Click on the top menu doesn't load a new page but scrolls the screen to the appropriate page. The scroll is powered by jQuery. Single pages (classic pages) are also possible.
Photoshop PSD source file is available. Google Web Fonts are used in design and 800+ of them are available through the template options.
Google Mobile-Friendly test PASSED.
Tested in Edge, Firefox, Chrome, Safari, Opera. Tested on iPhone, iPad, and Android devices.
Support for RTL (right-to-left) languages.