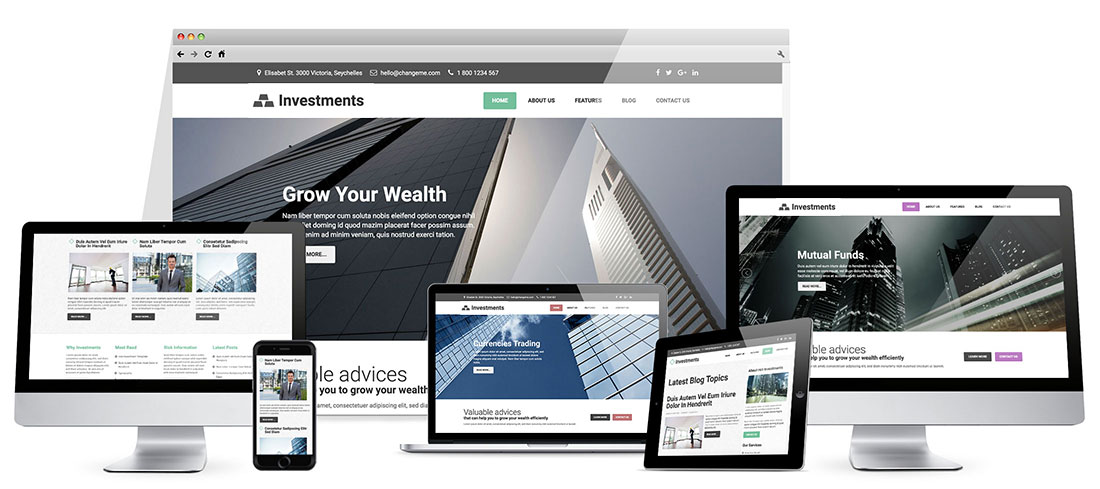 Hot Investments is a responsive corporate Joomla template suitable for websites for financial institutions as well as all other kinds of business websites. The template's clean and corporate design is appropriate for almost all types of business websites.
We are here to fulfil the needs of our clients. No other type of websites is as needed as business websites based on corporate design. If you are running an agency for web design, most likely your next client will request a business website. Therefore, we are adding yet another business template to our collection of Joomla business templates. Hot Investments template has all these features necessary for corporate websites. Various ways for your clients to reach you are presented on the design, from phone numbers, to emails and social networks.
This template has two carousels powered with modern CSS3 animations on the home page. The upper carousel is there to lead your visitor to the pages that describe company's services. The bottom carousel rotates your client's testimonials. Marketers know that nothing will convince potential new clients in quality of your services as real words from your previous clients.
Beside these elements, Hot Investment template contains several sections with call to action buttons. The main purpose of them is to encourage visitors to reach website owners and convert them from visitors to clients.
Features of the Investments Template
Here comes the list of the Hot Investments template's most significant features and some technical details:
Responsive template, based on clean HTML5/CSS3 code, and powered by Sparky Framework for Joomla.
CSS3 and jQuery based animations welcomes visitors of your site.
5 pre-defined color styles. All colors are easily customisable from the Sparky options (infinite color options).
Customisation of the template's layout and adding/removing module positions is easy. It's powered by Sparky's drag and drop Layout Editor. Change layout and element's dimensions easily whenever you need.
Total control of all menus through the framework. You can set functionalities and style of all your menus and drop them directly into the layout. This template uses Drop-down menu which allows multiple levels of menu items to be included in the drop-down pane.
We included several responsive Joomla modules with this template. Hot Swipe Carousel (retina ready), Hot Slicebox, Hot Responsive Lightbox and Hot Maps module. All these modules are included with this template without additional fees (you save $15 per commercial module).
Retina ready images in articles, custom modules and carousel. Full support for modern screens with double pixel density.
HotStart (SQL dump) available with both single purchase or any membership plan. It copies template with all extensions and demo pages easily.
Unlimited number of module positions can be added easily within Layout Editor of Sparky Framework, if needed.
PSD source file and fonts are included.
This template has been tested with Chrome, Edge, Firefox, IE9+, Opera and Safari browsers on PC and Mac computers. It's also tested on iOS and Android mobile devices.
Support for RTL (right-to-left) languages.