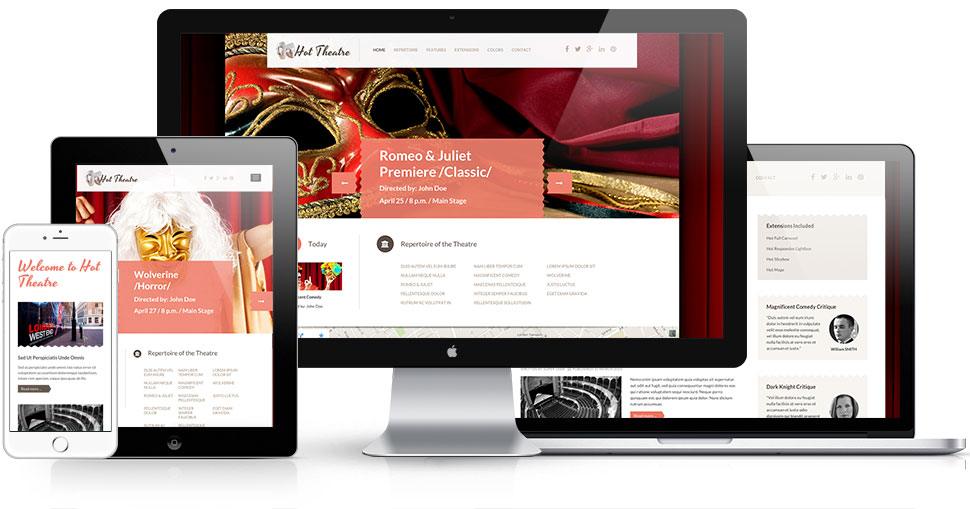 Theatre template is responsive Joomla template dedicated to all institutions that organize and host live performing arts shows. There are various types of performing arts, such as music, dance, opera, theatre, circus arts, magic, illusion and many others. Probably the most popular of all them is theatre. The movies are popular in all parts of the world. However, in the theatre we can see the actors and the show they are playing in live. For many people, this experience is simply incomparable to the experience they have when watching the "dead" screens in the cinemas.
You can watch the same show in the theatre more than once. By doing this, you will release that performances are changing over time. Every new performance offers a new experience to the public. That's why we can say the theatre shows live and change over time. Similarly to the art of the theatre, responsive web design is an art that lives and changes... not over time, but depending on what device site visitors use to access your site. We really did our best to offer different experiences of this design on various screen sizes. At the same time, we keep the overall site design unique.
Websites of this kind should offer site visitors information of the current and prospective shows, as well as the full repertoire of the institution. The striking position on the home page should be used for the most important news (premieres). Since the theatre is popular not just between the domestic population, but also between the tourists, it's recommended to include the map in the prominent place of the site.
Key Features of the Theatre Template
Here's the quick overview of the Theatre template features:
Responsive template, based on clean HTML5/CSS3 code, and powered by Sparky Framework for Joomla.
3 pre-defined color styles. All colors are easily customizable from the Sparky options (infinite color options).
Customization of the template's layout and adding/removing module positions is easy. It's powered by Sparky's drag and drop Layout Editor. Change layout and element's dimensions easily whenever you need.
Responsive Joomla modules included: Hot Full Carousel, Hot Slicebox, Hot Responsive Lightbox and Hot Maps. All these modules are included with this template without additional fees (you save $19 per commercial module). All extensions are styled and configured for this template.
HotStart (SQL dump) available with both single purchase or membership plan. It copies template with all extensions and demo pages easily.
Unlimited number of module positions can be added easily within Layout Editor of Sparky Framework, if needed.
PSD source file and fonts are included.
Total control of all menus through the framework. You can set functionalities and style of all your menus and drop them directly into the layout. Top menu with drop-down sub-levels is included. The top menu converts to a button for easier navigation on the mobile devices.
Google Mobile-Friendly Test PASSED.
This template is tested with Firefox, Chrome, Safari, Opera and IE8+ browser. It's also tested on iOS and Android mobile devices.
Support for RTL (right-to-left) languages.