This plugin contains the Sparky Page Builder's code used to properly display the actual content of Joomla pages edited in the page builder.
Sparky Editor Plugin must be activated, otherwise, Sparky Page Builder will be available when you edit Joomla pages, but they won't be displayed properly. To check if the plugin is activated, please do the following:
Login to your Joomla Administration panel.
Go to Extensions > Plugins (Joomla 3.x) or System > Manage > Plugins (Joomla 4.x).
In the search field enter the word "sparky".
One of the results should be the plugin "Content - Sparky Content Plugin".
Make sure that the Status of this plugin is published.
If there's no such plugin, please install the Sparky Page Builder package.

If you click on the plugin's name "Content - Sparky Content Plugin", you will see the plugin options.
There are color fields where you can enter up to 6 color values that you are often using on your site. Color values entered here will be replaced with CSS vars in inline CSS of Joomla articles.
For example, if you are using a purple color as one of the predefined colors in your template, and use the same color for some text (or buttons, or whatever) in the Sparky Page Builder, the plugin will automatically replace this color value with CSS var. This is useful because if you decide to change this purple color for a different color in the future, you can change it in the template parameters and it will be automatically updated everywhere.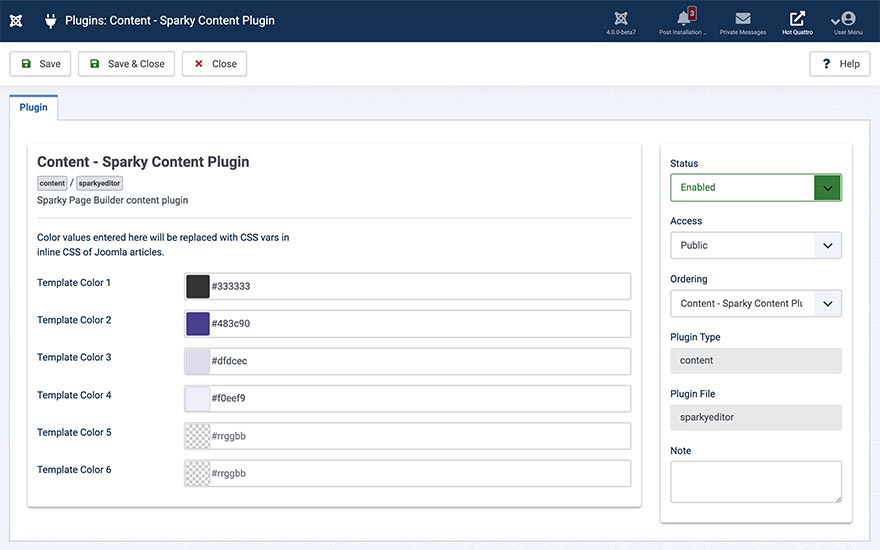 This feature is available only if your website is based on the Sparky Framework v2.8 (or later, on Joomla 3.x) or v4.0 (or later, on Joomla 4.x)