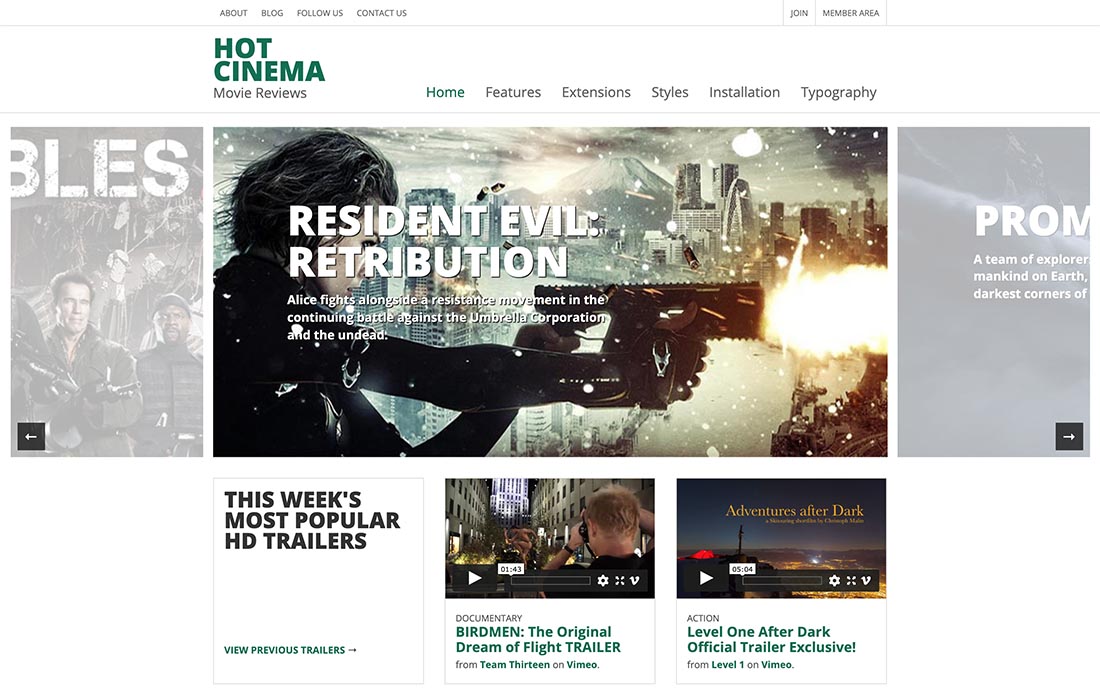 Especially for the Hot Cinema movie blogger template, we created two new modules - Hot Full Carousel and Hot Film Tape. Both are included in the template package and would be auto-installed when you finish the HotStart installation procedure.
Hot Cinema movie blogger template has been dedicated to the movie lovers and bloggers that write movie reviews. We all love to watch movies, don't we? In the cinemas or at our homes, wherever you prefer. Enjoyment is guaranteed if the movie you watch is good. Did you ever think about making a website where you could review all the movies that you had watched and that is worth reviewing (because they're so good or so bad)? Having such a website will allow you to express your opinions about the old, current, and upcoming masterpieces of the seventh art. The Cinema movie blogger template has social features as well as a better categorization of your reviews. Therefore, your visitors could rate and comment on all your posts and reviews. One day, when your site about movies becomes large and popular, maybe it would be a direct competitor of the world's movie database, the famous IMDB! You can work on it, and... Who knows...
As always, we wish you to enjoy the movie blogger template Hot Cinema as well as the movies that you're reviewing. Last but not least, it's worth mentioning that the template has a clean and modern look, so if you like it, feel free to use it for any other purposes. Just change our demo data about movies with your content.
This template allows you to create a modern-looking, responsive and functional website fast and easily. It has been re-developed in December 2021 and it's now responsive and compatible with Joomla 4.
Movie Blogger Template Key Features
The list of the template's most significant features:
100% responsive XHTML/CSS. Powered by the Sparky Framework.
5 pre-defined styles with different main color. Each color is easily customizable in parameters. Infinite color combination.
Hot Full Carousel and Hot Film Tape modules included with template, pre-installed and configured.
HotStart (SQL dump) available with both single purchase or membership plan. It copies template with all extensions and demo data.
22 collapsible module positions.
SEO friendly.
PSD source file and fonts included.
800+ Google fonts available in the template options.
Drop-down top menu.
Compatible with Edge, Firefox, Chrome, Safari, Opera. Tested on Windows, MacOS desktop computers as well as iOS and Android mobile devices.
Support for RTL (right-to-left) languages.