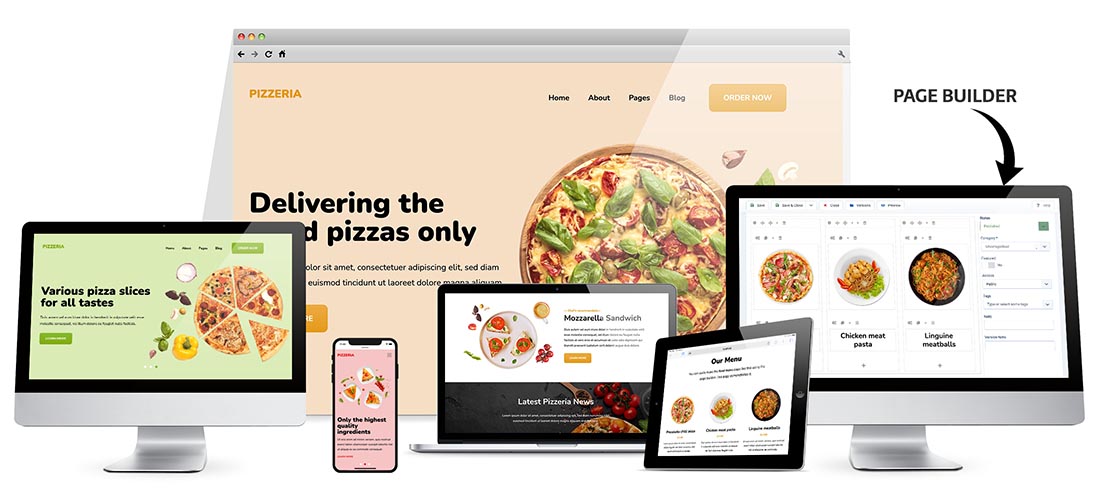 This responsive Joomla template is suitable for websites for pizzerias, restaurants, fast-food restaurants, and similar websites related to food and drink. The nice images of the pizzeria's delicious specialties are in the most prominent places of this template. Pizzeria lets you quickly create your restaurant website in Joomla!
It's well-known that the origin of pizza is in Italy. At the earliest times, pizza was just a baked piece of dough with tomato and cheese. Today, we have hundreds of varieties of pizza with different dough types and ingredients added above it. Therefore, pizzerias are one of the most popular fast-food restaurants worldwide. Italian restaurants that have pizzas on their menus usually also offer different types of pasta.
This template is accompanied by a page builder and other useful Joomla extensions. You can use it to quickly and efficiently create a website for a restaurant. It's possible to extend it even further by adding an online ordering system or reservations system. There are 4 color schemes available for different tastes.
Page Builder
With Pizzeria template and the Sparky page builder, you can create and edit your pages easily. Add and edit text, images, buttons, multimedia, lists, icons, and other types of blocks. Make text styles listed in the Typography page visually in the page builder. Everything is included and preinstalled in the Pizzeria template package.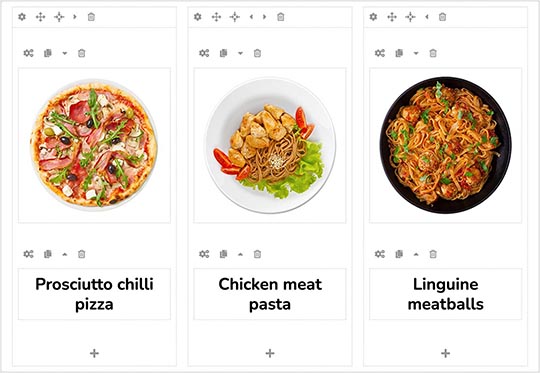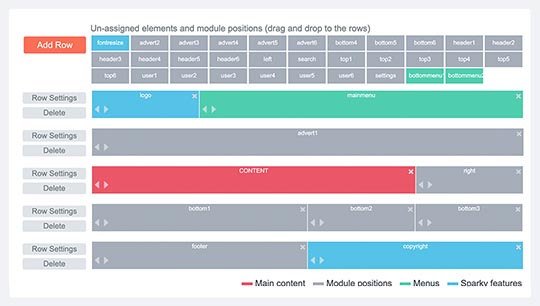 The Sparky Framework
Pizzeria template is based on the Sparky Framework with child templates support. It lets you change your overall website layout, include any Google font easily with a preview, change colors, menus, logo, etc.
Based on your settings, the framework is dynamically making the static CSS and Javascript files. This is the best approach for scalability and good website performance.
Drop-down Menu
Pizzeria template has a drop-down top menu with submenu items available on mouse over (or tap on mobiles). It's fully responsive and mobile-friendly.
There are also more different menu types available in the Joomla template settings, such as mega menu, offcanvas menu, etc. Also, each menu is fully customizable. You are allowed to change the fonts, colors, dimensions, etc.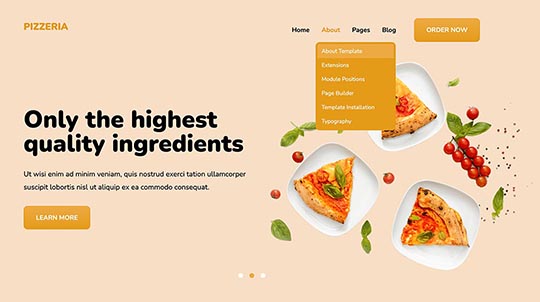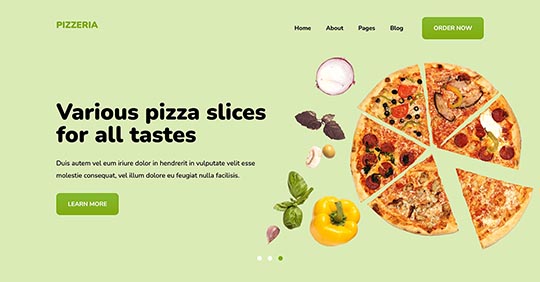 Hot Swipe Carousel
This mobile-friendly Joomla module rotates slides (scroll or fade) that may contain text and images.
Although this template uses some big images of pizzas, the carousel is well optimized for mobile phones. While it shows the text over the images on the big screens, the text is separated from the images on small screens. Therefore, the best text readability is combined with the best visibility of the images in their original scale.
Hot Responsive Lightbox
Create galleries of your images easily with this module. Just point to the folder where your images are stored in the module settings.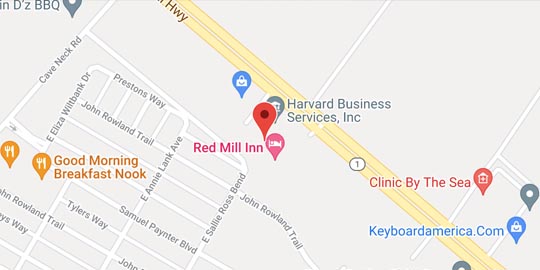 Hot Maps
This module shows the location of your Pizzeria. All that you should do is enter your business address in the module settings.
There are also many other options related to the map's output. You can change the colors, add or remove some elements, etc.
Pizzeria Template Screen Shots
The following screenshots show some pages of the Pizzeria Joomla template.
Template Features
Responsive template, based on clean CSS/CSS3 code, and powered by the Sparky Joomla template framework.
Sparky Page builder is included with this template. All demo content is created using this page builder. Edit and create your content effortlessly.
All colors are easily customizable in Sparky options (infinite color options).
Customization of the template's layout and adding/removing module positions is easy. It's powered by Sparky's drag-and-drop Layout Editor. Change layout and element dimensions easily whenever you need.
The compatibility with all future Joomla! versions are guaranteed!
Extensions included with template: Hot Swipe Carousel, Hot Responsive Lightbox, and Hot Maps.
HotStart (quick-start installation) is available with both a single purchase or membership plan. It copies the template with all extensions and demo pages easily.
An unlimited number of module positions can be added easily within the Layout Editor of the Sparky Framework if needed.
A selection of 800+ Google Fonts is available through the template options panel. The latest version of the Font Awesome icons collection is included.
PSD source file and fonts are available.
The top menu system with the presentation of the menu items in multiple levels in the drop-down panes.
Tested with Google Chrome, Mozilla Firefox, Microsoft Edge, Apple Safari, and Opera browsers. Tested on Apple iOS and Android mobile devices. Support for RTL (right-to-left) languages.