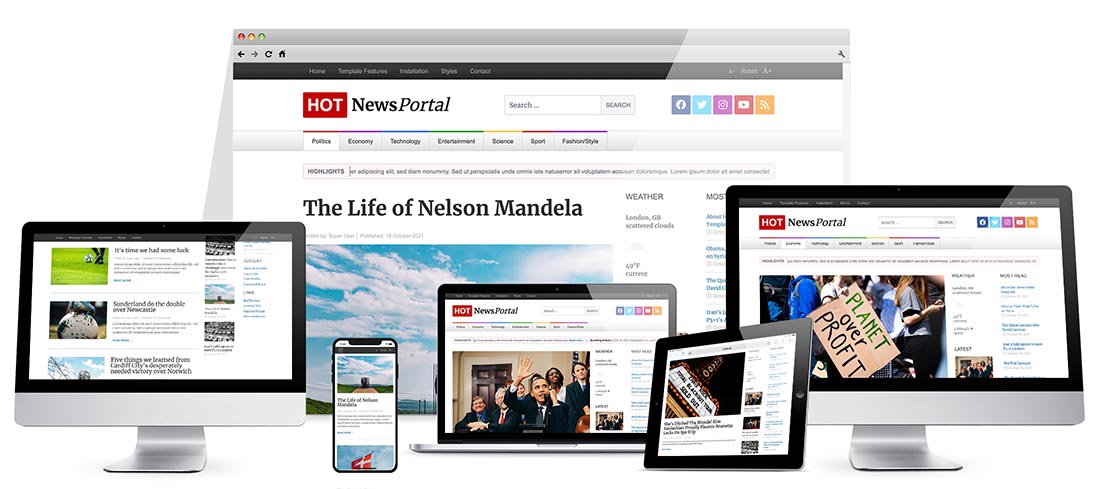 Redesigned and redeveloped for Joomla 4 using the latest versions of our framework and page builder, this Joomla template is created for news portal websites. The main purpose of the news portals is to show many information from different fields, for example politics, sport, entertainment, technology, arts, etc. Joomla news template Hot News Portal can be a good starting point in the development of such websites.
The readers usually visits such portals regularly, on daily basis. The news portals usually publish a lot of news articles every day. It's necessary to classify all these articles by importance and time of publishing. Some of the articles are shown as featured and they are more important, but everything, including the featured articles, is changing every day. Since readers are visiting such portal often, there should also be some service information, such as weather conditions. This Joomla news template allows you to add this feature easily. Browsing through tons of information will be easier with an easy-to-use search system which is available from all pages. This is available as well.
We have included several Joomla modules in the News Portal template package. One of them briefly shows weather conditions for all locations in the world. The second module allows you to include scrolling text with excerpts from the selected news articles. Also, you can include Google Maps into the articles. Last but not least, if you want to create carousels with images and text, you can do this using the Hot Full Carousel module.
Use Sparky Page Builder to Edit Content Easily
You can create new content pages and edit everything visually (Joomla articles, custom modules, etc.) using the Sparky Page Builder (included with template). The content is editable from both the backend and the front-end. Our page builder is based on pure Javascript, so your website will be compatible with the future major versions of Joomla.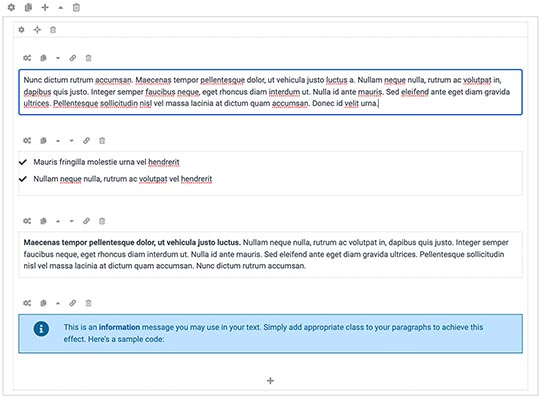 The Sparky Framework
The backend of the Hot News Portal Joomla template is based on our most popular product: the Sparky Framework. Using a drag and drop technology you can create or edit website layout and add or remove elements (module positions, menus, logo) and other template elements (typography, special features, etc.). This is also the place where you can visually change the font colors and text styles using a collection of 800+ Google fonts. The framework generates the static CSS files anytime you change something in the settings. Therefore, the resulting website is lightfast and mobile-friendly.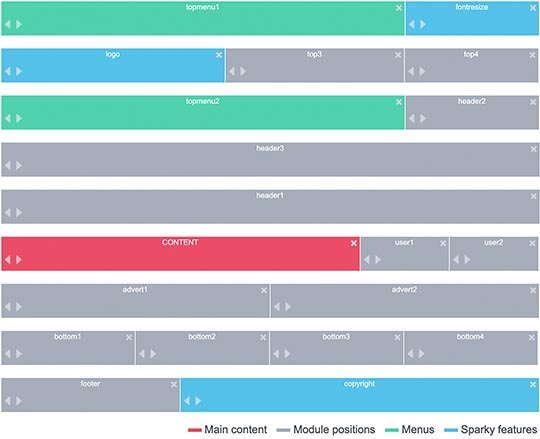 Joomla News Template: The Key Features of the Hot News Portal
This is a responsive template, based on clean CSS/CSS3 code and powered by Sparky Joomla template framework.
5 pre-defined color styles. All colors are easily customizable from the Sparky options (infinite color options).
Customization of the template's layout and adding/removing module positions is easy. It's powered by Sparky's drag-and-drop Layout Editor. Change layout and element's dimensions of the Joomla news template easily whenever you need.
Sparky Page Builder included. Create your pages visually without coding.
Hot Full Carousel, Hot Weather, Hot Maps, and Hot Scroller. The modules are included with the Hot News Portal template. All commercial modules included in this template are free for you, if you buy the template (you save $19 per module). All extensions are pre-installed and configured.
HotStart (SQL dump) available with both single purchase or membership plan. It copies the template with all extensions and demo pages easily.
21 module positions are used in our demo. An unlimited number of module positions can be added easily within the Layout Editor of Sparky Framework if needed.
PSD source file and fonts are available.
Two top menus with the presentation of sub-levels as drop-down panes.
Google Mobile-Friendly Test PASSED.
Tested with Edge, Firefox, Chrome, Safari, and Opera. Tested on iOS and Android mobile devices.
Support for RTL (right-to-left) languages.