After the installation procedure, Sparky Page Builder is still not active on your Joomla site. You will need to activate your new Sparky editor.
Check if plugins are published
Sparky Page Builder contains two Joomla plugins. Both of them should be published in order to use the page builder. To check if the plugins are published, from your Joomla Administrator panel go to Extensions > Plugins (Joomla 3.x) or System > Manage > Plugins (Joomla 4.x). In the search field enter the word "sparky". You should see two plugins (or more if you are using a template based on our Sparky Framework):
Content - Sparky Content Plugin
Editor - Sparky Page Builder
Make sure both of these plugins are in published status.

Select Sparky Page Builder as Joomla editor
You should select Sparky Page Builder as a default editor of your Joomla site in global configuration. From your Joomla Administrator panel, go to System > Global Configuration. Under the Site tab, for the Default Editor option select "Editor - Sparky Page Builder" and save settings.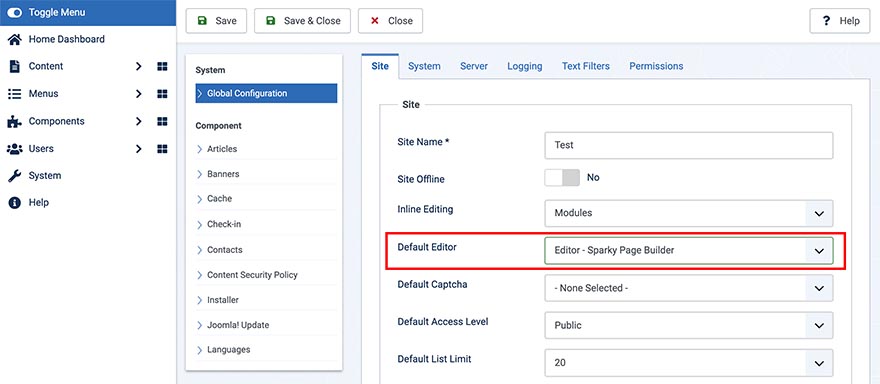 Besides the global configuration, it's also possible to select the default Joomla editor on the user level. So, if you see your old editor even after you selected Sparky Page Builder in global configuration, check your Joomla user account settings. Go to Users > Manage and click your user name. Under Basic Settings tab, make sure that the Editor option has the value "User Default" or "Sparky Page Builder" (the second option will set this editor for this user regardless of the global configuration).