Thanks to the Internet, many innovative technologies have emerged. One of these is Joomla. Joomla is a Content Management System (CMS) that has very high capability. You can construct websites and high quality applications that you can host on the Internet. This CMS is easy to use and its capabilities can easily be extended. It is very popular website software that is used for a variety of purposes by companies and firms around the world. Its greatest feature is that it is open source and you can edit or modify it according to your needs. Best of all, it's completely free. You can simply navigate to the Joomla website and download this CMS into your computer. You can then use it to create a website of your choice.
Joomla is able to help you manage a single website or multiple websites quite easily. This software can help you to keep tabs on all the content hosted in your website. The software helps you to track documents, files, music, video, photographs and texts that are in your website. You do not need to have any special skills to use Joomla. By pointing, clicking and dragging, you can become a capable webmaster using Joomla.
What can Joomla be used for?
This CMS can be used to create literally any type of website or online application. It can be used to create applications that are saved on the Internet or even in an Intranet. As such, Joomla can be used to create portals for corporate websites. It can be used to create the infrastructure for intranets and extranets. Using VirtueMart templates, CMS software can also be used to create e-commerce sites as well as those used to book reservations in hotels and other facilities.
Joomla can be used to create interactive websites that host, stream and play media such as music and videos. Moreover, you can use this CMS to create interactive websites that allow people to log on, communicate and interact with each other. Joomla is powerful enough to be used to create a social site for a community such as your school or organization. It has modules and tools that you can use to come up with a site that allows them to create accounts and interact.
Joomla can be used to create the online applications used by governments as well as websites for businesses, Non-Governmental Organizations as well as communities. Institutions such as churches and schools can benefit from Joomla. This CMS can be used to create websites or intranets for them. This CMS can also be used to create an online portal into a database. By using Joomla to create a specially made website, one can easily offer access to a database of choice. This is quite useful for students and instructors in an online class registration system.
How to link a Joomla website to a database
Every website that is made with Joomla requires a special database. This is a repository where all the music, pictures and videos that appear in the website can be stored. The menus and users of the website are also stored in this database. All these resources are useful in running your website or web application. Providers of dba services also understand the importance of these files for your website.
For the Joomla site to work properly, you should have a functioning database, user, password as well as assign required privileges to this user. This is one of the important steps that you must complete before completing the installation of the Joomla CMS. The most common type of database that is used with Joomla websites is MySQL database.
The most appropriate way to accomplish this is to use the MySQL database wizard. This automated assistant will help you to get through the main steps of the procedure to make a database for your site. The main steps are:
Creating the database
Establishing a user
Setting a password for the user
Setting privileges for the user
You can accomplish these steps through your hosting panel too.
How to setup database for Joomla through cPanel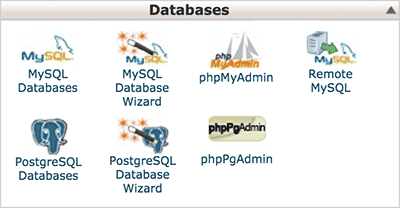 To begin the process, simply click on a wizard icon in the cPanel of your hosting account. After that, you need to identify a name for your database. If your database will reside in a shared environment, then you need to set a name where the username of your hosting account forms the first part and a unique ID forms the second part of the name of your database. For example, if the username of your hosting account is C1234, then the name of your database can be C1234_joomla. Once you establish a name for your database, the wizard will help you to create the database itself.
After creating it, the next step is to make a user who can access it. In this step, you can come up with a user as well as a user password. For security purposes, you should create a username that is different from the name of the database. However, it is possible to use the name of the database as a username. Once you set a unique username, proceed to assign a strong password to it. This user can now log into the database through the Joomla CMS.
Last but definitely not least is setting user privileges. These are the capabilities of the user in your database. Also known as permissions, these are rules that determine how the user will interact with the database. What they can and cannot do. By setting privileges, you are able to determine if the user will be able to create, edit, delete, copy or cut tables or records. In addition to that, these privileges determine if the user can perform other interactive tasks with the database, such as create and execute queries.
Conclusion
Once you have completed the steps above, you will have successfully created a database for your Joomla CMS. The wizard will display some important information for you once you have completed the steps above. This information includes the name of the database, the user in the database as well as the password of the user. It is quite important to identify where the database is located. If you conduct this installation from the cPanel, you can find your database in the localhost. In some cases, the database server can be separate from the account's server. In such a case, it can be found at a unique url, for example, dbserver21.hosting.com.
---
Author Bio:
Sujain Thomas is a data IT professional who works closely with DBA experts. She has written many articles that would help people who deal with database support services. You can read her articles online on Business2Community.com, Websitemagazine.com opednews.com, bizcommunity.com.