Joomla 4.3.0 has been released in April 2023. We already tested all our products against this version while it was in the RC stage and confirmed there are no major issues. Therefore, just two days after the official release, we managed to upgrade our 100+ Joomla template quickstarts to Joomla 4.3.0.
We always advise all Joomla users to use the latest version of Joomla. By using the latest version, your website security is at maximum and you can also enjoy all these newest features that are added to Joomla with each new version.
Our Templates and Extensions and Joomla 4.3
If you are starting a new website, please re-download the quickstart template package (HotStart) from our website before installation. Your website will be based on Joomla 4.3 out of the box.
All our Joomla templates, the Sparky Framework, and the Sparky Page Builder are 100% compatible with Joomla 4.3. If your website is based on an older Joomla 4.x version, please feel free to upgrade. Don't forget to make full site backups before upgrading.
All our Joomla extensions (modules and plugins) are checked and fully compatible with Joomla 4.3.
New Features of Joomla 4.3
Guided Tours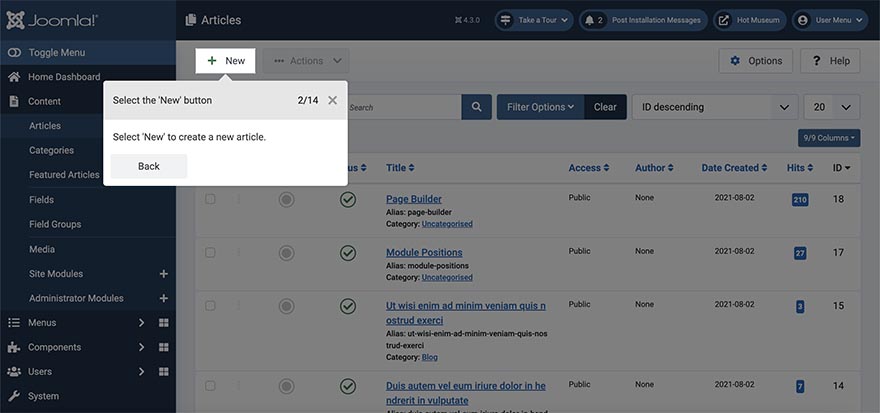 The feature that will probably mark this version of Joomla is Guided Tours. This feature learns new users through administrative tasks in an interactive way. By clicking the Take a Tour button from the Dashboard's top bar, you can start one of the many tours offered. For example, you can interactively learn how to create articles, categories, menus, tags, etc.
Even if you are an experienced Joomla user, you will find this feature useful if you are training your clients on how to use Joomla.
Media Manager Revamp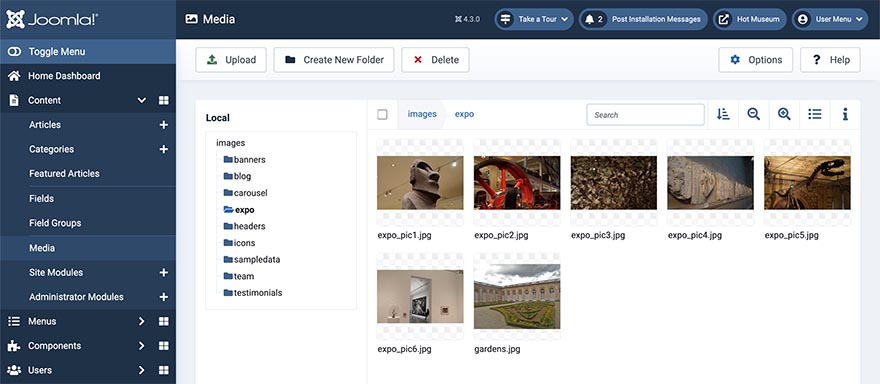 Media Manager is improved and it lets you order the images easier. It supports SVG files now. Also, Drag and Drop is for image uploads is enhanced.
Other Features
In menu management, you can now filter menu items by component. Also, the admin menu can be filtered by the parent.
Conditional fields are now available for the custom fields. Many other improvements are added to the custom fields.
Tags now have new com_tags router. Also, there are several bugs fixed in the Tags component.
Smart Search now has a frontend dropdown filter.
There are many enhancements "under the hood". For example, Joomla is now using Bootstrap 5.2, and PHP 8.2 support is enhanced.
There are more new features added to Joomla 4.3, but for the full list and explanations, please read the official announcement.