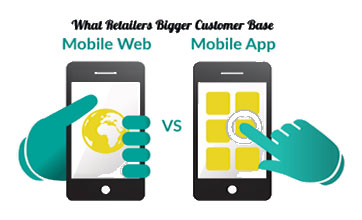 Previous year, mobile internet usage surpassed desktop internet usage was heading the news. But now, there is more addition to the news. Not only the huge number of mobile-only internet users have overtaken desktop-only but also app usage has surpassed desktop usage. If the statistics are to believe then multi-platform usage in retail rose continuously as compared to other verticals.
As a result, seeing the current trend going in the market, almost every business is planning to have a mobile presence for their organization. But, the foremost thing that they need to take into consideration is whether they wish to develop a mobile app for the users or a mobile website, or both. Though both mobile apps and mobile websites look very much alike at the first glance but to finalize which is the most suited for your organization will depend on various factors such as available budget, target audiences, and requisite features.
Major difference between Mobile applications and Mobile websites
It's essential to first understand the vital differences between the two. Both the mobile apps and websites can be easily accessed on smartphones or tablets.
Mobile Website
Likewise any other website, a mobile website basically comprises browser-based HTML pages that are linked together and accessed over the internet. The major feature that differentiates a mobile website from any standard website is the fact that it is specifically designed for the smaller display and touch-screen interface. Moreover, responsive web design is becoming the latest trend for websites that is not only mobile-friendly but can also scale to any sort of device.
Benefits of mobile website
Nowadays, shopping on mobile is sky-rocketing. It almost accounts for over more than half of all the e-commerce traffic and a mind-boggling 78% of mobile searches for local businesses result in the purchase. If you need to create a Joomla website for your app, please consider the Hot App template.
Considering the major activity, having a website optimized for mobile is essential. Some of the major advantages of mobile websites include:
Excellent Customer Experience:
As the demand of shoppers is increasing day by day, eCommerce shoppers are looking for a multi-channel and multi-device experience to be present for them. Retailers who do not own a mobile website yet are failing to reach almost 50% of the e-commerce market.
Cost-efficient:
As the website is fully responsive, it can manage all screen sizes from a single build, thus reducing the cost of developing multiple websites. The users can easily visit, search for their desired item, and shop from all types of devices.
Huge Customer Base:
Though the in-app activity is rising, the majority of customers still prefer mobile web. Customers who do not trust your brand are still a big market and making the website that makes their purchase easier will help you in reaching a broad customer base.
Mobile Applications
Mobile applications are software applications that can easily be downloaded and installed on the mobile device from the Play Store instead of being rendered within a browser. Earlier, apps were designed in order to provide the users with a similar experience as a website that can easily be accessed on the desktop. But now, apps are highly specialized software that serves as a major part of a business's mobile strategy.
These days, mobile apps are affecting retail to a great extent more than any other industry. Earlier in the year 2014, usage of shopping apps almost increased by 174%. Moreover, as per Cisco's 5th Annual Retail Survey, it was seen that approximately 55% of shoppers utilize the retail apps for shopping. Thus, it can be said that the market for mobile apps is sky-rocketing and it offers numerous benefits than other channels.
Vital Advantages of Mobile Apps
Trust integration:
The major benefit of mobile apps is that they can facilitate mobile payments as well as rewards programs on one single channel. Trustworthy programs can be taken up on a more concretized level that offers deals based on not only earlier purchasing patterns but also customers' location within interests, stores, and many others.
Awesome consumer experience:
The customer's experience should be kept on top when it comes to shopping. As per the Cisco survey, it states that context and hyper-relevance is the perfect way to win over digital customers. A mobile app can be considered as the best way to enhance the experience of the customers. The app basically acts as an extension of the retailer's brand and provides exceptional features. Some of the possibilities can be:
Distinctive offer via push notification
Easy payment option from the customer's devices
Making use of the beacon technology to customize the shopping experience
Broad Analytics:
In order to deliver the most personalized and hyper-relevant experiences to the customers, it is essential to first understand the customer's needs which require their data. With the help of mobile apps that offer incomparable analytics, retailers can easily understand the growing requirements of the customers and take useful decisions that will definitely improve the shopping experience and drive sales.
Apart from this, the other main benefit of mobile apps is that the retailers are provided with the real estate on their customers' devices that are being carried by them at all places. With the help of well-designed apps, retailers are able to have their store right at the fingertips of their prospective customers.
In a nutshell
As mobile usage continues to grow on a larger scale, the app vs web question will continue to appear for the organizations who are wishing to develop a mobile presence. If you want to have a mobile presence from the marketing point of view, or if you want to have an online presence that can easily be maintained and found on search engines, then to have a fully responsive mobile-friendly website is a perfect choice.
Similarly, there are companies that wish to provide their customers with an excellent user experience that makes them feel more like a gaming interface than a website. If there are some who are in need to access to a user's native functions, then developing an app would be highly beneficial. But, as per the latest trend, it is more advantageous to have a mobile app in order to reach your prospective customers.
In the end, it is beneficial for retailers to create a mobile website as well as a mobile app. Though the majority of the shoppers will search, visit and shop making use of the mobile web but your regular customers are demanding exceptional shopping experiences, trust integration, and trendy ways for engaging with your brand.