Every dog breeder or vet clinic owner should have a professional website to let the community and the world know about their services. The best possibilities for showcasing your pedigree favourites are provided by Template Monster developing professional and visually stunning ready-made templates. There is a multitude of Joomla templates specifically designed to suit the needs of pet shops and other pet-based businesses.
What is good about these exact templates? Here is the beneficial decision content to take into consideration:
Economy: You considerably save time and money that are precious to your business. Instead of ordering a custom site, which must be built with zero-lift, you just buy a pre-made template, which is easily transformed into the site of your dream.
Convenient CMS: The templates use the most proficient content managing system Joomla! which provides a handful of useful components, modules and plugins for publishing any web content. You can download free or commercial extensions if you want to make your website more versatile.
Design and functionality: The combination of eyes-catching design with multiple choice of styles you can choose from and stunning parallax effect let your website catch the eye of visitors and make them want to stay there longer. Being backed up by powerful functionality, these sites stand out in a crowd.
Responsiveness: Using responsive design is extremely important in developing the templates, because it makes the website possible to look great on any kind of device like desktop, laptop, mobile or tablet. Nowadays it's especially important because most website are accessed from mobile phones.
Flexibility: All the templates feature advanced theme options with which you can easily change and update your website settings. The widgets and connected options let you create additional sections, pages, change layout and styles. In such a way, you customize the theme exclusively to your needs, making it unique and different from the others.
Solid support: In case a website owner faces a problem installing or customizing a template, the day-and-night service center will always provide help in solving it.
So, let us meet the best animals and pets Joomla templates which will turn into number one websites for animals training, care, and nutrition. All of them are worth giving a try. But if you are still in doubt what template to choose, visiting the gallery with wider options might be helpful...
Veterinary Template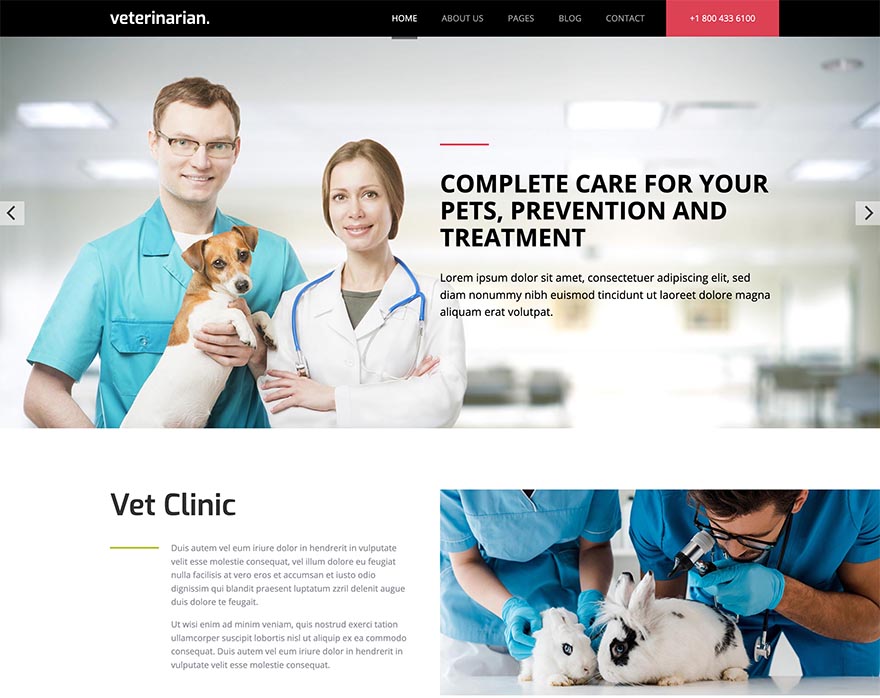 The Hot Veterinarian is a responsive Joomla! template for veterinarians, veterinary offices and pet clinics. This template contains all the pages and features necessary for the development of a responsive website for the pet clinics. The images of the pets and veterinarians dominate throughout the template.
Pet Clinic Responsive Joomla Template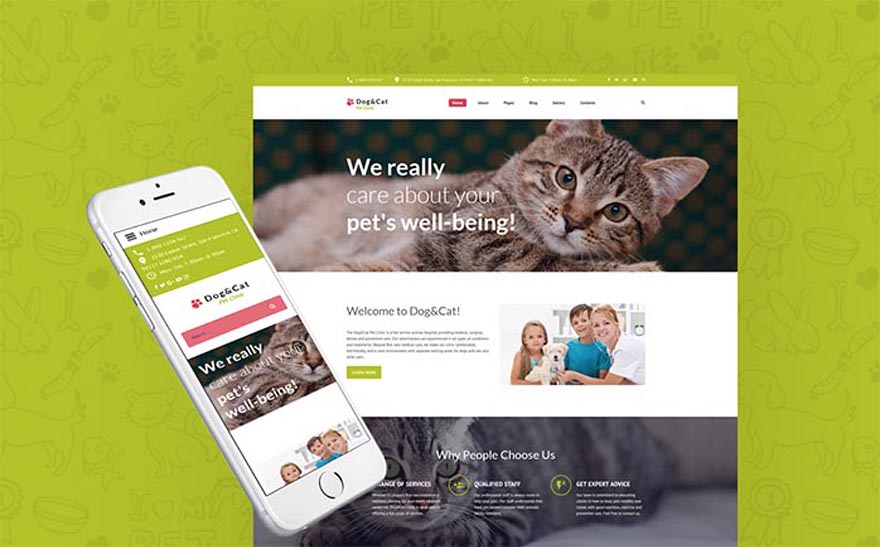 This fully responsive theme with amazing parallax animation is a perfect option in case you have a clinic for animals. It combines great functionality and attractive look in one place. It is fully crossbrowser compatible, uses responsive design and has perfect blogging options, a forum and a sortable gallery to display your medical services. The theme has testimonials and team members modules to make your site trustworthy. Advanced theme options and alternative module layouts allow you enrich the theme with multiple types of content, styles and design decisions.
Dogs Template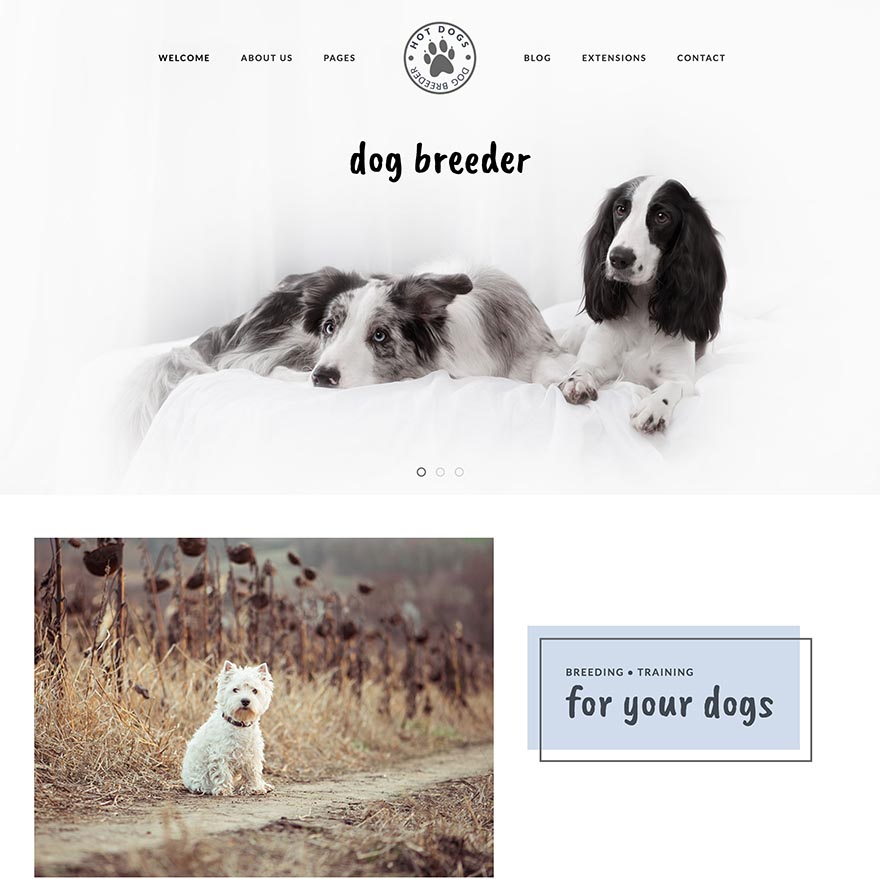 The Dog template is dedicated for dog breeders and all websites which primary business is related to dogs. You can use to to create websites for dog trainers, dog groomers, pet shops and similar websites.
Animals Founding Home Joomla Template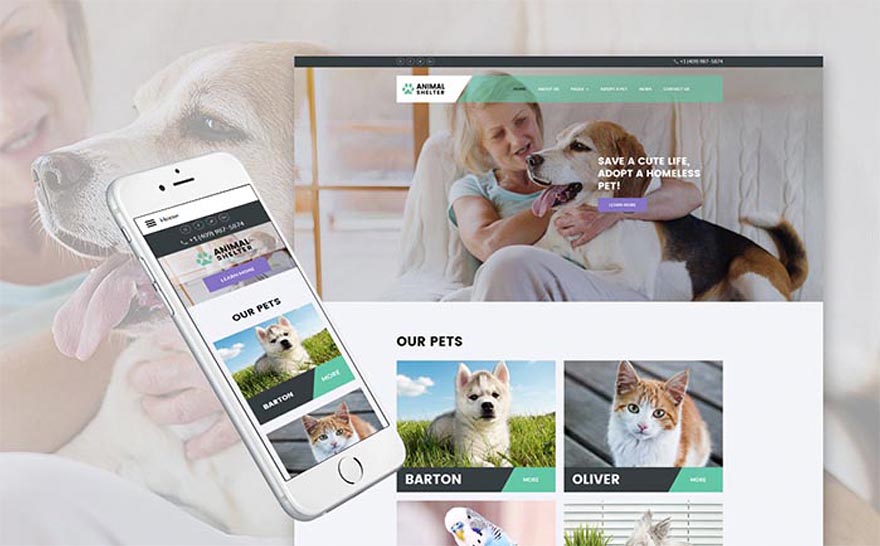 This charming responsive template is built specially for animal charity centres. Its clean design with great typography combined with a sortable gallery and a camera slideshow can be used to showcase different types of information. The template has social media options and advanced blogging Joomla modules for publishing articles. The forum and useful web forms like contact form, newsletter subscription, search form will help the visitors to keep in touch, find necessary information and be informed of any events of your animal shelter.
Wild Life Responsive Joomla Template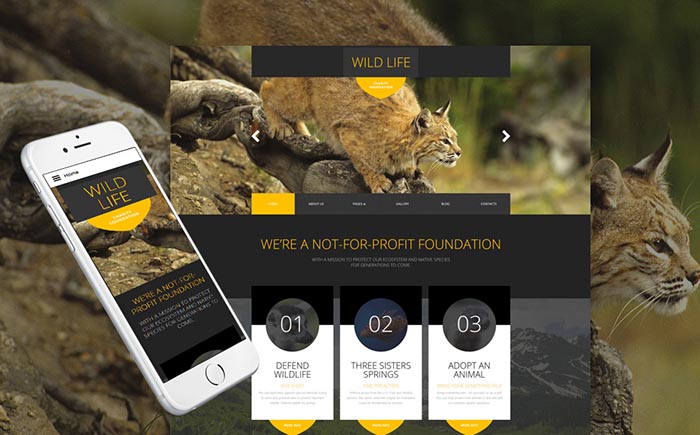 This is a stylish template with smart design and great functionality suitable for zoos, animal communities, nature protection groups and national parks. The theme comes with a terrific large image slider. In your layouts you can include services, careers, testimonials, history, site map, and many other useful pages. The theme is well-documented and you fell free installing it due to Quickstart Package, and customizing it thanks to advanced theme options.
Equestrian Responsive Joomla Template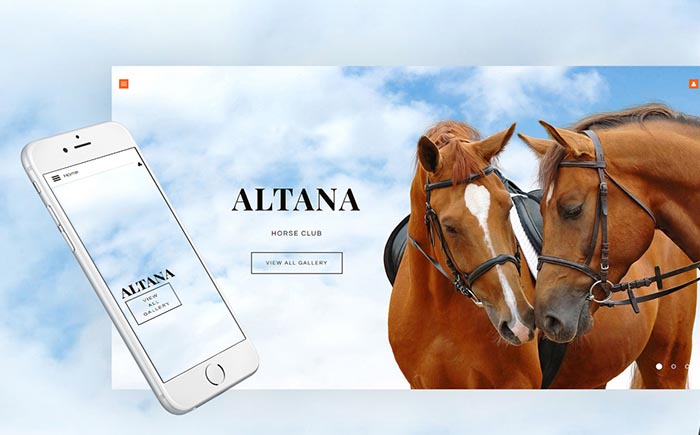 Horse owners, breeders and riders will highly estimate this stylish responsive theme. The customizable image gallery is helpful in displaying the images of your animals; social options enable you to share information with your members via popular social networking sites. The number of pre-built pages like a pricing page, FAQs, history, testimonials, and careers will fully introduce your activity to readers. The built-in online forum module and rich blogging options are advantages to make your business thrive.
Zoo Responsive Joomla Template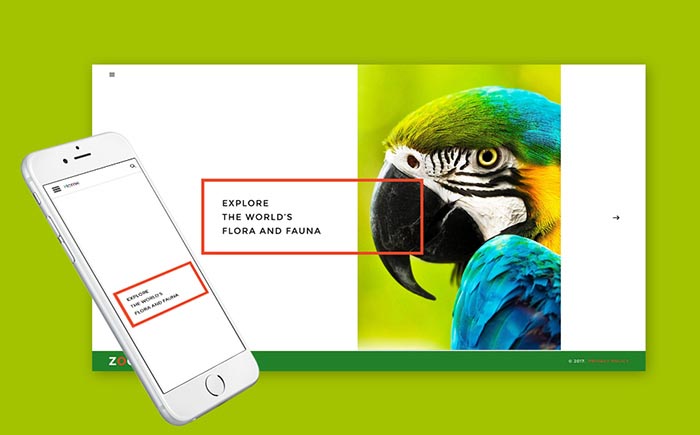 This well-documented theme has immaculate design underpinned by cool parallax effect and versatile background options. You can use additional pages module to add details about a zoo, staff, pricing, visitors' reviews, and so on. MixItUp plugin enables you to filter and sort content and website slider provides a stunning presentation of your services. Advanced theme options let changing the color palette and styles of the site to your liking.
Vet Medicine Responsive Joomla Template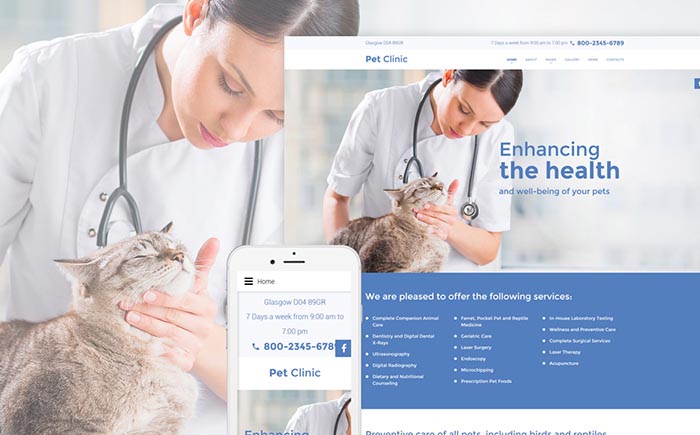 Any vet clinic will gladly make use of this fully responsive and well-documented theme. Each of the template's elements is carefully styled and designed being backed up with stunning parallax effect. The theme comes with a blog, forum and gallery functionality that enables it to showcase projects in detail and provide images, videos and text descriptions for each of them. The theme looks great on every device and in every browser due to its responsive design and cross-browser compatibility.
Happy Dog Joomla Template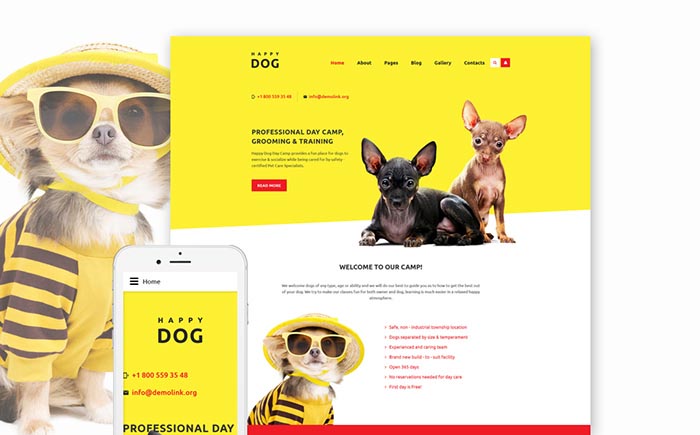 This cheerful Joomla template is a content-rich solution for dog grooming services and dog breeders. Thanks to Quickstart package, you can install the template easily and sliced PSD files facilitate the whole process of editing. The site has a clear navigation and due to convenient modules you can present your services, pricing, news, events, contacts and other details. Moreover, square-tiled sortable gallery is backed up with splendid parallax animation and lets you represent your presence on the web effectively.
Tracker Dog Joomla template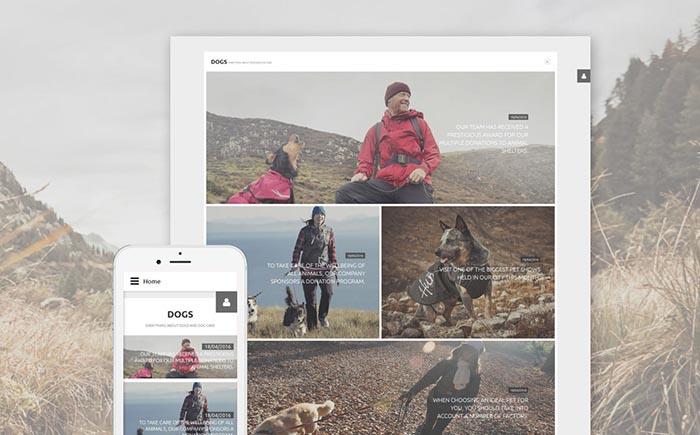 The design of this responsive well-documented template combines elegant use of imagery and convenient layout. The theme supports blogging options, forum, and gallery, and can be used as a professional portfolio. A Quickstart package facilitates its installation and the general layout and style can be changed to your liking thanks to advanced theme options and alternative layouts module. This mobile-friendly template has useful integration with social media.
Cute Pets Joomla Template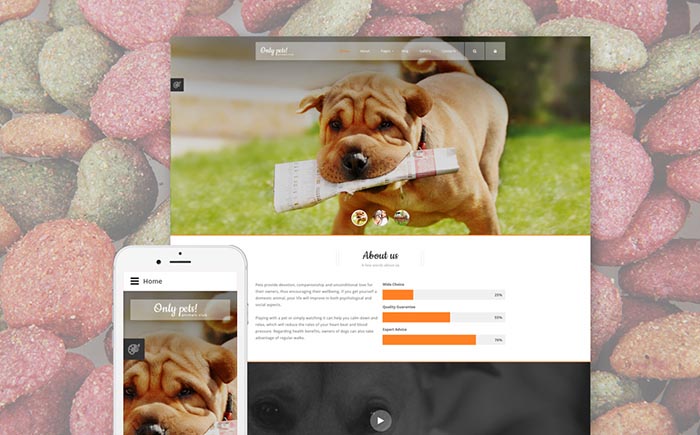 This appealing responsive theme works best for animal owners and pets clubs. It boasts with fine imagery, background video and a big carousel slider in the header to represent any pet club to advantage. One of the advantages of the theme is that it is fully mobile-friendly and looks equally great both on mobile phones and desktop computers. A blog, forum and social media integration will be useful to make your community thriving.
Safari Adventure Joomla Template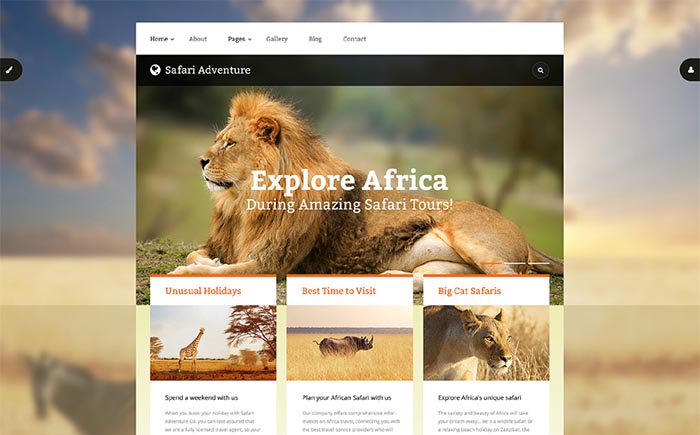 This responsive Joomla template can work as a nature-related site dedicated to wildlife, travel or any other adventurous experience. The square-tiled gallery allows instant preview of multiple images and a sorting option facilitates your visitors' acquaintance with imagery. Parallax animation attracts the visitors and make them stay longer to explore the site. The site looks terrific in all modern browsers and on any portable device.
Stud-farm Joomla Template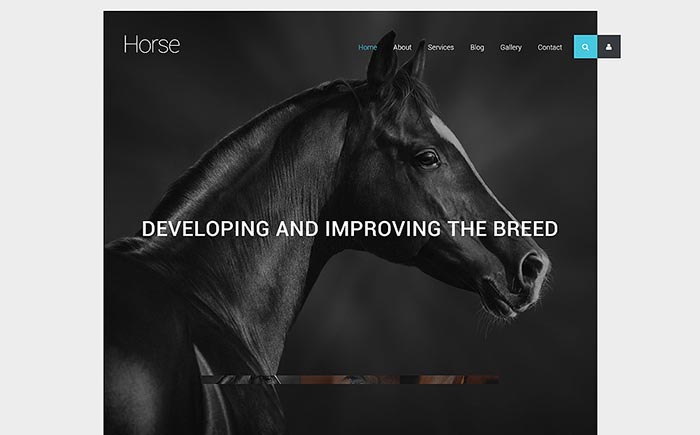 This hugely functional Template with elegant design will be highly appreciated by horse club owners, but can actually be trasformed into an animal shelter or pet adoption website. It features large images with parallax scrolling effect, alternative module layouts, social media integration and seo-optimisation. The template is user-friendly with its back to top button and drop-down menu. Google maps widget and contact form will be useful for the clients of your horse-related business.
Dog's Club Joomla Template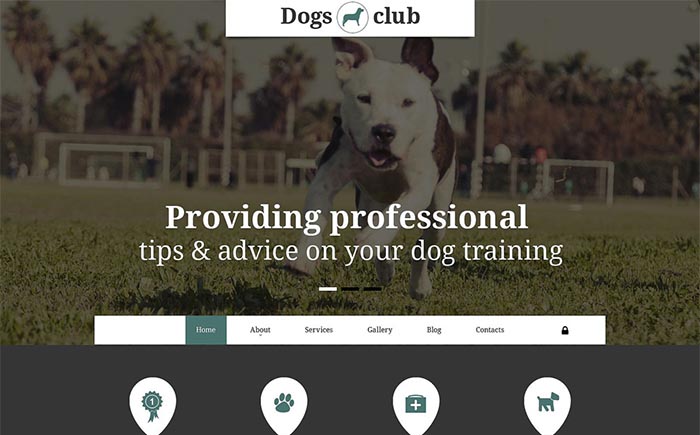 Being related to pet animals, this sleek and modern Joomla template is bound to impress the visitors to the site. A number of useful options provide smooth installation process and customization. You will enjoy adding various additional pages to show up your qualified staff, customer's reviews, pricing, careers, and so on. The theme is search engine friendly and contact form and Google map makes it easier for your members to get in touch with you.
Horse Owner Joomla Template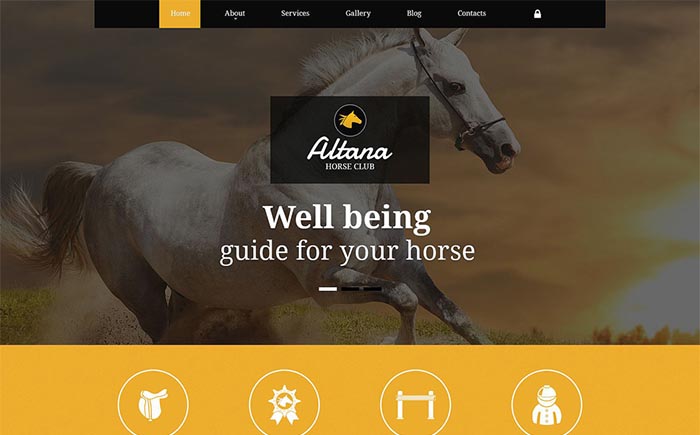 This responsive template can be a powerful platform for your horse club or horse-related business. Sortable gallery let you display the finest imagery of your services. The footer can contain your contact information and social options. Your clients have opportunity to subscribe to newsletters and get useful information in a blog or forum. TM Ajax Contact form facilitates getting in touch with you.
Dog Instructor Joomla Template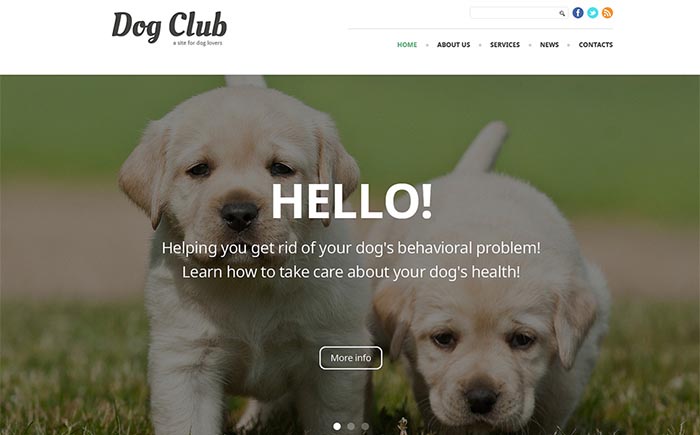 Any dog training club would prefer to have this responsive template with minimalist layout. Its sortable gallery with slider features your services to the advantage. Navigation is improved due to a dropdown menu and back to top button. You can reach more clients using social options and discuss your projects in a forum. The theme is powered by Bootstrap and SEO-optimized.
Feline Responsive Joomla Template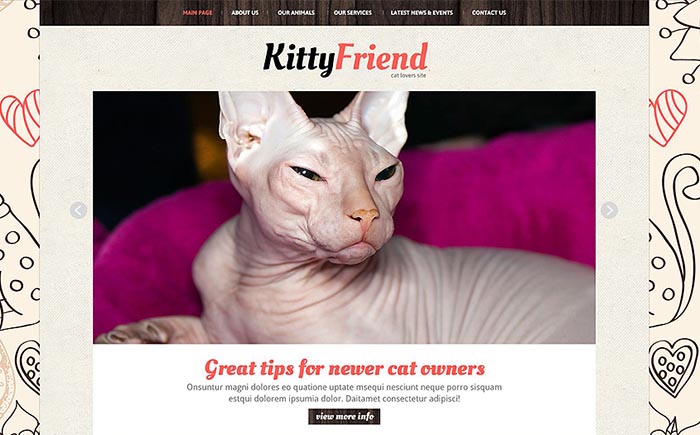 Meet another well-designed responsive theme for most purebred pets. Install it with ease with the help of quick start package, adapt the style to your liking with the advanced theme options module and showcase your animals and pet-related services in an amazing gallery with a camera slider. Make use of services, team and company blocks to provide all necessary information. The theme is search-engines friendly and is supported across all browsers.