In the era of the Internet, there is no need to ask yourself some simple questions. Do you need to launch an online-project connected with your business? In our opinion, the answer will turn out to be too obvious. You definitely need to think about creating a thorough online-presentation of your services. In addition to this, it should be fully-responsive. For the reason that people got used to using mobile phones way more in comparison to the old good computers and their desktop websites.
Many years ago, it was something like a luxury to get your website ready in a minimum amount of time. Nowadays, everything has changed. You do not need to hire a professional coder or web-designed to assist you in such a task. A process of website-building is not a problem anymore.
The sphere of web-design continues its development and people start facing other problems. It became complicated to choose the most appropriate ready-made solution. There are so many of them available on the web which makes lots of users become lost among them.
When it comes to searching templates for such a platform as Joomla, you can look through different variants that can turn you into a web-design expert. A great number of them allow building an online-project in a super short amount of time. You will be certainly surprised with a bunch of Joomla templates when you start looking for them by yourself. We do not want to lose your time. Our team prepared a small collection of ready-made solutions designed for Joomla. There are connected by their fully-responsive designs, various additional pages, modules, and customization options. Yet, it is better to get familiar with them one by one here and now...
Multiplex - Multipurpose Joomla Template with Page Builder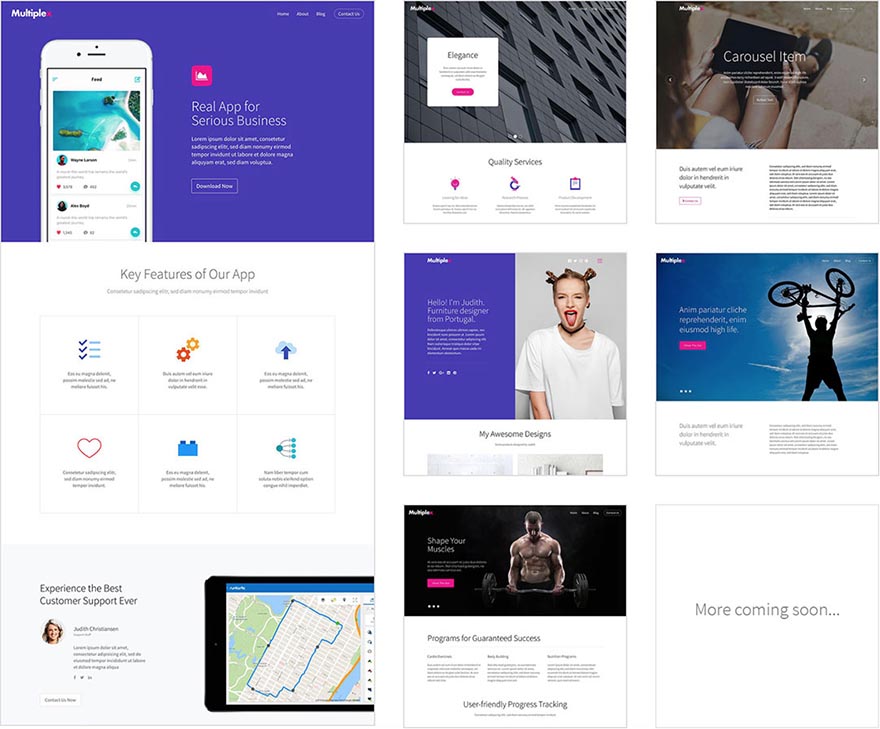 Multiplex is multipurpose Joomla template that you can use to build any site you need. It is based on a modern modular design which can be easily customized without any constraints. This template comes with advanced drag and drop technology.
Jedi - Multifunctional Joomla Template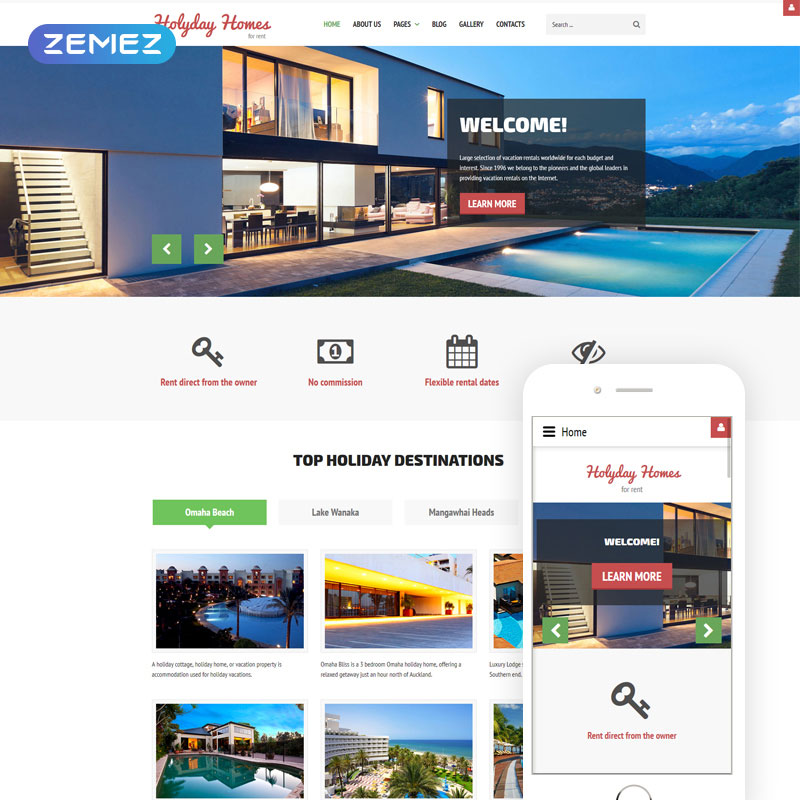 Are you looking for a wonderful Joomla template that has different well-structured layouts, pre-built pages, useful elements, and customization options? This excellent ready-made solution is here to fulfill all your requirements. You are going to get a great number of additional pages like a blog, forum, gallery, portfolio, history, pricing, career, and so on and so forth. It also gives extreme control over multiple components, including fonts and colors.
TopDog - Multipurpose Joomla Template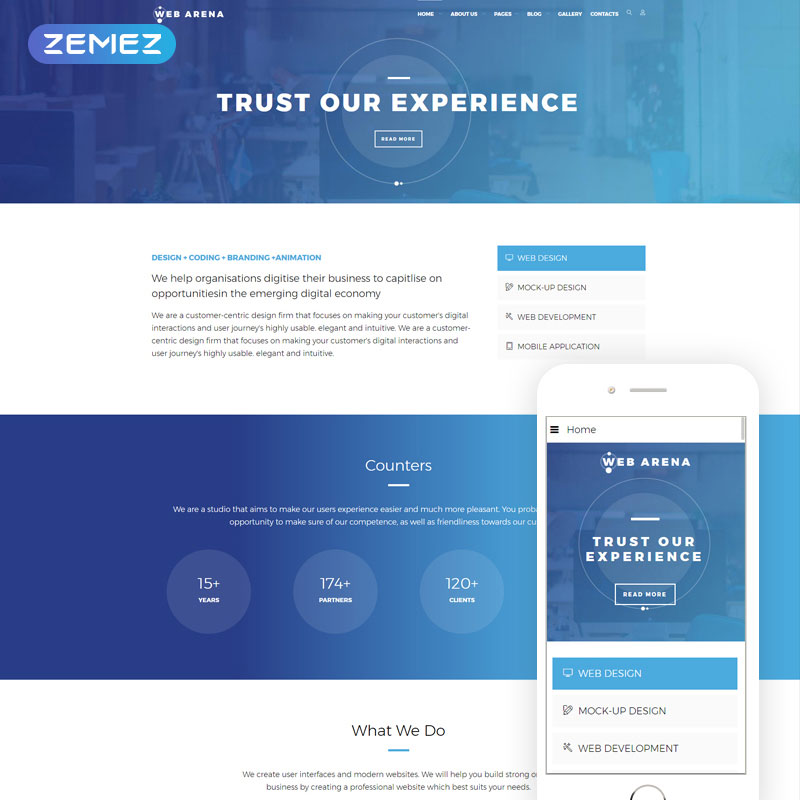 TopDog is an impressive multipurpose template that cannot be called an ordinary ready-made solution. It is a universal variant that allows building all possible sorts of the business website. There are various web-forms included in the package - advanced search, booking form, contact form, newsletter subscription, and many others. In addition to this, you are going to experience full freedom while working with this amazing template. A great mega-menu, commenting system, Google Map, and social options… Each of these features will not limit your imagination.
Joombiz - Business Company Joomla Template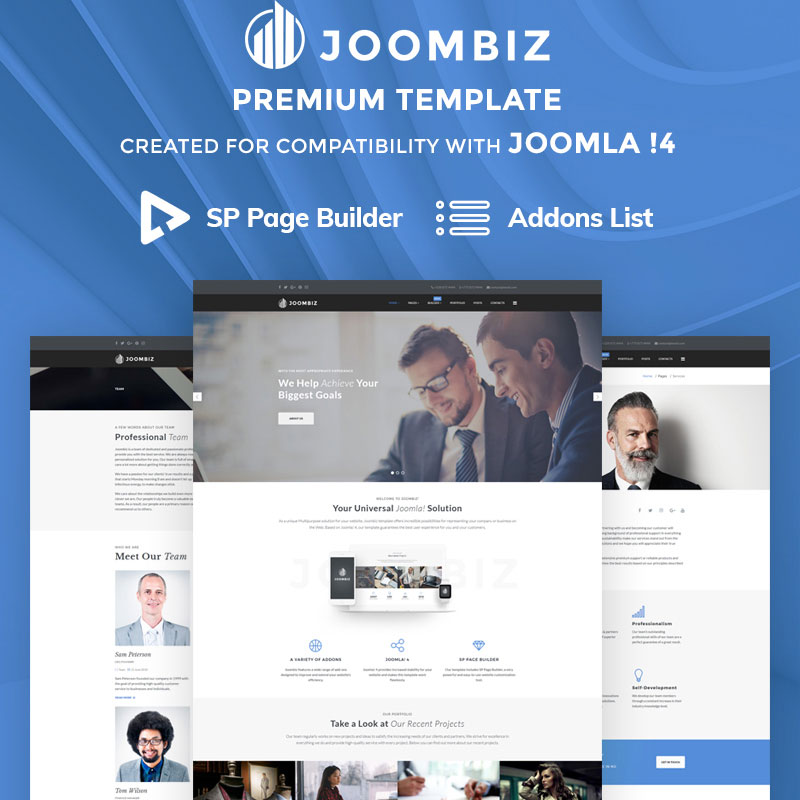 Joombiz is a marvelous template that is considered to be a complete Joomla solution. Thanks to a user-friendly drag-and-drop builder, you can easily take control over your design whether you are are a beginner or professional. It is absolutely possible to use multiple layouts for different pages, use your own styles, and content whenever on the website. Furthermore, an eye-catching slider allows creating slides with promos, new products, and other crucial information per your preferences.
Soltros - Business & Services Joomla Template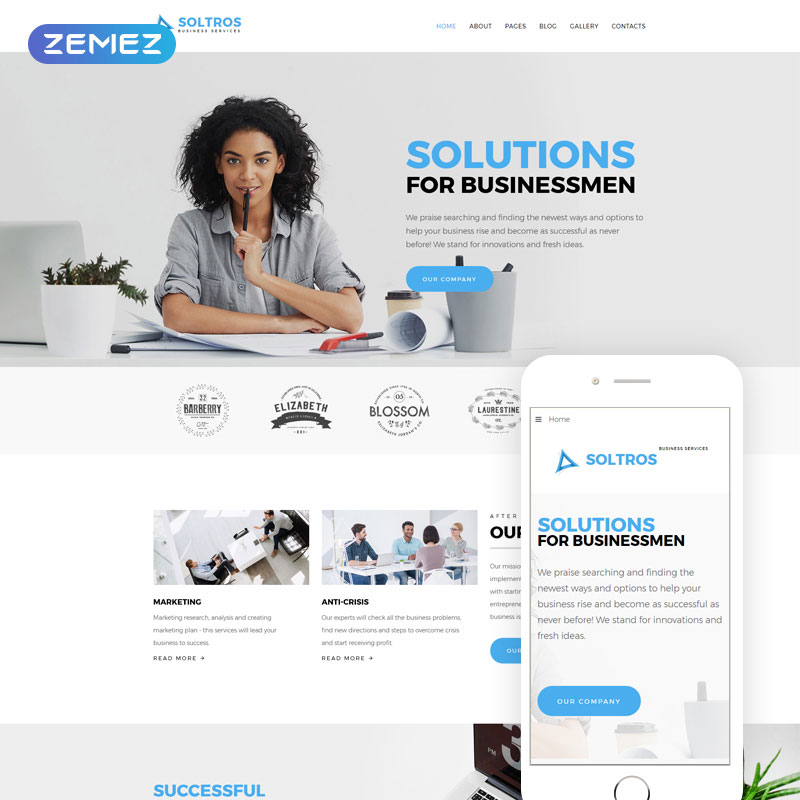 If you want to quickly launch a fully-fledged online-project that will distinguish itself from others by its original design. It can be used straight out of the box for a minimalist website that presents your business and services. You will be certainly impressed with a heap of options that will assist you in promoting your company. As an example, you can take advantage of the attention-grabbing gallery and add photos, videos, and products that you want to share with the visitors. If one wants to inquire more information or give some feedback, he or she can do it using a great contact form.
Ascendio - Business Joomla Template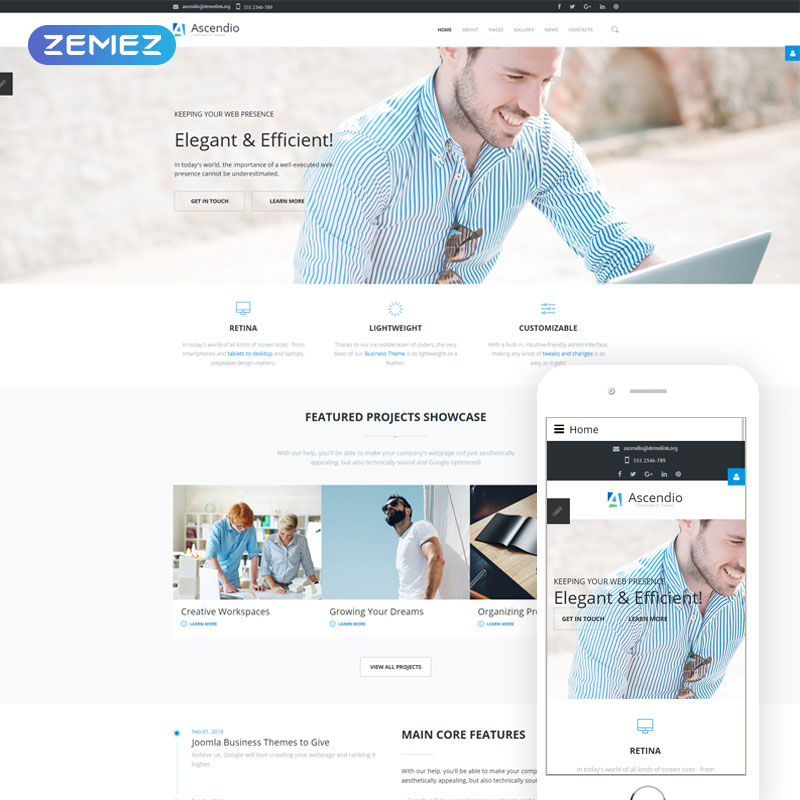 An elegant and efficient theme that is designed to serve as a base for your next online-project connected with corporate and business topics. It has a flexible design that can be customized to fit your needs in a breeze. You can change the palette of your interface with only one single click thanks to an easy-to-use theme color switcher. Besides, it offers a wonderful mega-menu that allows organizing your content and dividing it into categories and subcategories.
Agriculture - Fruits Joomla Template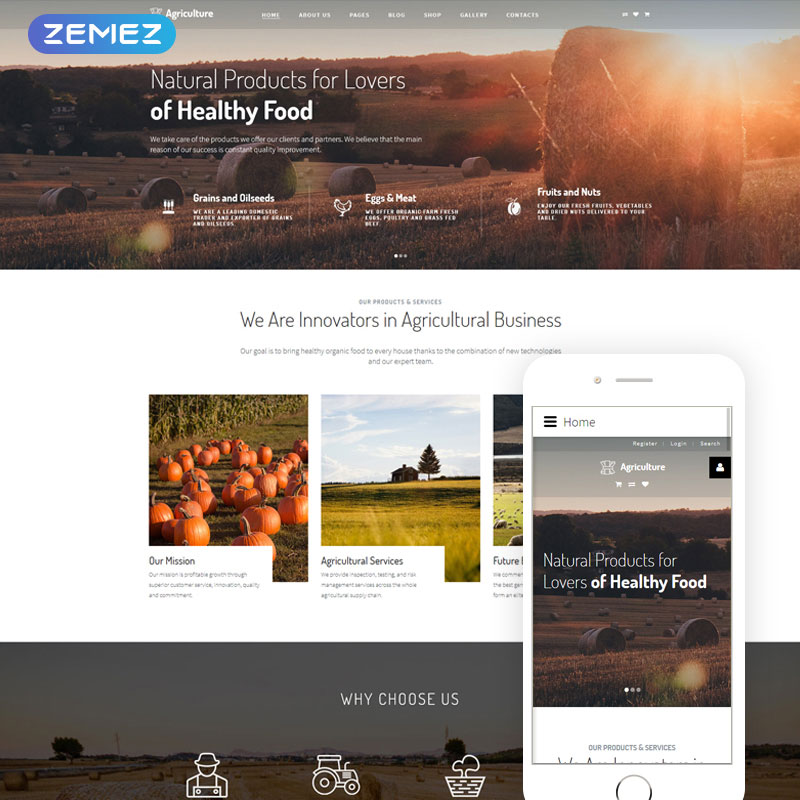 If you are interested in presenting your natural products and attracting more lover of health food, pay your attention to this vibrant template. It is capable of generating contacts and creating new leads to your business. To cut a long story short, there are various pre-designed pages that allow sharing information about your team, the history of the company, pricing, and many other important details. There are also different social options that allow sharing, commenting, and liking your posts.
Translog - Logistics Joomla Template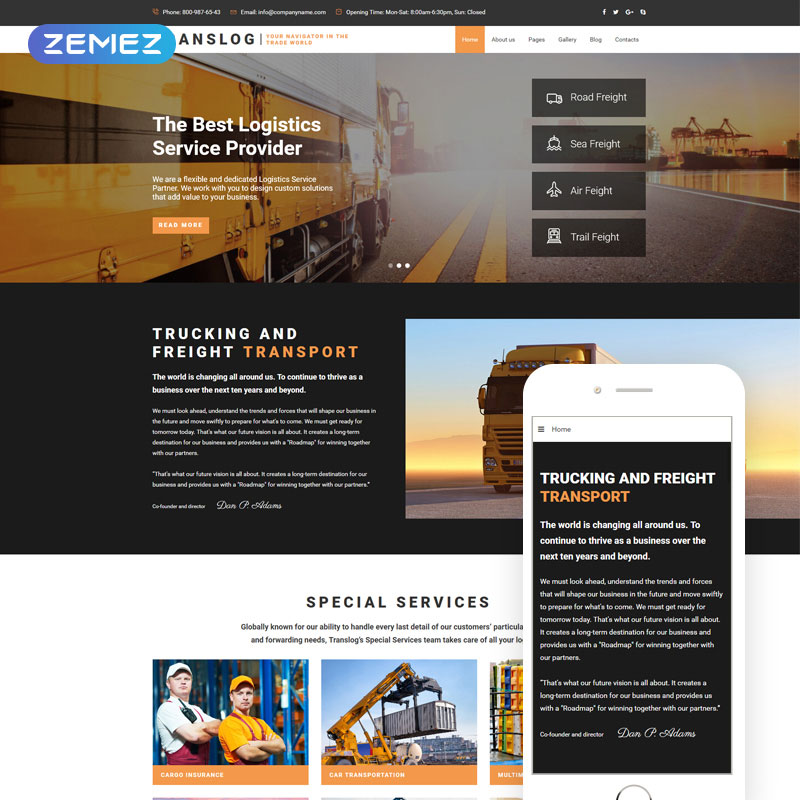 Translog is a modern solution that allows arranging your content beautifully and effectively. In such a way, your services are not going to be put on the background. In general, it will take you nothing to create not a simple website but an excellent navigator in the trade world. It will provide you with a marvelous Parallax effect that will make your online-project more engaging. Moreover, everyone will be happy to make use of the advanced search, commenting system, and contact form.
Flash - Digital Marketing Joomla Template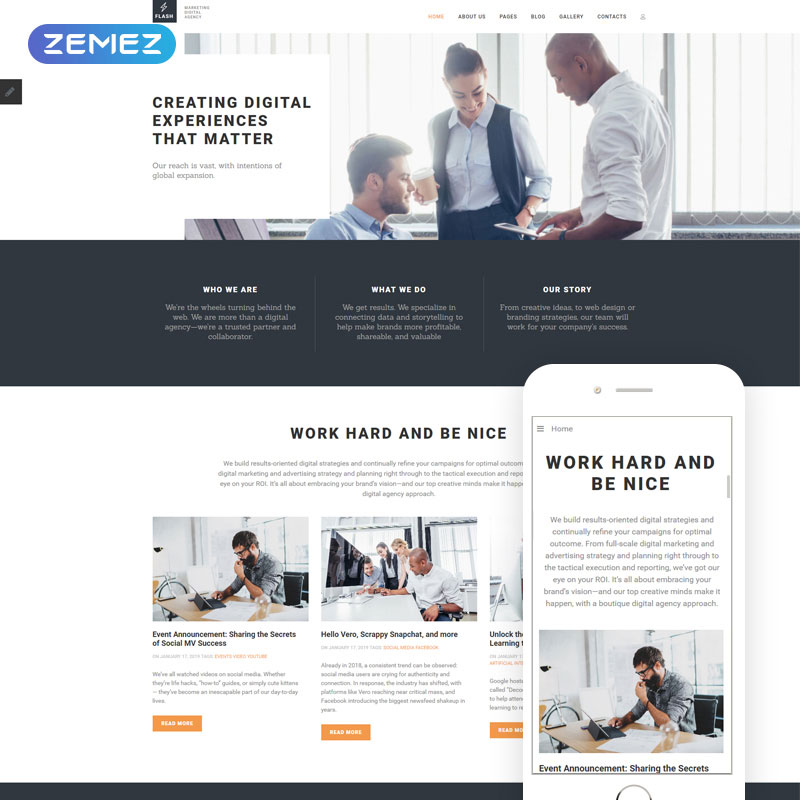 This ready-made solution looks imposing and interactive. As you can understand, it offers lots of flexibility and large visuals. An exciting website slider is one of the best solutions in terms of presenting important pieces of information. If it is necessary to show whereabouts of your company, do not forget to use such an interactive tool as Google Map. Even if you do not possess tech-savvy programming skills, you are free to make your future online-project look unique.
Real Estate - Rent Joomla Template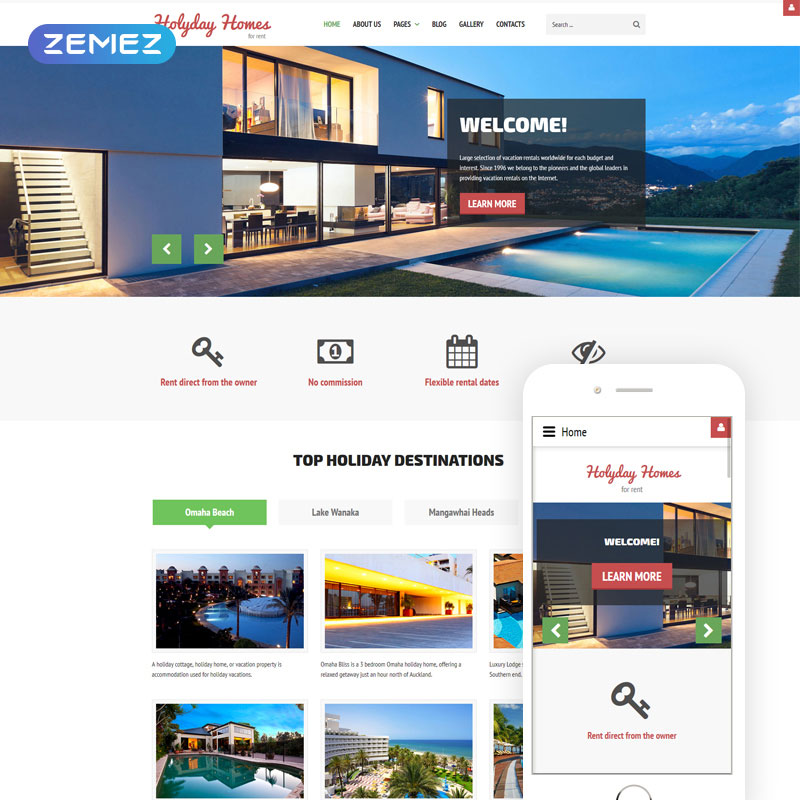 The main idea behind this remarkable template is to deliver all the necessary information about your real estate and rental services. It has a modern vibe and provides its users with a handful of customization options. Thanks to a stunning theme color switcher and typography options, you can revitalize your content in a huge number of creative ways. What is great about this original situation that it comes together with a bunch of additional pages like a gallery, portfolio, career, blog, history, and so on and so forth.
Intra - Multipurpose Business Joomla Template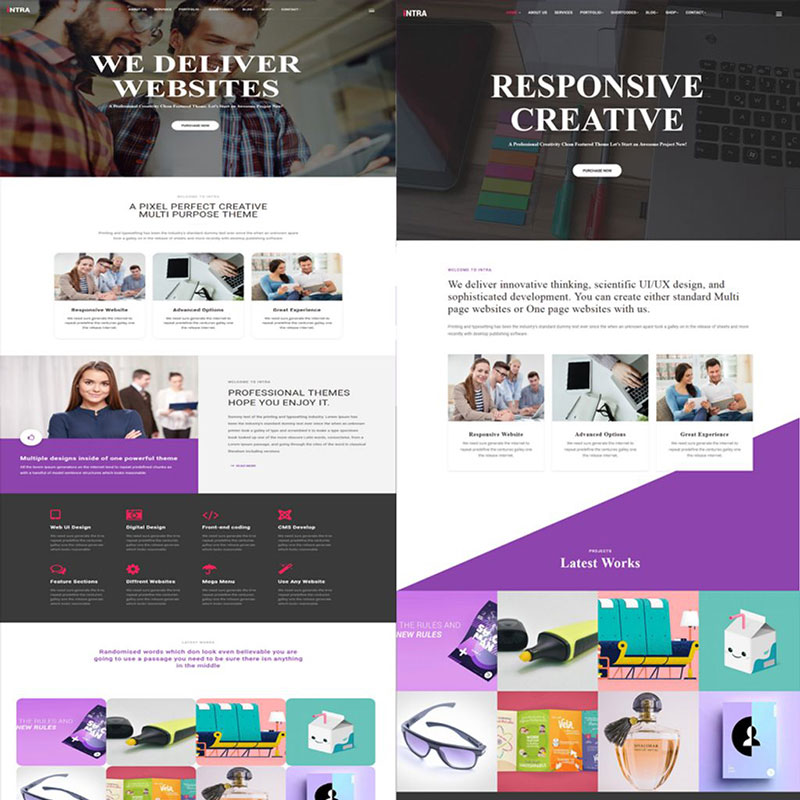 A stylish template that can be called an optimal ready-made solution to make your business and content stand out from the crowd. It has seven color styles that you can easily implement in your online-project. Furthermore, there are five mega-menu styles that include zoom, fade, slide, elastic, and others. You will also get a newsletter extension, multiple page layout combinations, and different portfolio options.
Are you finally getting ready to promote your services and capture the attention of thousands of people? Keep in mind that each of the Joomla templates presented on the top is capable of making your business stand out from the crowd. As a result, you will get an affordable and creative website that makes sure every single person will be impressed. Thanks for reading!
Summarization
As you can see, it is easy to run a website and enjoy a seamless web development at the same time. Along with a professional design, you get great tools to create a perfectly performing website to fit your niche. Developed with the best design practices, these themes will exceed your expectations and they are definitely worth trying!