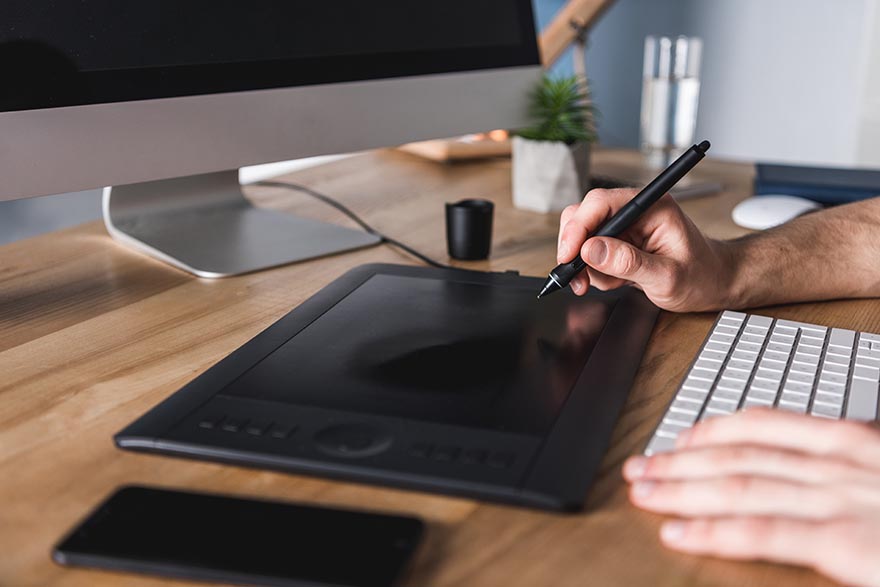 If web visitors land on your website and do not like it, they will click away. Will you like a site that looks messy and cluttered? Possibly not! The same thing applies to your visitors. Web pages could be design-heavy or have confusing navigation. Again, if you had a website designed in 2005, the content needs upgrading. It shows that website design matters to stay relevant and drive quality traffic and engagement.
According to an article published on https://www.huffpost.com, you should look for seasoned designers who have the potential to blend content and visual design seamlessly and creatively.
Remember that your website is the face of your brand and therefore, design plays a key role to attract your targeted audience. Integrating creative and smart design is the best way to outshine others and offer a pleasing browsing experience for the visitors. Therefore, if you are contemplating a facelift for your web pages, here are some of the best creative tips and ideas to take your website design to the next level:
Make use of original illustrations
When it comes to an interactive website, it will not make sense for all brands. However, there is quite an easy way to ensure that your site represents a one-off brand persona. You need to hire an experienced graphic designer to draw original illustrations for your web pages as well as content to let you create a cohesive visual experience for your business as well as the brand.
Illustrations, which are in a similar style as well as include colors all over your business website, will unite all the pages of your site together visually. It will also tell the site visitors a couple of things related to your brand persona. It is a good thing to happen because unique and eye-catching illustrations drive engagement. And when it happens, there is nothing like it.
You can use this idea to perk up your web design. You could see a cohesive style between the visuals used on the homepage, product pages, as well as your blog. Ensure that each illustration is appropriate to the page content and context, as well as gels with the entire visual aspects of your website. Once you succeed in doing this, there is nothing like it.
Design interactive web pages
Preferably, you would not want a visit to your web pages to be an unreceptive experience. On the contrary, you would like your visitors to be engrossed with the page design and content. Then, how do you achieve this goal? Well, you can do so by integrating a couple of interactive elements into your web pages.
It could be anything that provides your visitors the ability to take their experience to the next level on a web page through scrolling as well as clicking certain segments of it. You can ask designers about how to achieve this.
For instance, in the place of a standard menu, you can label the various services adjacent to a beautiful animation. When a visitor scrolls over every option, it changes the animation a little, and after the user clicks, a web page opens within that page that has additional information and content.
Use product images
Today, your website will not appeal to your audience if it does not have high-definition photos or images. If you have an e-commerce website, opt for product photography to make your merchandise look original and interesting.
You can use product photography in a way to make it more appealing and artsy. This way, it is possible to make your product visuals take center stage compared to the other design elements of the page.
Online stores selling garments do this very well. They place the images of the models attired in a visually appealing and aesthetic way to make buyers click on the Buy button. These sites make images that serve as excellent backgrounds for the homepage as well as convey something about the items they sell. It is not just about the look but also the size and fit are perfect.
Ensure that your content sticks out
When you put 100 percent of your hard work and effort to create the best content, you will need people to read or view that content. The ideal way to make your web content increasingly visible is by designing your website around the same.
When it comes to content-oriented websites, often known as content hubs, place your useful content right in front of your audience. Yes, your content takes center stage. The design is awesome to make certain that visitors easily see what content they were looking for all this time.
All such websites that are designed to make content the central attraction make sense for media firms that thrive on a business model depending on the content or for businesses that want to provide high precedence to their content marketing campaigns.
There are a few beauty and cosmetic brands that pay much heed to their content. The whole website focuses on grabbing attention to the same. Try to implement this idea to drive quality traffic and conversions for your website.
The visitors can also discover the brand's products by scrolling a couple of items; however, these products are not the key focus of such sites. The website owners evidently pursue the principles of content marketing and believe in value first and marketing their items later.
These beauty brands really believe that content is king and they walk the extra mile to make sure that content grabs user attention than the rest of the elements of their web page. It calls for a lot of your time, effort, and toil. You can visit some of the top cosmetic brands to get an idea of how they design their web pages surrounding the content.
Final words
Now that you have these creative ideas in front of you, design a stellar website to attract visitors, drive traffic, and boost sales. First, engage through your design and then market your products.