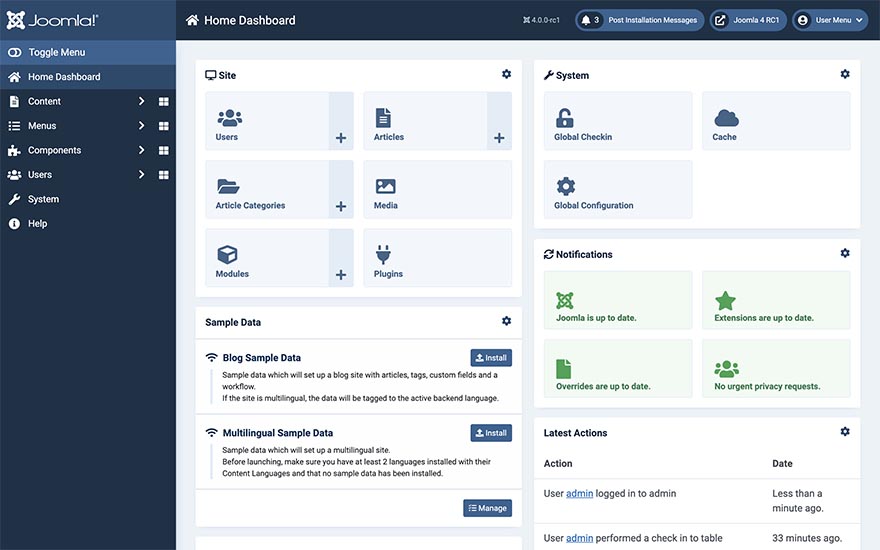 The first release candidate version of Joomla! 4 has been released on June 1, 2021. The RC1 is aimed at extension and template developers to encourage them to work with this release in order to prepare extensions for the stable release of Joomla! CMS 4.0.
The official announcement about this Joomla! release is here.
So, we have tested the most important extensions that are the backbone of our Joomla templates. There were some incompatibility issues compared with the previous Beta version of Joomla! 4. We have fixed them quickly. Today, we are releasing:
Both of them are tested and 100% compatible with Joomla! 4 RC1.
What about the templates?
Now, when we have the framework and page builder compatible, it won't be difficult to upgrade all our Joomla! templates to Joomla! 4. However, we decided to wait until the stable version is available. There are 2 main reasons:
Release candidate versions of Joomla! are not yet ready for starting new sites or upgrading from Joomla! 3. So, we don't want to encourage our users to upgrade yet.
There will be more RC versions of Joomla! until the stable version is released (probably one release candidate version every two weeks). Smaller issues are possible in the framework and page builder.
Our club members can download the latest version of the Sparky Framework v4.1.0 and start testing Joomla! RC1 with it. Everyone is welcome to download the Sparky Page Builder v1.1.0 for free and test it with Joomla! RC1.