Since the Solidres hotel reservation component can't be bundled into the HotStart installation of the Hot Hostel template, this tutorial explains how to install it later, after initial template installation.
1. Install the template with demo data
Install the Hot Hostel template with demo data as usually, following the template installation instructions page. Instead of the booking module on the front-page, you will see a small notice module.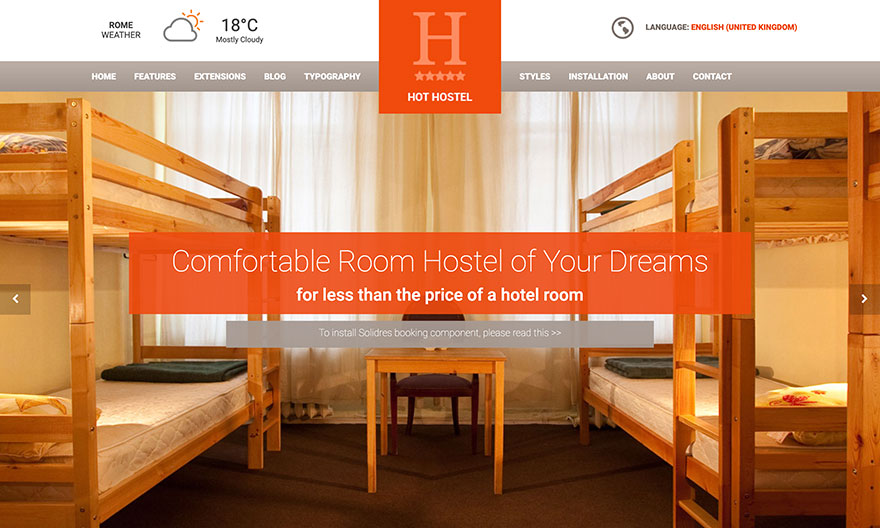 2. Download and install Solidres component
Download Solidres component for Joomla from official Solidres website. Download both component archive (file name, for example Solidres_Core_Package_v2.12.6.zip) and media archive with demo images (media.zip).
Login to Joomla administrator and go to Extensions > Manage > Install (Joomla 3) or System > Install: Extensions (Joomla 4). Click the green button "Browse for a file", find the Solidres full package file that you downloaded and select it. The component will be installed and you should get this screen: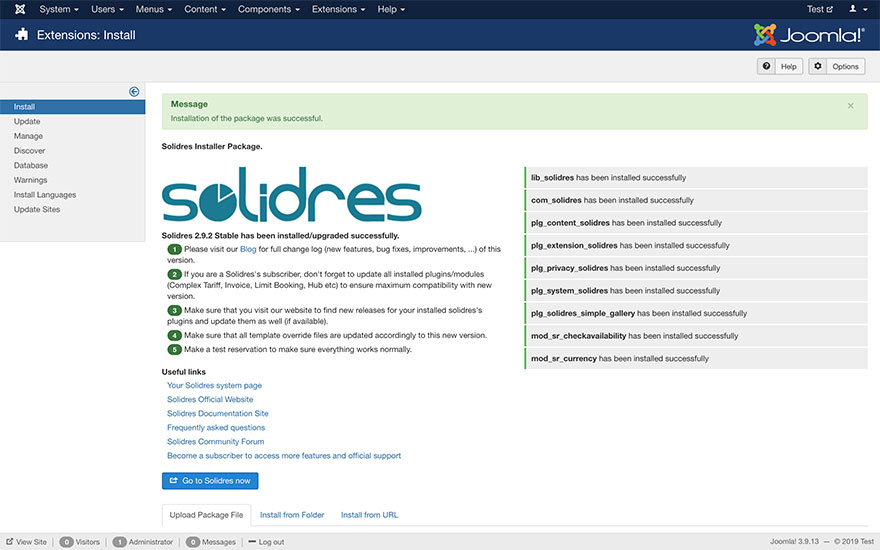 Now, on the same screen, click the green button "Browse for a file" again and find the media file. It will be installed as well and you will get message "Installation of the file was successful."
3. Installation of demo data for the Solidres component
From Joomla administrator, go to Components > Solidres > System . Click the button "I understand and want to install the sample data.".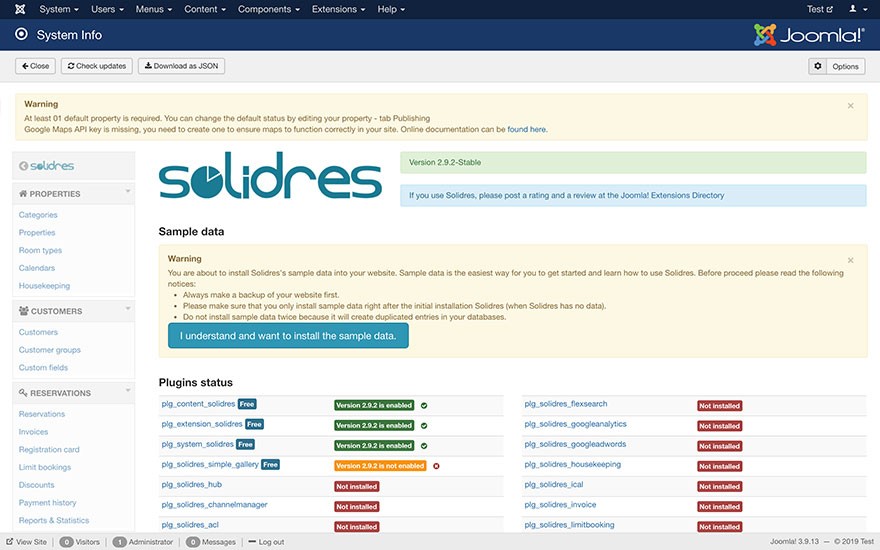 It will install demo data for the Solidres component and add several properties and room types.
4. Publish Solidres booking module on the home page
From Joomla administrator, go to Extensions > Modules (Joomla 3) or Content > Site Modules (Joomla 4). In the position header3, find module "Setup Booking Notice" and delete it.
Find module "Solidres - Module check availability" and click on it to edit settings. Disable "Show Title". For Position, select header3 (under Hot Hostel). For "Target itemid", select "Hot Hostel" page. For "Status", select "Published".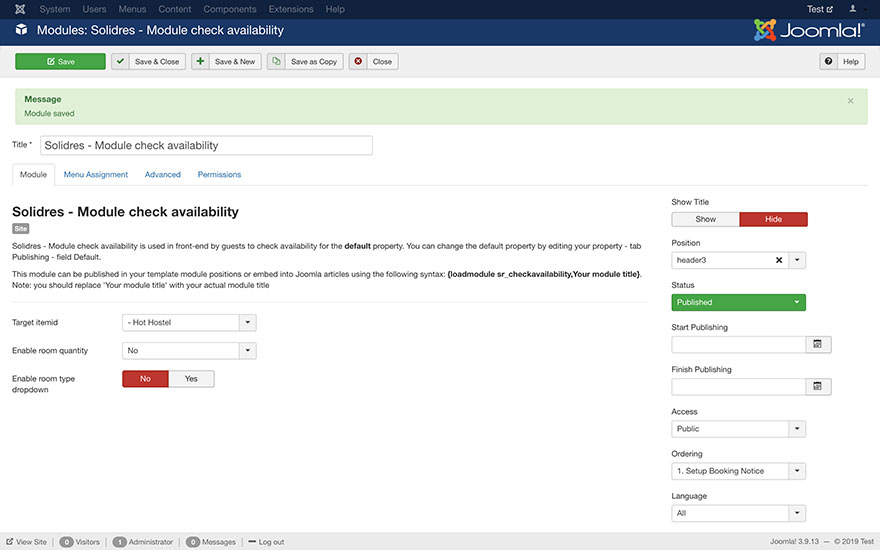 Under "Menu Assignment" tab, select "Only on the pages selected" option. Click Select none to deselect all the pages. Now, select only "Home" menu item(s).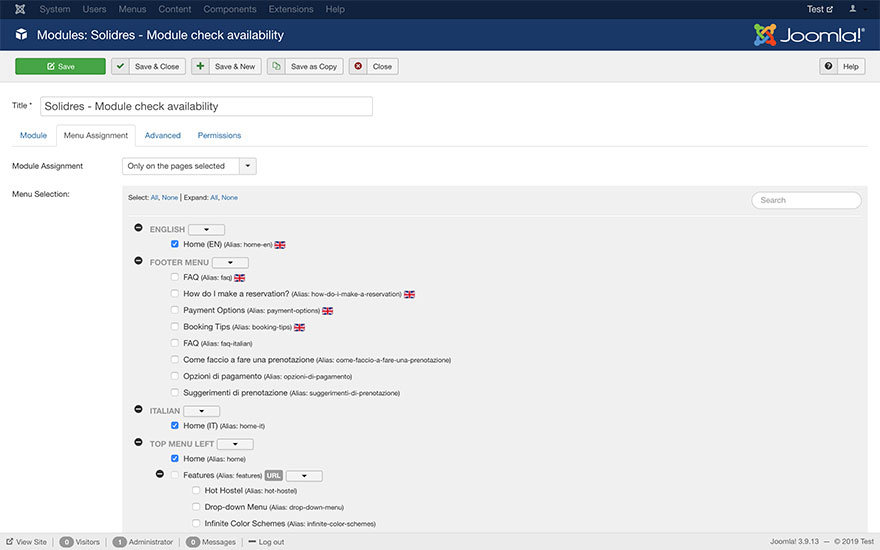 The setup of the Solidres component in the Hot Hostel template is accomplished.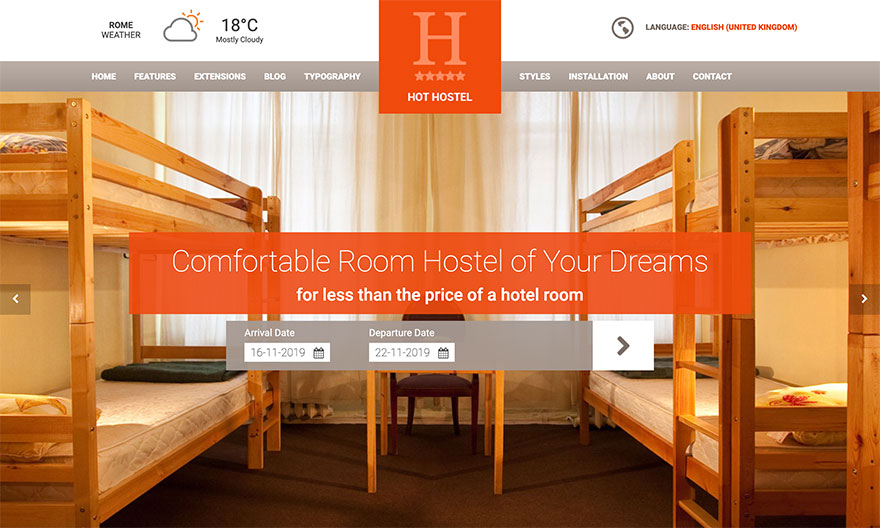 5. Further settings of the Solidres component
The Solidres component is not our product. There's a detailed documentation page about this component on the author's website.
Please be informed that not all features are available in the free version of the Solidres component. Some features, such as payment processor integration, detailed statistics, etc. require additional plugins to be installed and you can download them only with a membership.
Finally, there's a community forum for the Solidres component where you can ask for help.