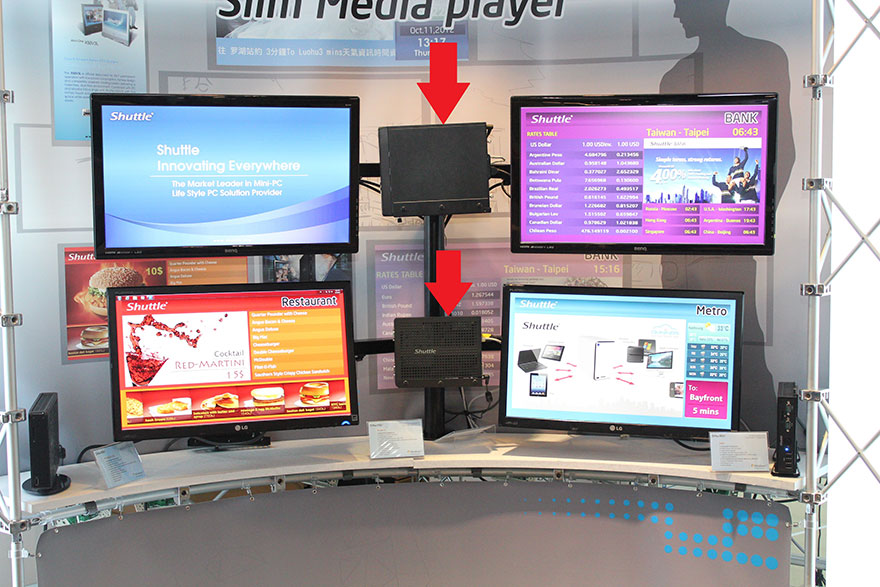 Digital Signage is the use of digital media to advertise your products much like the signs of old were handed at the doorsteps of stores. These solutions are now readily and cheaply available for anyone to use at their disposal. This is thanks to the global proliferation of the internet and the emergence of Software as a Service, SaaS. Innovative players have seized this space and have started offering a wide range of services, which include digital signage solutions.
These solutions have finally made digital signage affordable to the vast majority of the world's small and medium enterprises. This means that regardless of wherever you are you can very quickly take advantage of these remotely served solutions to your advantage. With prices starting at an affordable $400 covering both the software and hardware aspects, your business can be up and running in this space in little to no time at all.
Out of the Box Plug And Play
As we have seen above, the cost of setting up the proper software and hardware environment to run your campaign is not costly and it does not require any specialized technical skills on your part. The hardware is plug and play off the box and to access the cloud, all that you have to do is simply log into the portal with your user credentials and you are good to go. Sounds pretty straightforward, right? That is until you find out that you have no capacity to develop the content in-house.
To bridge this gap of having to develop content that will take advantage of the hardware and software at your disposal, the best digital signage software developers equip the platform with digital-ready templates that you can deploy off the blocks, within a matter of minutes after you have logged in to the platform. This simplifies the process and time required to create compelling content to display.
What Is A Digital Template?
So, what exactly is a template? Well, the standard definition of a template is that a template is a shaped piece of metal or other material that is used as a pattern for processes as diverse as painting, cutting, or in our case digital display content. Therefore, as per the above definition, the templates are very useful to anyone who does not have or is not willing to invest plenty of time trying to figure out how to use design software or to perform DTP.
Let us use some case scenarios in which templates can come in handy in helping you deploy a solution within the shortest time possible. Before we proceed, it is important to point out that the best digital signage software solutions provider must of necessity bundle their product with a large number of templates, which should number in the lower thousands at the very least.
Retail – Within the retail space you might want to update your price list to invite buyers to take advantage of a sale or other such offer and so you might want this offer to display in place of your name or in tandem with your store's name. With templates, all you have to do is just to simply choose the appropriate template for sale and edit it accordingly, and deploy it in real-time. After the sale is through, you can go back to your standard display or opt for an alternative, Digital Signage Templates.
Doctors Room – As a medical practitioner, you are well aware of the anxiety that your patients suffer whenever they get into the hospital and they are sitting in the waiting room. So, it is in your best interest to offer them a solution that will ease and loosen them up as they wait to see you. You can show them videos on your display that are soothing to them or display an engaging document, which will make the wait more bearable for them. After they are gone, you revert to the slide displaying your logo and other associated information.
Automotive – If you are a car dealer then these templates will act as your best friend, since you can be able to display any number of images and features of the particular car that your client is interested in, or you can show them the latest brands of car, which are currently available in the market. Or even better, you can choose to stream the official video of the particular brand and make of car straight from the car manufacturer's website. The possibilities are simply endless and you can place a POS touch display, which gives model–specific information to the potential buyer.
Corporate - Corporate communications have for a very long time had to contend with the lack of a proper communication framework in which information reaches the recipients either after a very long time or when it does it reaches them in a very convoluted manner. Streamlined and fluent communication is necessary for any individual entity, which needs to maintain a competitive advantage over the other players.
Sometimes urgent actionable information needs to reach all the employees at once. In this case, you can have the standard template that has all your branding information, and afterward, you have a specific template, which you use to communicate to all employees simultaneously.
Hospitality – In the hospitality industry, the use of templates can have a profound effect in helping guests find their way around the hotel. You can use specific menu templates to communicate to them, wherever they may be, the specials on offer and invite them from their rooms to the dining rooms nearest to them.
Further to that, you can, at the touch of a button show a map to the guests who have come to your hotel for conferencing. This will be more effective as compared to using an usher or using paper boards. The same displays can be used for making presentations and for displaying chatter from social media streams, chatter that is relevant to the meet-up.
Author bio
Rosa Leone is a digital signage consultant who has over 20 years of experience in the industry. She has specialized in the confluence of software design and aesthetics and has a keen interest in making Digital Signage Templates easy and intuitive enough for anyone to use them without much of a hassle.