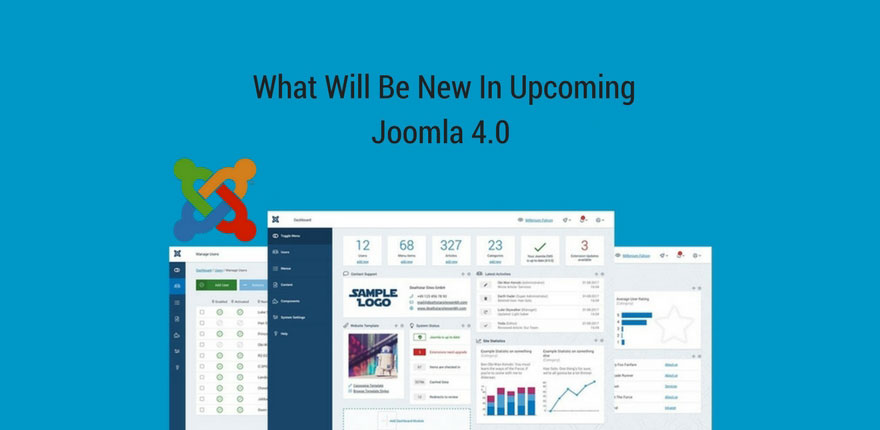 Joomla! is an excellent CMS which makes it easier for digital marketing professionals to manage website content. There are millions of tech-savvy people who are crazy about this content management system. They use it to create different types of websites easily and earn great revenues. Joomla is available in different versions. A new Joomla version 4 is about to be released soon. So, are you excited to what's new in upcoming Joomla 4? If yes, then read out this article, in which we have some main features of Joomla 4.
1. Marvelous Joomla Admin Dashboard
The Joomla development team is working hard to come up with a totally new and intuitive Joomla admin dashboard. It is perhaps the first thing viewed by users after signing in the admin area of the website.
So, they are designing it in such a way that users can easily get the relevant information on the dashboard. Apart from this, there will be onboarding process. It will help new Joomla users to get acquainted with this CMS in an easy way. The Parameter Defaults Review option is also in the development team's mind.
2. MVC Implementation
In Joomla 4, there will be restrictions on the duties of a component. So, a component will be instructed to perform only its core functionalities. The rest of the things will pull out into the system.
3. An Up-To-Date CSS framework
Every hardcore user of Joomla is well aware of the fact that Joomla has been trapped in the cage of Bootstrap 2. It is expected that Joomla 4 and its later versions will be equipped with the latest the latest Bootstrap version. (Bootstrap 4). This will greatly benefit website designers who create Joomla websites for their clients and customers.
Apart from this, JLayout is going to create a common JavaScript library proxying to Bootstrap. It will help professional Joomla Developers to reduce their manual efforts while creating Joomla extensions. JLayouts will able Joomla Developers to make all HTML overridable and easily customize Joomla websites.
4. A Great Improvement In Joomla Coding

To create professional and eye-catching Joomla websites, developers have to write lots of code. This can frustrate you if there is an abundance of web development projects and all your clients asking you to complete their web-development projects ASAP.
Coding improvements in Joomla 4 will give a great respite to all coders and developers. It is expected that Joomla 4 will have a new rewritten plugin system, ependency Injection Containers to replace JFactory, Joomla framework, Code Namespacing and Depreciation. All these will make your professional life easier.
5. Excellent Typography

While creating website design mockups, most designers have a look at different typography styles and choose the best one. It is essential for the development of an appealing website. A website whose content is available in a professional font can attract a large number of the audience because of the ease of readability (of content).
One must always keep in mind that Content legibility is an important part of a graphical user interface and fully functional websites. So, Roboto will be the base font for Joomla 4.0. It is because Roboto offers lots of flexibility, such as the use of use of light, thin, bold, regular, medium and black weights to match the website design.
6. Availability of Lots of Colors
The availability of color options is essential for the creation of attractive and professional websites. In Joomla 4, colors in the admin panel will be provided as per the accessibility. The actual color ratio of the foreground color and background color of the text will be 4:5:1 or higher. So, dark blue will be the sidebar color. The light grey color will be used for the whole user interface.
7. New Pattern
The Joomla pattern will change in its new update. The new pattern will be included on the login page and in the background up to some extent. It will be a source of emotion for website owners and users, both. It is because patterns represent the whole community, not a particular entity or brand.
8. Several Features For Content Management
Content management is a time-taking and tedious job if you do it manually. But, visitors always expect new content from popular brands and companies. Therefore, it becomes essential for them to use a CMS that offers excellent features for content management.
Joomla 4 will be very useful for all professional website owners and content developers. It will have the interface of article creation with a new look and colors. The menus and text editing field will allow you to access images, create and manage articles, etc. This will help you a lot in content marketing and meet the ambitious goals.
9. Suitable For Mobile View
We all know that internet browsing through mobile devices has crossed the total number of desktop users. Their numbers are increasing rapidly with each passing day. So, it has become essential for all websites and software to go mobile. It is also an important fact that all websites need to be mobile responsive if they want to float in Google's top results.
Fortunately, the interface of Joomla 4 looks awesome on mobile as well as desktop. Visitors can easily access Joomla websites on their mobile devices. For that, you will have to take your Joomla website to the mobile platform in consultation with an expert Joomla developer.
10. Smooth Quickstart Icon and Notification
Smooth Icons and notification services play an important role towards the success of any software, CMS, firewall, Antivirus, etc. In Joomla 4, a configurable icon named "quickstart is given on the right side. Here, you can take different actions and manage your Joomla website easily and effortlessly. The notification icon will let you know the activities happening on your website. This helps you to remind your important tasks and serve visitors in an easy way.
11. A Boon For Physically Disabled Website Owners
The development of different content management systems has made it possible for non-tech and disabled people to own and operate websites and make their dreams come true.
For disabled people, Joomla 4 will provide accessibility support. This will enable them to use the website menu with special tools (such as mouth stick) and customize the template colors easily and quickly.
12. Multifunctional menu Items
The availability of too many menu items can make your website complicated and repel visitors. In Joomla 4, menu items are separated by adding a plus symbol near each and every menu. So, just click the plus icon and create something new as per your needs.
13. A Great Emphasis on Security
Amid several incidents of website hacking and a sharp increase in cybercriminal activities, all website owners want to make their sites safe for use at all costs. With Joomla 4, the developers promise fewer bugs and better security without any fail. So, Joomla 4 will need individuals with higher technical qualifications for smooth and hassle-free operations. Some basic requirements are: PHP 7+ and MySQL 5.5+.
Final Words
The use of Joomla CMS is increasing by leaps and bounds with each passing day. Joomla lovers are curiously waiting for Joomla 4, which is about to be released soon. These are some excellent features you will get in Joomla 4. So, wait and watch! Joomla 4 will roll out soon.
Author Bio
Sarah Clarke works as a writer for Media Fortress, an SEO Agency offering cost effective custom web design services in Perth. She is a web addict and spends too much time in front of the computer. When she actually manages to get away for more than 10 minutes, she is usually reading books, traveling or shooting photos. For more blogs you can follow her on Facebook, and Twitter.