What is sports for you? For some people, it's a way to improve and maintain physical ability and skills, to stay in shape, and to make themselves healthier. For others, it's a way to compete and win! At any rate, sport is a multipurpose sphere of life in which everybody can find his preferences. That's why, if you are involved in this area, you have to make it accessible for many more people with the help of a strong online presence. It doesn't matter, in what sports business you are – coaching, selling of sports equipment or food supplements, fitness club or yoga practices, sports blogging, and more – you can tell about your venture to the world and engage people using your own website.
Essential Things That Will Make Your Sports Website Stand Out
Prior to starting working on developing your online presence, you need to choose the way to build a site – hire a web designer for ordering a custom product from scratch or just buy one of affordable ready-made Joomla templates. With such a framework, it is possible to craft a powerful online platform for any business or entertainment solution because Joomla boasts hundreds of options and dozens of interface screens to help you structure, sort, and demonstrate content in any way you like. This content management system offers tons of handy, regularly updated extensions for all occasions to enhance your site look and performance. Having chosen the proper CMS, let's take a look at the key features your sport or healthy lifestyle website needs to have in order to grab the visitors' attention and generate huge traffic.
Every professional web designer would recommend you strive for creating the "Wow" effect. Your site has to be sleek, elegant, feature-rich yet dedicated particularly to the sports theme and its categories. The truly remarkable design evokes the proper emotions and associations in people's minds at first sight. All kinds of sports have distinctive features that should be reflected in the proper website design. For example, for strength sports (powerlifting, boxing, wrestling, and more) it would be reasonable to make an aggressive design with bright dark colors, expressive graphics, and bold fonts. However, calm and mollifying appearance is accessible for yoga practices, pilates, golf, etc. If it comes about extreme kinds of sports like skiing, surfing, skydiving, snowboard, rock craft, try to add the colors and appealing pictures which truly reflect the relevant environment and mood.
Impressive sport-related pictures are must-haves for sports websites because they help to create the perfect atmosphere for your visitors. Joomla sports templates offer a number of tools for displaying high-quality images. With amazing sliders and stunning galleries, it is possible to add tons of photos, projects or products which you want to share with your readers.
Simplicity in everything is a necessity for web design. Use simple and readable fonts, make the simple and intuitive interface, provide simple and smooth navigation. Moreover, a simple and clear call-to-action button is a must. All the features and options on the pages have to look adequate, legible and motivational.
Your sports website has to bring uplifting mood and positive emotions to your visitors. Take a look at the best Joomla templates specifically dedicated to achieving that goal.
The Hot Basketball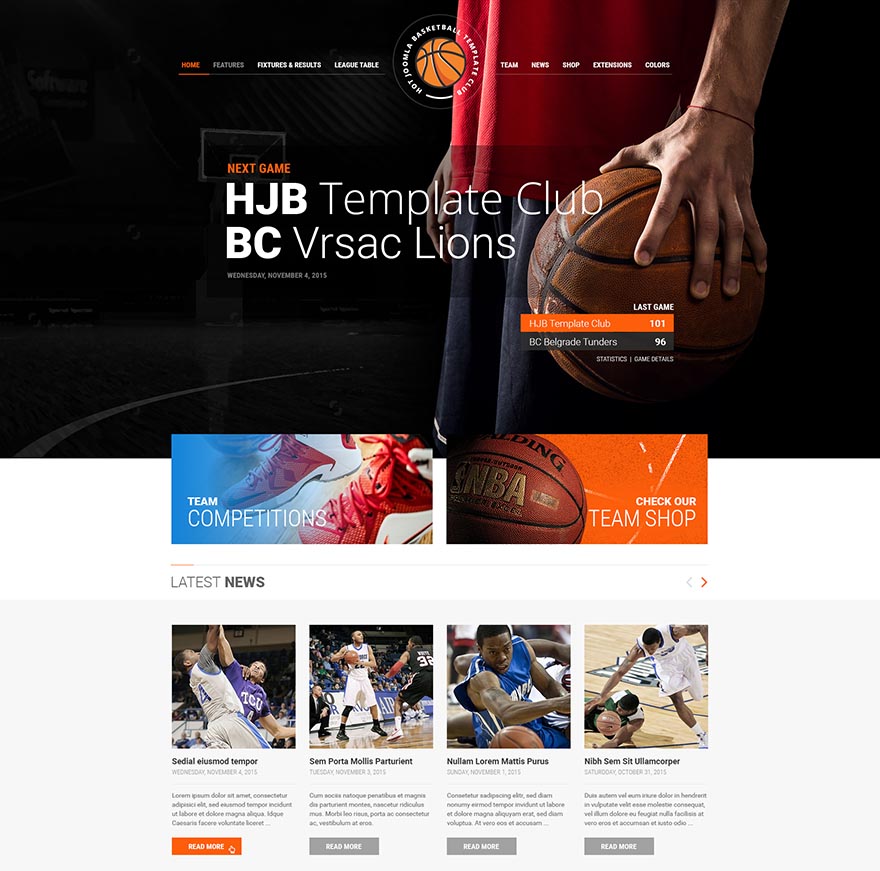 Basketball template is dedicated to one of the most popular games on the planet. We created the responsive Basketball template and dedicated it to the many small or big basketball teams in the world.
Diving Club - Sports & Outdoors & Diving Responsive Joomla Template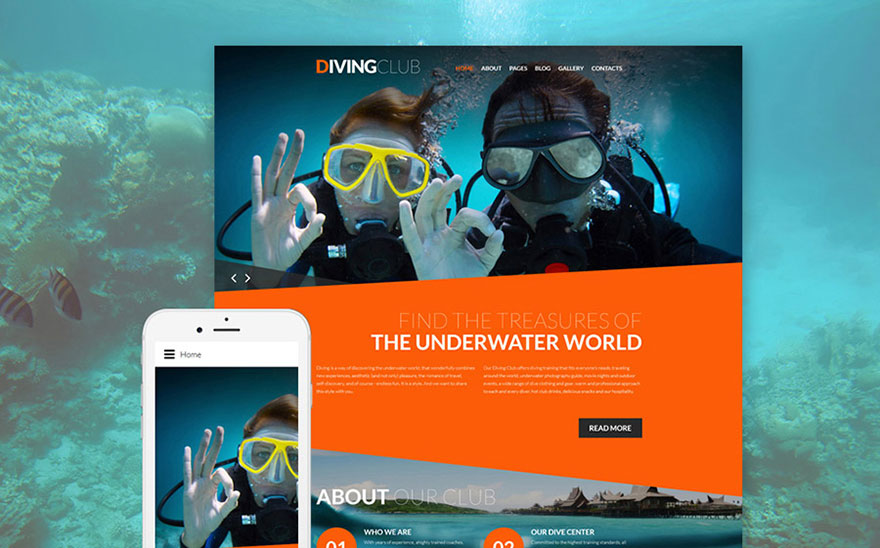 Diving Club is the best example of sports website that is carefully crafted in accordance with the requirements of the market niche and corresponds with the latest web trends. The website template welcomes the visitors with a big diving-related picture that grabs their attention instantly. Bright colors – deep blue and eye-catching red – provoke an emotion to move forward and win. For your convenience, you can change the color palette as you like as well as pick up any Google web font from tons of available.
The Hot Golf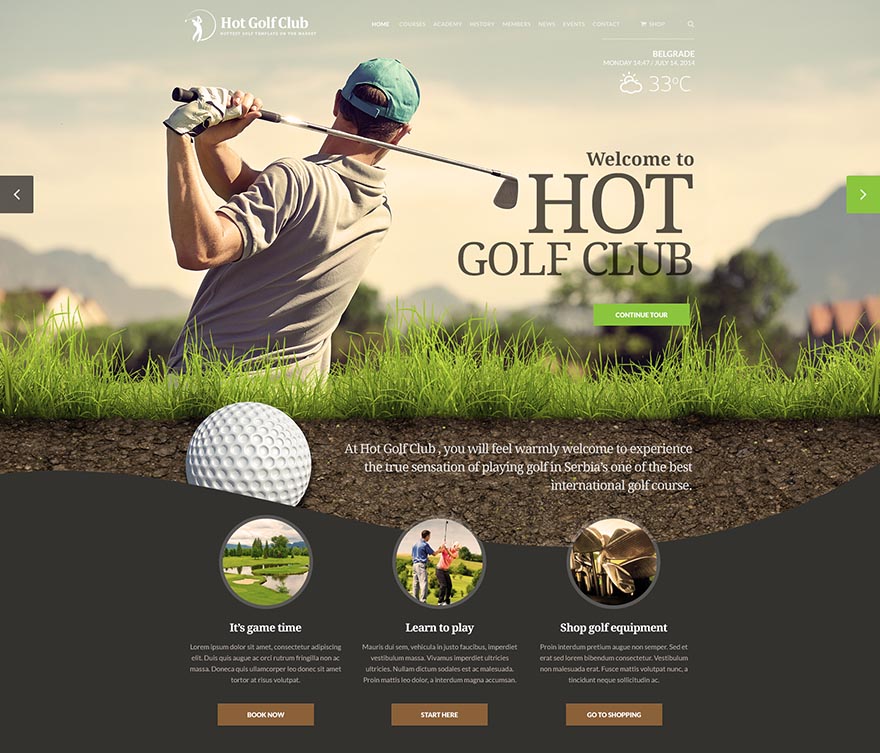 The Hot Golf is a responsive golf template based on an interesting design inspired by golf. Lead by modern principles of responsive web design, we tried to use all available screen space on higher resolutions and to keep things simple in lower resolutions (for mobiles).
IronMass - Fitness Joomla Template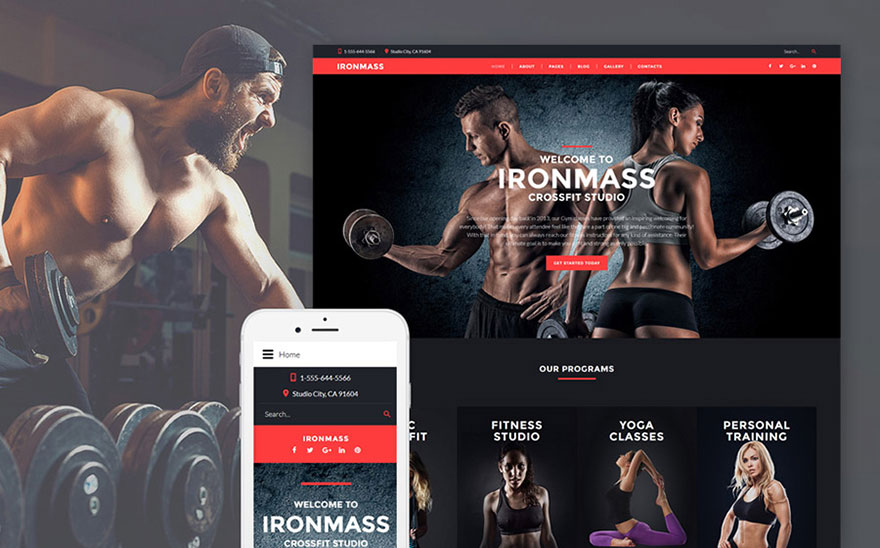 IronMass is a classy sports website template made in aggressive dark colors: red and black. Its responsive, Retina-ready design will come in handy those who are planning to run a website dedicated to any kind of strength sports. When having bought the theme, you achieve: a rich variety of main and additional page layouts, lots of UI elements, handy Contact form and useful social media integration. In addition, prior to buy the theme you can get acquainted with it using the live demo.
Running Responsive Joomla Template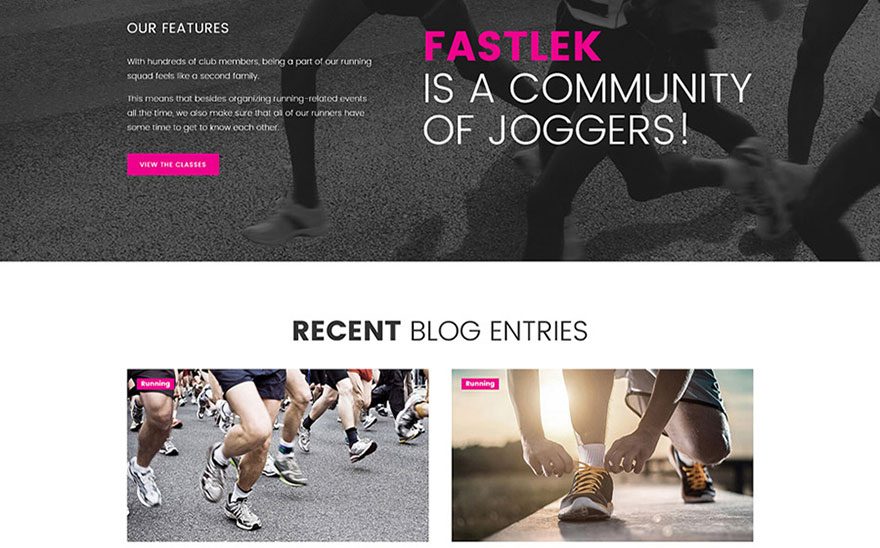 Featuring a rich set of UI elements, multiple additional pages and numerous eye0catching visual effects, this Joomla template is ready to become a solid business card of your running business. With Parallax technology, your visitors will be able to observe motion and depth in design. The theme is equipped with advanced functionality like blog and forum, and all the necessary tools for providing smooth navigation, like Back to Top button and Tag cloud.
Gym Responsive Joomla Template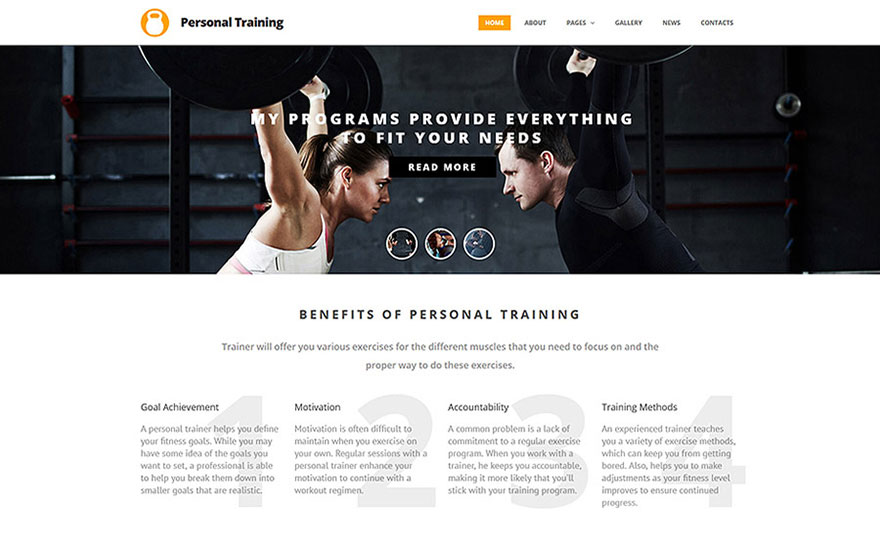 Do you have your personal gym which is not online presented? This 100% responsive and easy editable Joomla template will be the right choice for running your club on the web. The theme boasts a set of amazing features to enhance your sports website and stunning design that is able to grab the audience's attention at first sight. With intuitive and well-organized Admin panel, it is possible to insert and edit any kind of content without effort.
Yoga Plus Joomla Template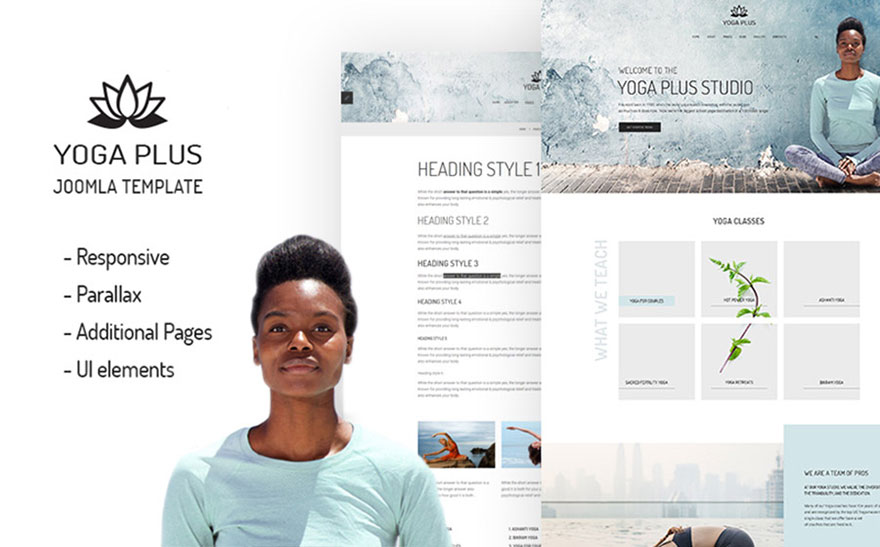 Yoga Plus has calm, minimalistic design made in pastel colors. The template offers a wide range of visual effects like slider, gallery, color switch and parallax scrolling providing modern-looking and truly remarkable website appearance and performance. Additionally, the template supports more than one language that allows spreading your yoga practices worldwide.
Water Responsive Joomla Template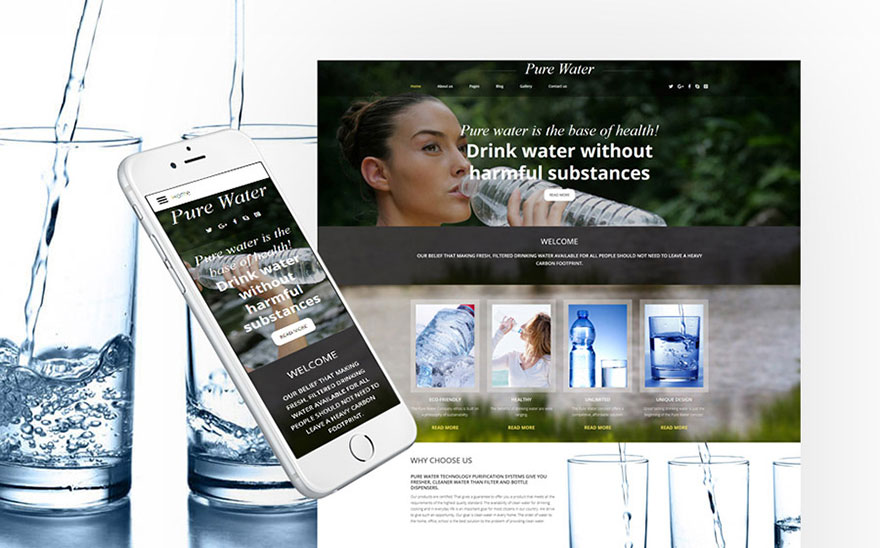 The template is powered by the cross-compatible HTML5 and CSS3 technologies, based on a fully responsive, clean and valid code that flows easily on any device including tablets and smartphones. Due to the implementation of Parallax technology, visitors will get the illusion of depth. Such a graphics solution gives a great opportunity to wow viewers and take a story-telling approach to guide them through the site.
Soccer - Soccer Club Responsive Joomla Template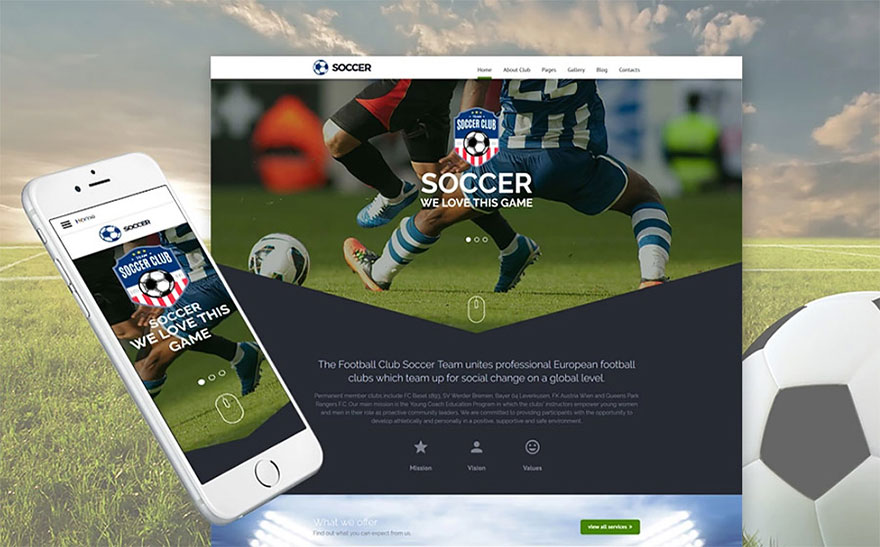 Soccer is a thoughtfully designed, modern looking and technologically sophisticated website template that perfectly suits for your soccer club or other sport solutions. The template comes with Testimonials and Team members plugins that improve your interaction with your readers and adds credibility to your online resource. With TM Gallery, you can demonstrate your sports achievements and club's activities in a stylish way. For your attention, there are lots of additional pages that provides you with unlimited possibilities to enhance your website functionality and look.
Winter Tour - Travel Agency Responsive Joomla Template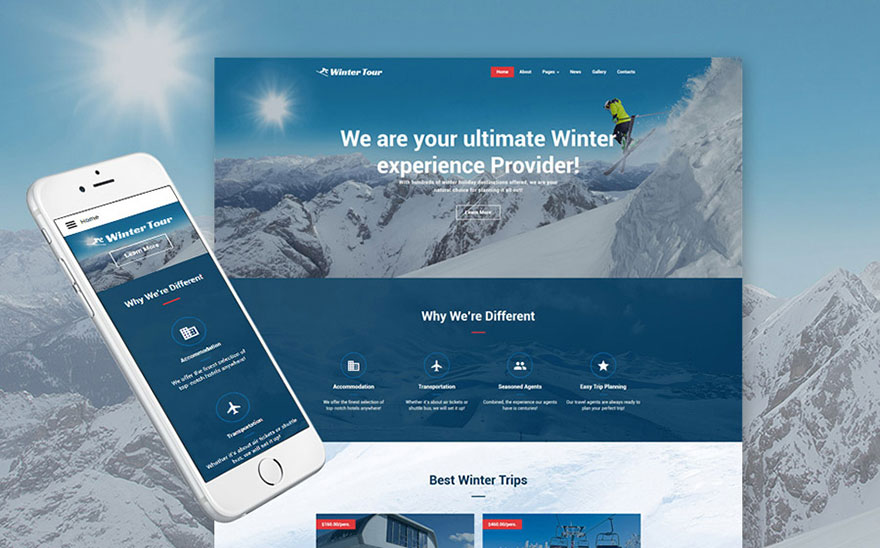 Winter Tour can become a constant source of inspiration for your sports or travel dreams. This template is equipped with a rich variety of necessary, easy-to-use options like Social login, Contact form, Commenting System, Back to Top button, etc. They help to gain smooth and fully-featured navigation and improve users' experience on the site. Moreover, it is easy to change the color scheme of your site interface with Theme Color Switcher.
Boxing Responsive Joomla Template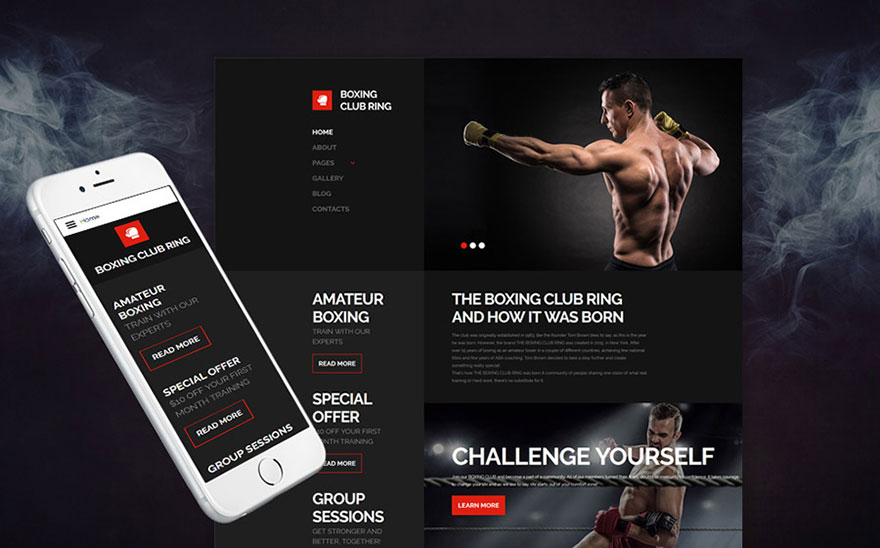 Box is associated with a power, so that Boxing Club Ring template is designed in a dark color scheme with the focus on black, grey and red. The theme looks stylish, trendy, modern and sleek. In addition to eye-catching design with a logical and captivating CTA buttons, you achieve a collection of pre-designed pages for all occasions and an extensive kit of must-have components for a sports website. The template boasts 4 pre-built color combinations as well as tons of Google web fonts to pick with a click.
Shanti - Yoga Classes Responsive Joomla Template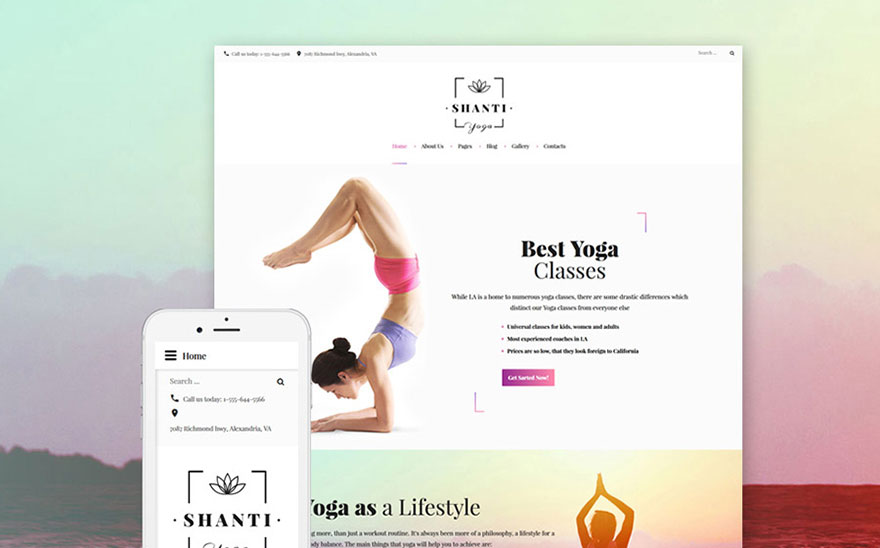 Shanti is a clean, SEO-friendly, fully responsive and carefully crafted theme designed particularly for yoga & pilates practices website. The template is made in calm, pastel color palette with effective visual effects like gallery, bright background, legible and eye-pleasing web fonts, etc. Portfolio and Blog pages will allow making your website more trustworthy, user-oriented and open for interaction with the visitors. Moreover, a regularly updated blog with relevant content will improve your search ranking results.
Bowling Joomla Template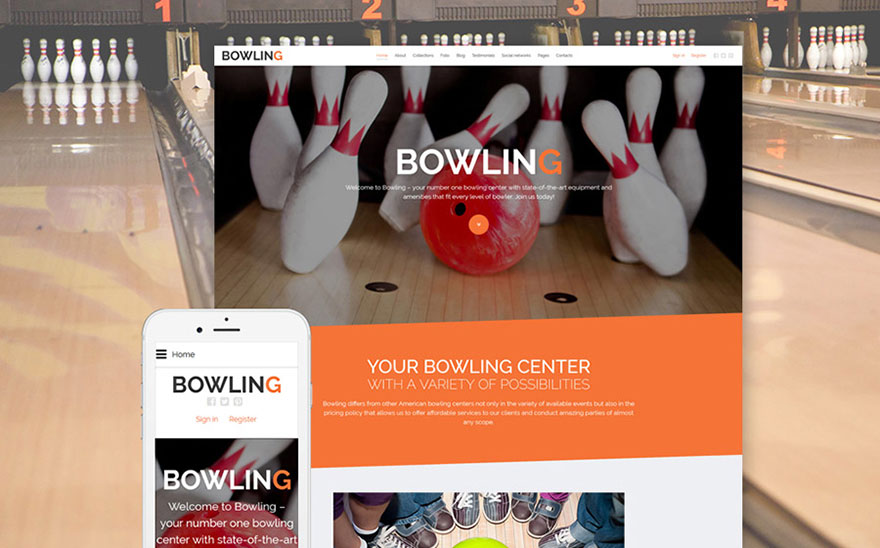 Featuring the rich variety of smart customization options, social media integration, rich UI kit and loads of other useful elements, this Joomla template will meet the requirements of any sports venture, bowling club or coaching service. The theme is easy to install and adapt to your needs. You can change the color palette and web font in a click. In addition to the lazy load effect, you achieve a pack of necessary web forms like User Registration, Login and Contact form for providing users' with efficient experience on your website.
Golf Gold - Golfing Club Joomla Template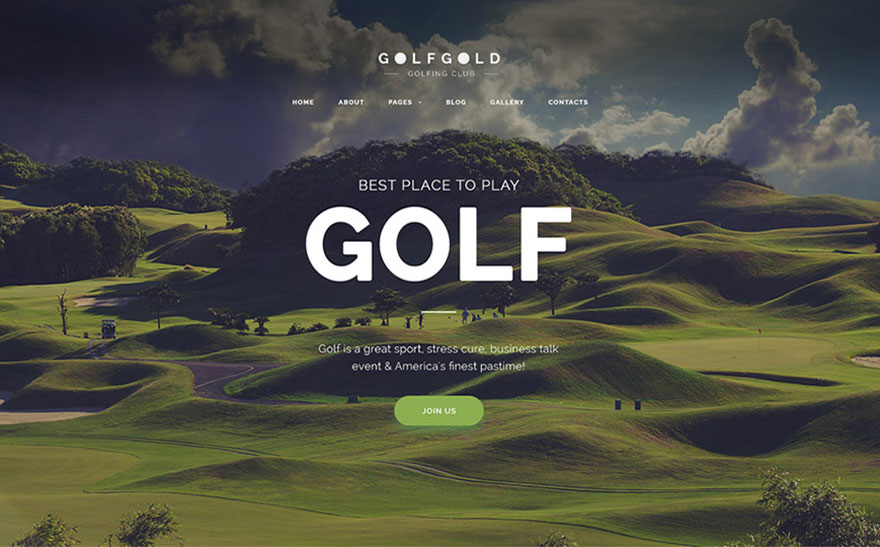 Golf Gold template is waiting for those who are searching for a robust, feature-rich and smooth framework for their sports website. The template offers a number of amazing, well-organized additional pages for all occasions as well as advanced functionality for satisfying and intuitive users' navigation. Due to parallax technology, your website will have a captivating background and thrilling 2D effect. To engage site's visitors, use blog, forum and gallery, where you can add captivating pictures of golf events and insert relative, interesting content that will add credibility to your website ranking.
Fitness and Gym Fitness Joomla Template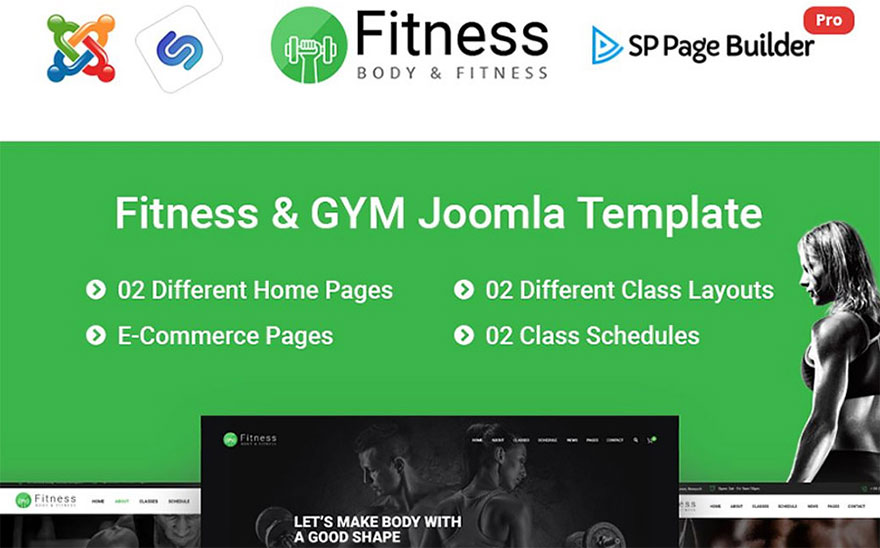 This absolutely clean and extremely modern fitness template offers 2 distinctive homepage layouts, 2 different class and schedule layouts and blog styles. Moreover, the theme supports e-commerce options so it will be easy and fast to turn your website into a successful e-store. Despite beautiful and stylish color combination, you can change it in a click because there are 4 stunning color schemes available.
Basketball Responsive Joomla Template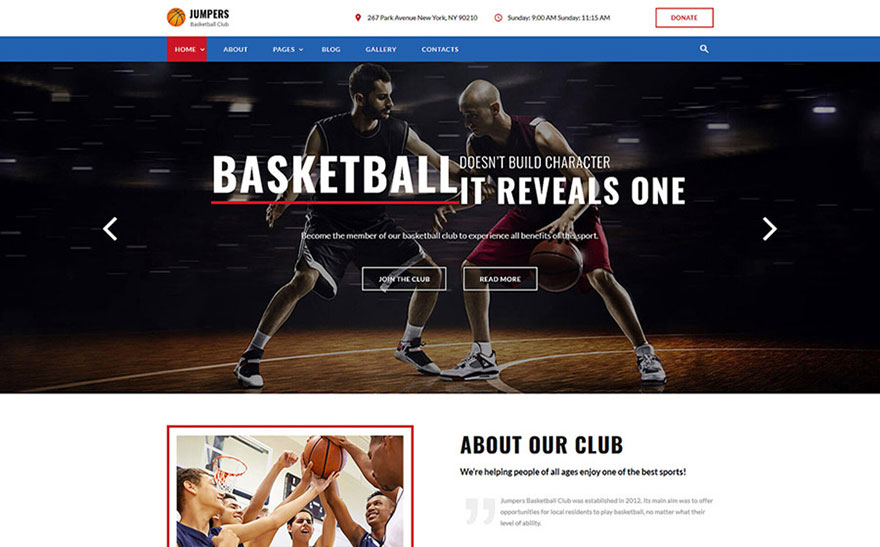 This 100% responsive, highly adaptive and dramatically attractive template is a great choice for building a website for your basketball team, coaching, online magazine, blog, etc. The template provides unlimited creativeness and truly enjoyable customization process that will go over easy and fast. With Parallax animation, amazing slider and remarkable background video, your website will captivate visitors' attention in an instant. With superior functionality, social integration and SEO-friendly code, your site will win the top search ranking as soon as possible.
Fishing Responsive Joomla Template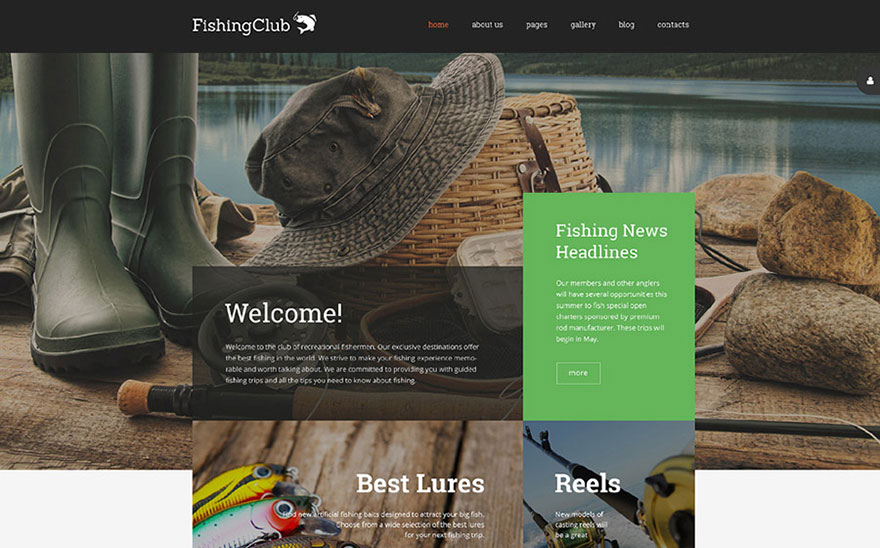 This fishing-dedicated template will provide your business with professional, trendy online presence. The website template loads fast, it is cross-browser compatible and mobile responsive. It comes with all needed pages, options and extensions to gain an all-winning, eye-catching website for a short period of time and with no efforts. In addition to advanced theme options and intuitive Admin panel, you get a chance to set up an amazing blog and forum with an impressive gallery.
Summarization
How to attract more attention to sports? How to become a successful, popular coacher? How to sell sports equipment? To achieve all these goals you need a powerful online presence with a solid, sports-oriented, carefully crafted website. Based on one of mentioned above fast and elegant Joomla templates, your site will stand out from the crowd and make your brand name truly noticeable in your niche. Don't doubt, take a look at the live demo of each of themes and ensure that they really deserve your attention.