Have you ever thought of creating a custom error page when building your website? That's a great idea! While error pages do frustrate and may chase some visitors away, there are ways of handling them to take advantage of the situation. While some errors, like the 502 Bad Gateway Error, can be fixed quickly and easily as they're caused by miscommunication between servers, but they can't have custom error pages.
Meanwhile, errors like 404, can display a custom error page. A well-designed error page can keep your visitors engaged, direct them to other content, or even create a pleasant and memorable experience. Let's draw some inspiration from some of the best custom HTTP error pages:
Carwow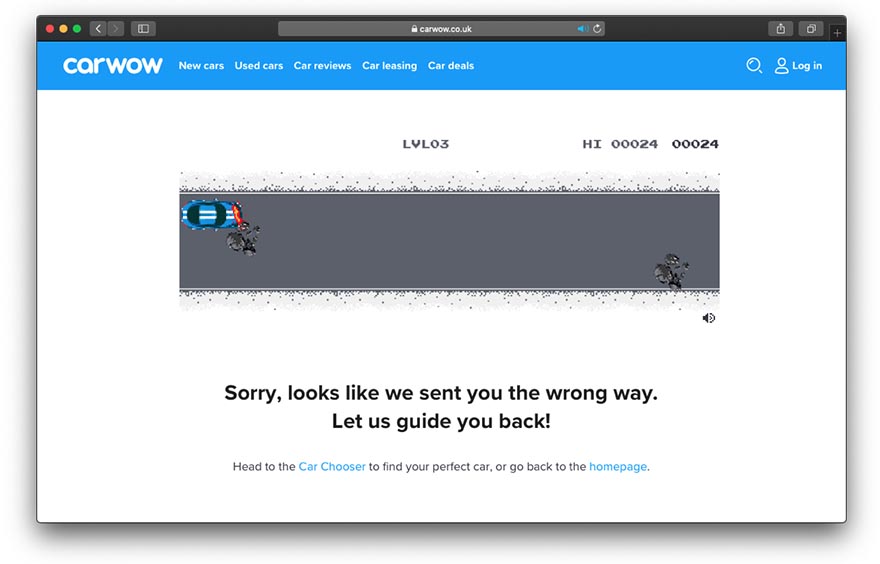 Carwow is a website that deals with cars. Here, you can compare, read reviews, and learn more about petrol-head-related topics. However, if things don't go right, you'll get presented with a cleverly designed error page with a game. You need to click on the Start button to enjoy an 8-bit driving game. This will definitely offer a pleasant surprise and reduce frustration.
Ready to Go Survival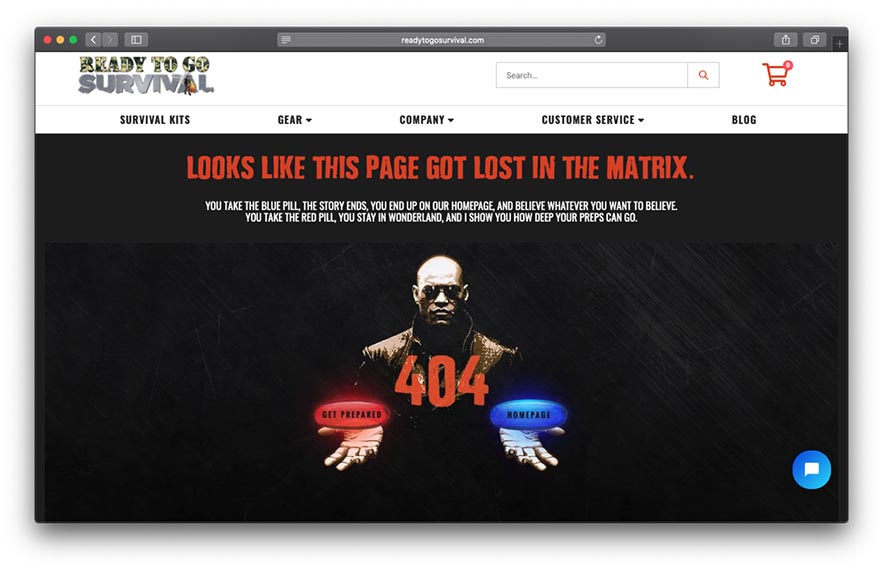 The error page on this website cleverly references the Matrix. It then gives you two options, to either click a blue or a red button, similarly to how Morpheus, a character from the movie, offers Neo a blue, or a red pill. Both of these will keep you on the website so you can continue browsing.
Ueno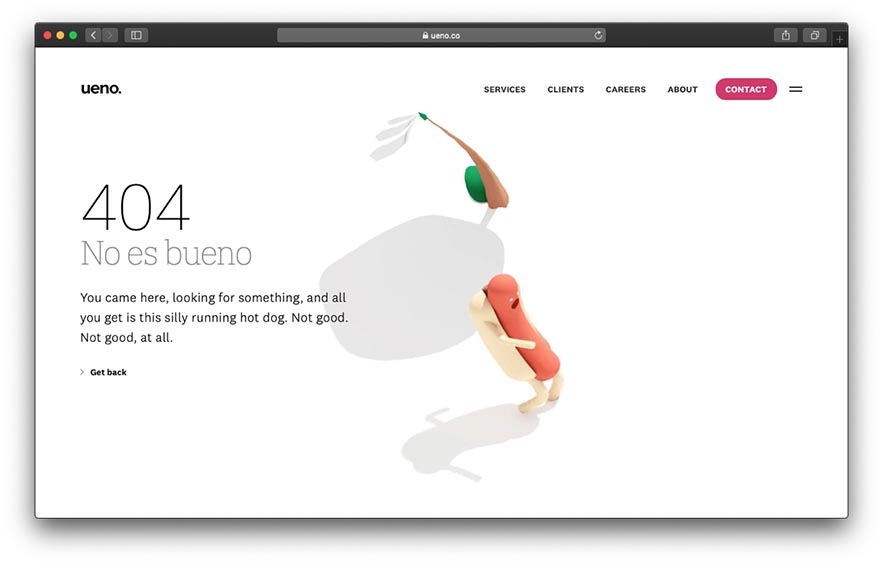 Experts at Ueno use fancy machines and their brains to create products, experiences, and brands that help their clients seize opportunities and solve problems. They have used the same creativity to come up with a very interactive error page. The error page shows an animated hot dog that runs on a dreamlike landscape through an infinite loop. As you watch the hotdog, there are many humorous explanatory messages for you to read.
Color of the Year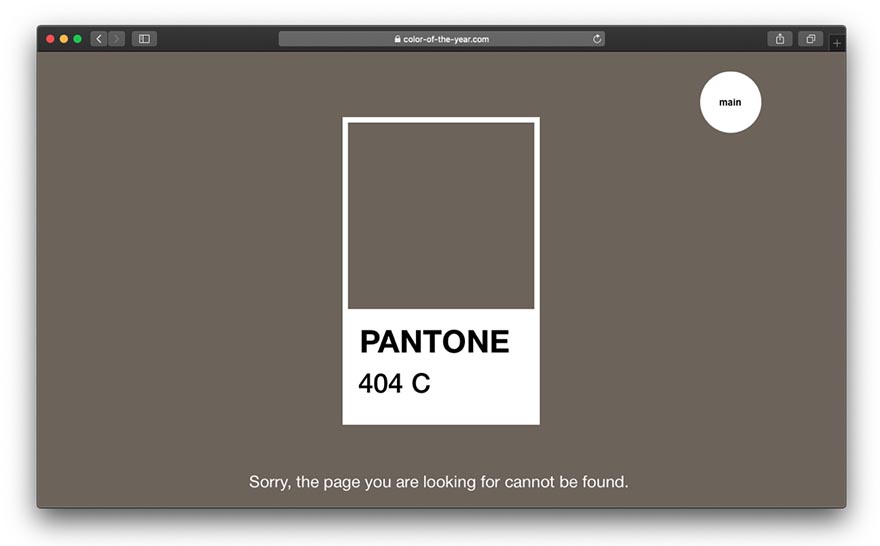 Color of the Year website has what I may refer to as a professionally designed error page. The site is about colors – shades, palettes, color systems, etc. The 404 page has an explanatory message, a short one, of course, on a gray-brown background to match your mood when you find yourself on this page. Funnily enough, the selected color is the Pantone shade 404 C.
Purée Maison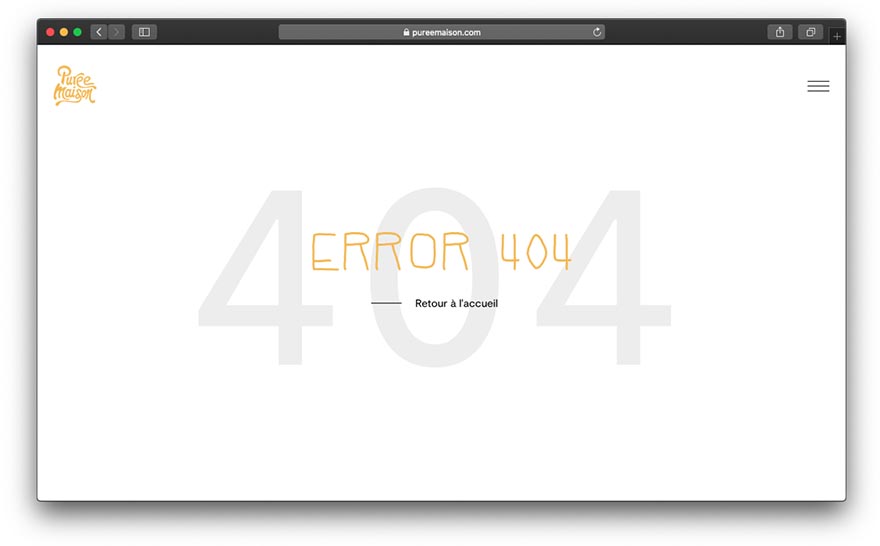 Purée Maison's website deals with communication strategies. The site is rich with animations, which extend to its error page. You can visit the page, and you'll get a feel of how creativity can help you manage the pain of facing an error page.
Slack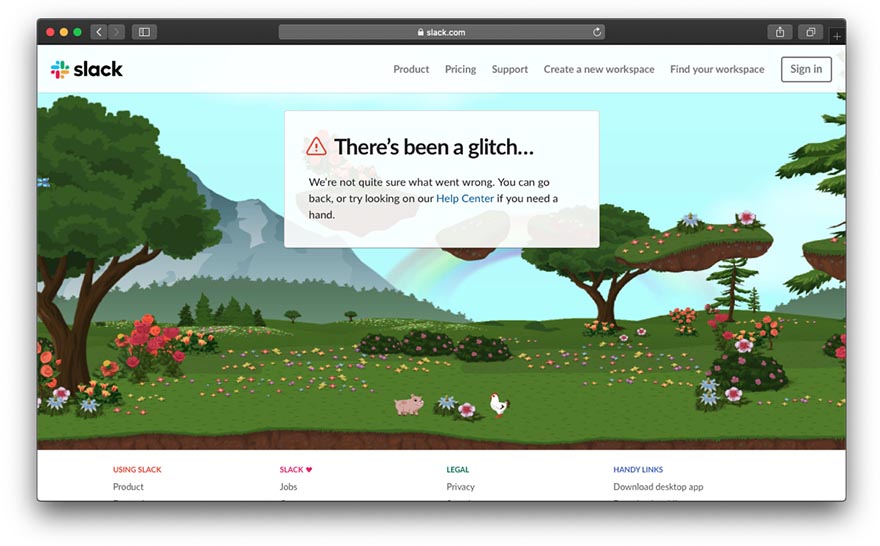 Whenever something goes wrong when browsing Slack's website, the user will be led to a charming landscape of rainbows, mountains, and foliage, where little pigs, chickens, and butterflies roam freely. As your mouse moves, the scene will also scroll horizontally. This is among the best custom HTTP error pages to alleviate your frustrations.
Pixar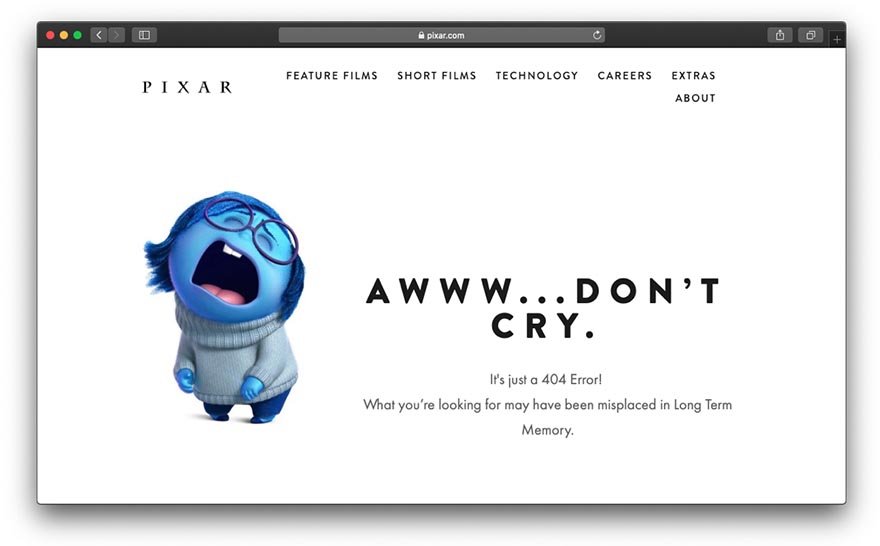 Pixar's error page is where creativity will melt your heart — ever heard of the 2015's Inside Out? This error page features the Sadness of this film. It's straightforward, simple, and gets the job done, perfect for capturing your reaction after you hit a digital wall.
Gymbox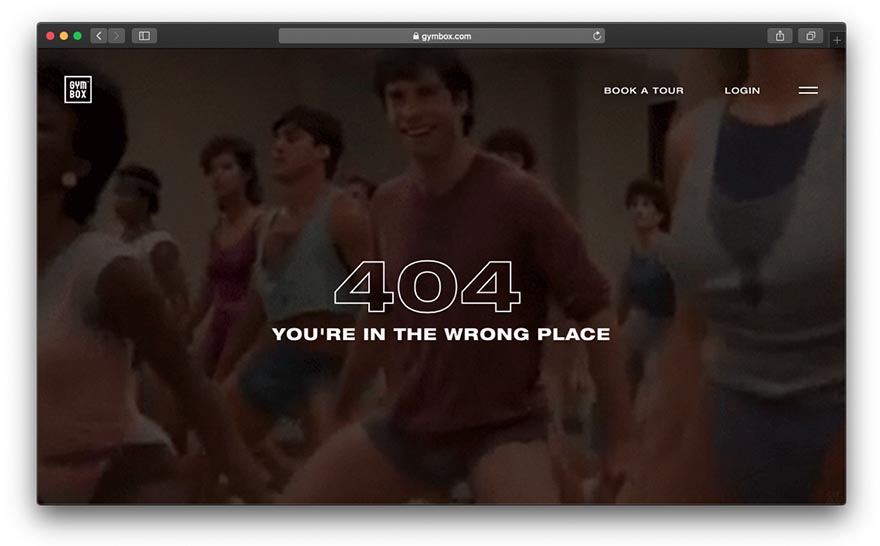 Gymbox offers diverse and unique gym classes for fitness lovers in London. In case you get directed to their error page, you'll view a spectacular interface with thrusting pelvises, crop tops, and short shorts, all that you may need for a good laugh.
20th Century Fox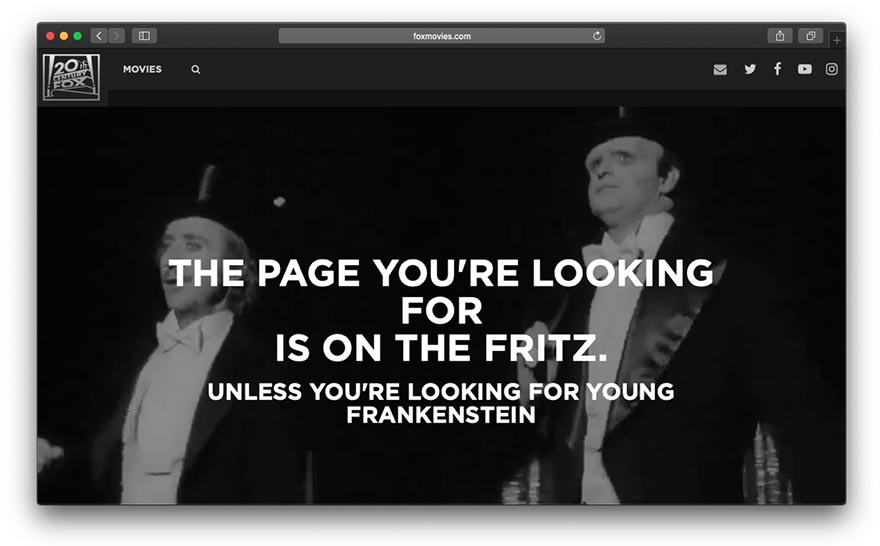 Have you visited the 20th Century Fox website? If so, then you might have seen their error page if you couldn't find the film you wanted. When something isn't right on this website, this error page pops up. The page has a concise caption accompanying an image from a cult movie. You'll also get presented with several films related to the one you were looking for. This will definitely keep you on the website.
Matteo Vandelli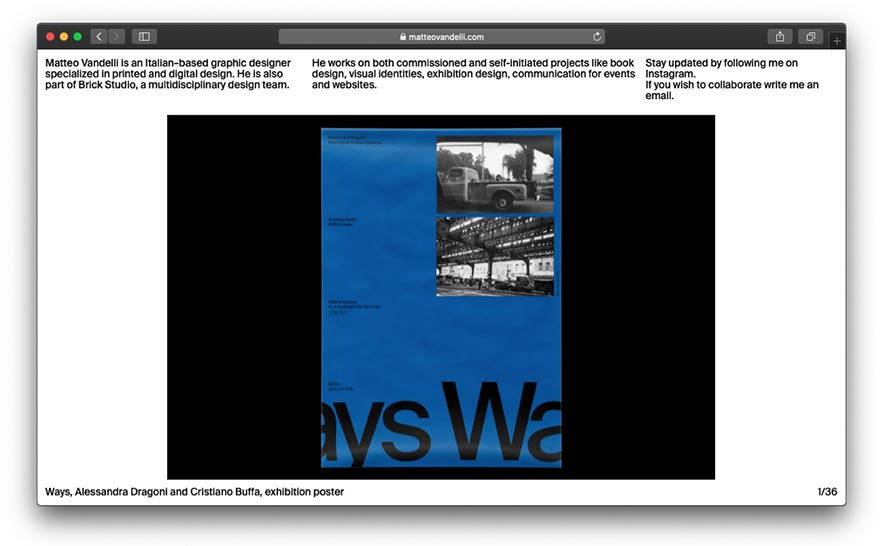 The error page of this website is designed by Matteo Vandelli, a professional graphic designer. He uses the error page as a means of showing off his design prowess and creativity. When you move your mouse over the error, it will shift and ripple like water. This is an excellent example of the best Custom HTTP error pages that illustrate how you can use your error page for marketing your brand.
BluePath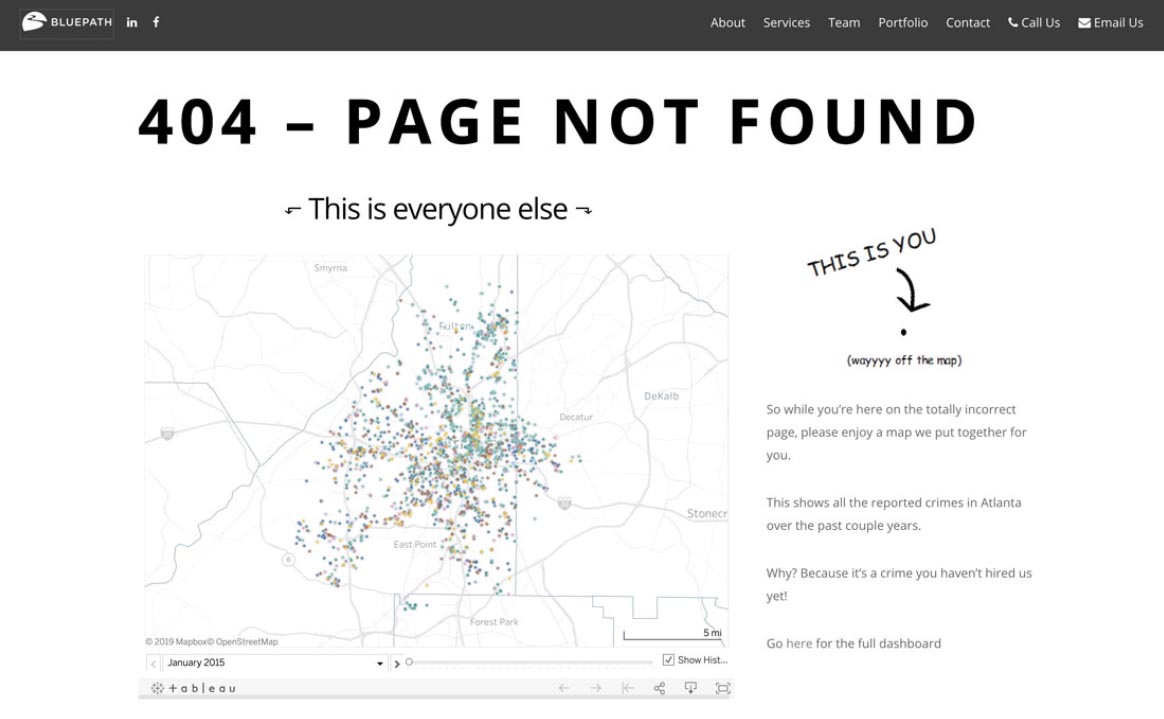 BluePath is a consulting firm that deals in data strategy. It is based in Atlanta. Its error page shows a map of Atlanta with data-driven information showing crimes reported in this area.
Conclusion
There you have it. If you've never thought of building an error page that makes for a pleasant experience, you now have a reason to do so. Many smart marketers have realized that error pages provide another channel for promoting their brands. This is something you can't afford to miss out on.
Some other websites with the best custom HTTP error pages include Marvel, Kualo, Waaark, Steve Lambert, and many others! Inspiration can be found almost anywhere. Now's your chance to put it to good use. Good luck!