Mailshake.com is a cloud-based software that is used to create automated cold outreach email campaigns. This is a very useful tool for sending out tons of cold outreach emails while still adding a bit of personalization to each one. The automation saves a lot of time writing out each individual email and overall just produces much better results for your efforts.
What is Mailshake?
Is it a tool used for creating automated cold email outreach campaigns. There are many features within this software that make it very useful for tracking your leads and analyzing the results of your cold emails.
When setting up a Mailshake campaign, you can paste in an excel file of all your email list and data which can be used to personalize each email. This is a very handy feature that I use with every campaign. Building an automated campaign is super easy and will save you so much time in the long run.
Mailshake integrates directly to your Gmail account so that all emails are sent out directly from your Gmail. This enhances deliverability a lot which is very important when doing cold outreach. I'll discuss why this is so important later.
How do you use Mailshake?
To use Mailshake, simply set up an email outreach campaign and connect Mailshake to your Gmail account. There really isn't much involved with getting started and it is very user-friendly!
The step is to upload your contact list of potential prospects. Ideally, your file containing these prospects will have a bit of extra information about them. You can easily insert certain columns or rows of your excel file as dynamic insertions. This is how you can personalize each email while only actually writing one email for the whole campaign.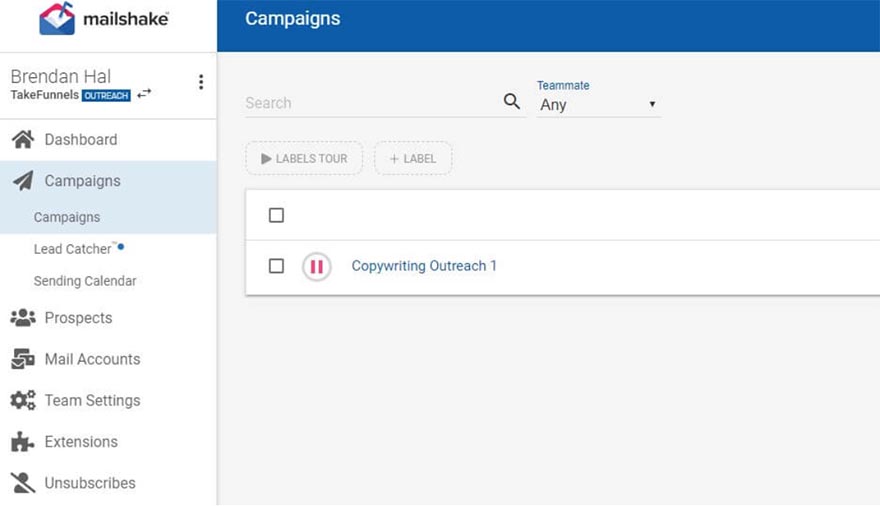 When setting up your campaign, you can split test various emails and also add follow up emails. Following up to your first email is by far the most effective single thing you can do to massively improve your results and response rates.
Before you finalize your campaigns, you can send a test email to yourself and see how it looks in your inbox. I always do this just to make sure the first line of the email looks good and builds curiosity.
Once everything is set up, there are many tools within the Mailshake software that you can use to track everything from open rates to follow ups engagement. Each tool is very simple to use and nothing requires very much work to understand.
Why use Mailshake?
If you've ever done email marketing, then you know the value of emailing. The best reason to use Mailshake is because cold email outreach simply just works.
It's a super simple way to get more customers, build a team, expand your business or get more sales. Truth is, you can do email outreach for any number of reasons and it is not just limited to company outreach. You can email anyone!
I use Mailshake for link building on my websites so that I can massively improve my Google search engine rankings. You'd be surprised how easy it is to get an extra customer just by creating an email that speaks to them.
How much is Mailshake?
Mailshake has two pricing plans which both differ for monthly payments versus annual payments:
Email Outreach plan - $59/month ($44/mo paid annually)
Sales Engagement - $99/month ($75/mo paid annually)
In addition to the plans, you can also clean your email lists for $10 per 5,000 recipients although I just use Hunter.io for my list cleaning.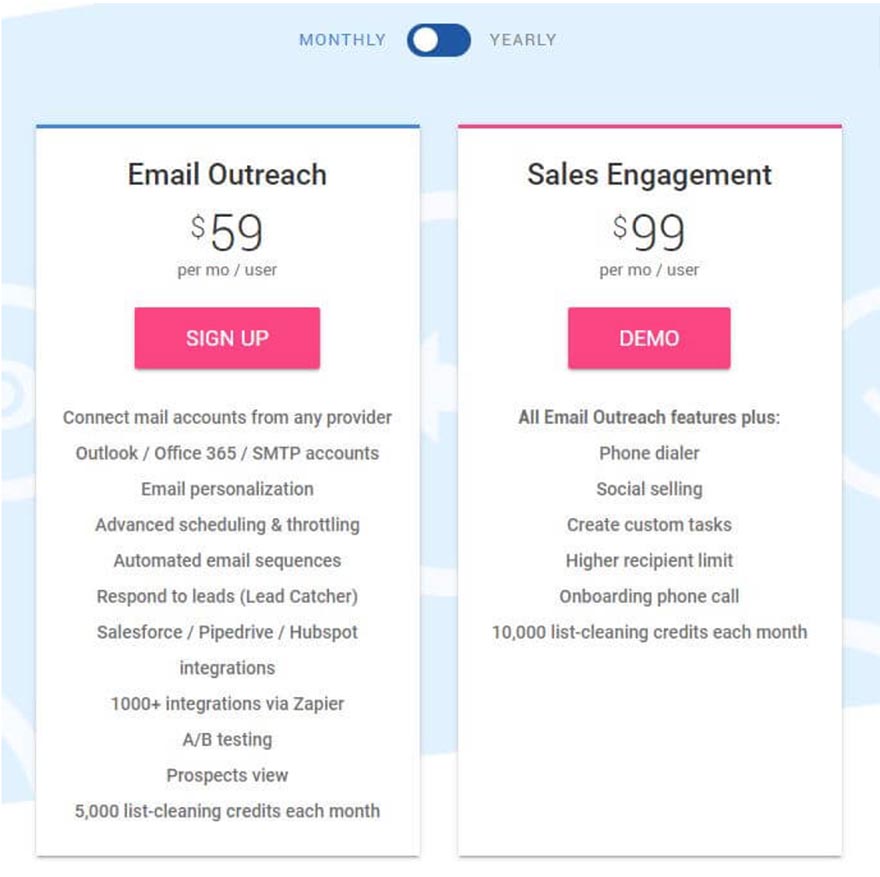 All plans come with a 30 money back guarantee.
Extra features
A few extra features that are really useful are the phone and social sales options.
Phone
Mailshake has a relatively new feature that is the integrated phone dialer. This integration allows you to dial and call phone numbers directly from the software using a native phone dialer.
Social
Another extremely beneficial feature is the social integrations. You can easily integrate Mailshake with social media platforms. This can be used to engage with prospects on Facebook, Twitter, Linkedin and more all from this one platform.
Reaching out to people on social media is a huge untapped opportunity right now that you can take advantage of with this product. Mail is still my focus however I've started to experiment with this and have been getting excellent results.
Support
The support team is exceptionally helpful. That being said, I haven't had many interactions with them because this software is so user-friendly that I rarely run into issues.
However, the few times I've had questions, they've been there to answer them. There is also tons of helpful content in the support section to browse through if you are stuck with something.
Conclusion
Overall I highly recommend trying this company out. Their definitely the best in the industry for what they do. Outreach can help with a lot of things and since I run a marketing blog I am always looking for new tools to test and review.