It's possible to include an Instagram post on any Joomla website. You can include your posts, as well as posts made by someone else. This tutorial will teach you how to do it without installation or use of any additional Joomla extensions.
Unfortunately, Instagram doesn't allow you to embed the entire feed easily. So, this tutorial will cover embedding only a single Instagram post. This is something you would need on many occasions. For example, if you want to illustrate a person in your Joomla article using an image from her or his Instagram account. On the other hand, you may want to add a post about a product from the product's official Instagram account. There are many use cases, so, let's start.
Open Instagram Account in Browser
Use your browser to open an Instagram account from which you wanted to embed a post to the Joomla website. Don't open it with the Instagram app! You must open it with your browser. As an example, let's use HotThemes Instagram profile.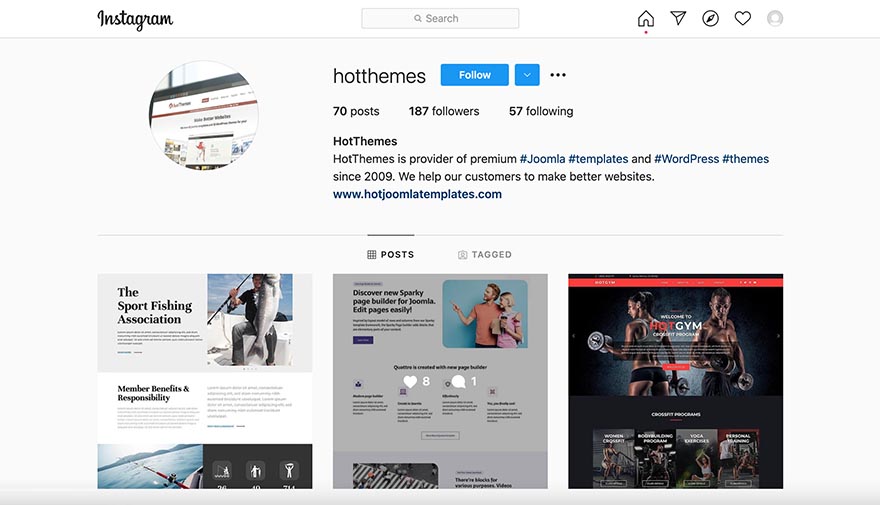 Locate the Post You Wanted to Include to Your Joomla Site and Get Embed Code
When you open an Instagram profile, you will see all posts published under this profile. The newest posts are on the top of the feed. The account must be open to the public. If it's locked, you won't see the posts (unless you have permission from the owner) nor embed the posts.
Click on the post you want to embed on your Joomla site.
Now click the three dots in the top right corner of the post end select option "Embed". You will get the code that you can copy to your clipboard by clicking the "Copy Embed Code" button.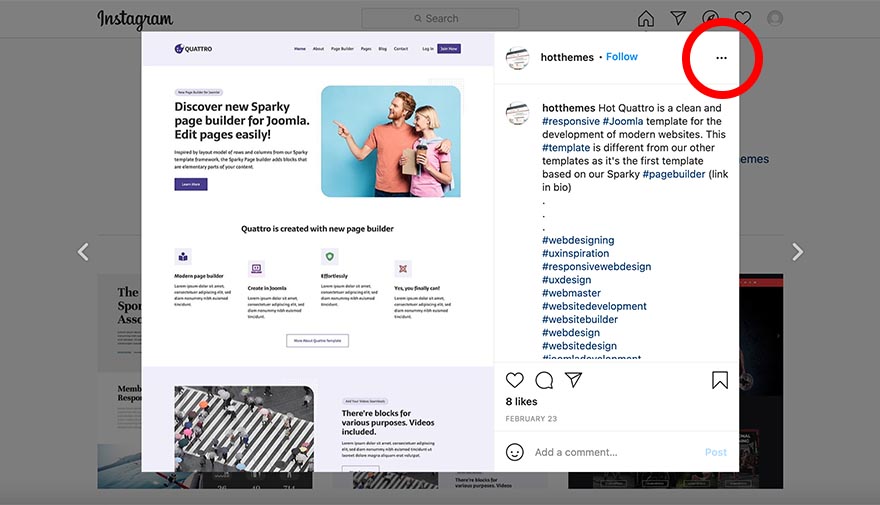 Insert the Embed Code Into Joomla Article or Custom Module
You have the embed code for the Instagram post in your clipboard and you are ready to paste it to your Joomla article or custom HTML module. You can use Notepad (Windows) or TextEdit (Mac) to paste the code and keep it for later reference.
Go to your Joomla administration panel. Find the Joomla article or custom module where you'd like to include the Instagram post and edit it. You will need to switch to HTML mode. Joomla editors usually allow you to switch to HTML mode, so you can paste the embed code this way.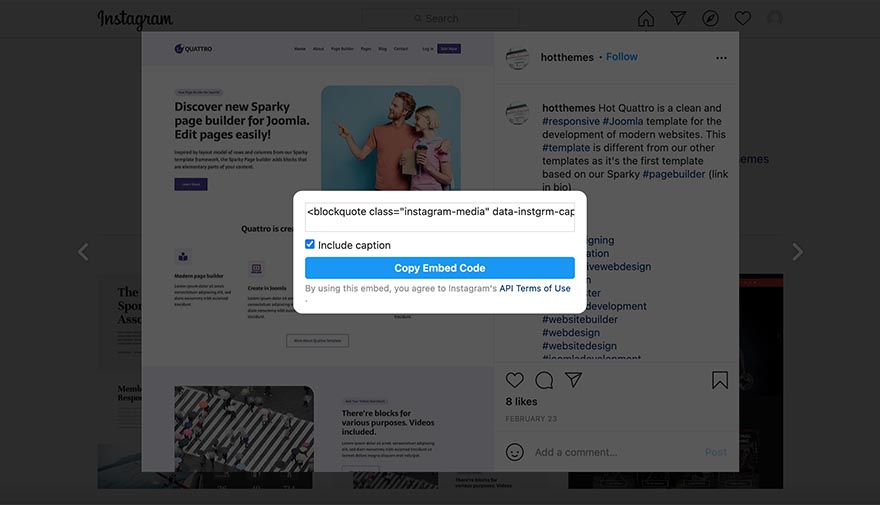 The Result
Troubleshooting
Some Joomla editors can cut off parts of the Instagram embed code and make it unusable. So, if you can't see the Instagram post, it's probably the reason. To solve this problem you can disable the Joomla editor in global configuration and use plain HTML mode. Then paste the embed code again and save.