This article explains what's PSD file and do you really need it when you work with our templates. This is a frequently asked question, so we will try to explain to you what's PSD file using several examples.
Photoshop is well-known software from Adobe used by millions of designers. All designs of our templates are done in Adobe Photoshop. When you buy a single Joomla template or WordPress theme, the PSD file is included in the package. Also, if you are interested to grab all our templates, you can subscribe to our Hot Themes Membership.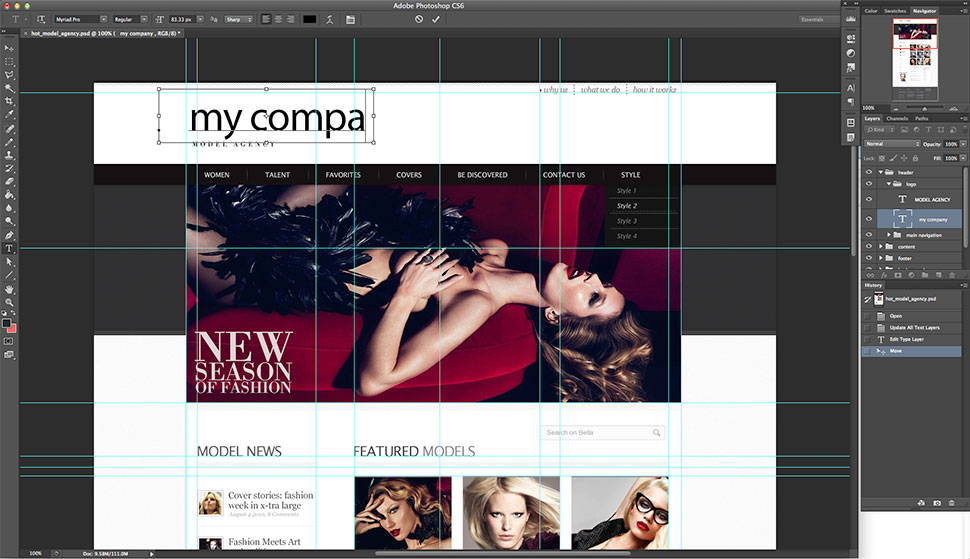 What's PSD?
This is a file created in Adobe Photoshop during the design process of each template. This file is similar to an ordinary JPEG or PNG image, but it's editable. For example, unlike ordinary image files (JPG, PNG, GIF), PSD files can be layered. For example, the first layer contains the top menu, the second layer contains the logo, the third layer contains text, and so on... Text in PSD files can be edited through Photoshop, simply by selecting and editing the existing textual layer. You can change the font, text color, etc.
What do I need to open a PSD file?
To open and edit the PSD file, you need Adobe Photoshop. This software is expensive, but there are also free alternatives, such as GIMP. However, we can't guarantee that our PSD files work well in these alternative programs, as they are created in the original Photoshop.
What I can do with PSD file?
In example, let's imagine you wanted to edit logo of our Model Agency template. It's a textual logo and the original text is "bella". If you have Photoshop and PSD files, you can open the "hot_model_agency.psd" file in Photoshop, select the text "bella" and change it by typing and other text. Then you crop and save this layer as new a logo image and overwrite the existing logo image.
Another example, you want to change the tiled background image of Hotel template and to increase the tile's contrast. You should open the file "hot_hotel.psd" in Photoshop, select the tile's layer and do your contrast edits. When you are done, just export this layer as a background image and overwrite the existing file.
There are many more examples. Basically, if you are well trained in Adobe Photoshop and if you want to edit the design of our template, you will find the PSD file very useful.
Can I use and edit templates without PSD file?
Yes, absolutely! All text edits of our templates are done through Joomla or WordPress. Our templates are well-parametrized , so you can change almost all colors through the template parameters panel (you just pick a color from the palette). All additional elements (such as modules, widgets, menus, image sliders, etc...) are also controlled through the CMS, so you don't need a PSD file to edit these elements.
Basically, all template modifications that's possible with PSD file are also possible without PSD file. PSD files will be useful mostly for people (designers) who are experienced in Photoshop, in order to make the graphical edits easier and faster.
Are PSD files included in your templates?
Yes, they are included. If you buy any of our Joomla templates or WordPress themes or any membership plan, you will be able to download your template files. Besides each template archive, there's a separate archive with a PSD file and all fonts used in this PSD file.