Any property-oriented website needs to meet high-level requirements in order to make a profit and stay ahead in the niche. In the race against time, there is a rapid change of designing practices, features, and approaches in creating business websites to suit the niche demands. So, there is a constant need to be up to the challenge. Luckily, real estate agencies can easily update and optimize their online presence thanks to Real Estate Joomla templates. Today we are going to look into the possibility of using a ready-made theme to solve website owners immediate issues.
What are the advantages of Joomla templates?
Definitely, a website owner should pay attention to Joomla templates as they use one of the most popular CMS nowadays. Joomla provides businessmen with an easy process of editing of web pages and doesn't demand a technical knowledge to perform it. Joomla platform employs powerful editors, which make customizing a website as easy as editing a simple Word document. It ensures the safety of data and Joomla themes are equipped with multiple creative tools. Using the tools, it is easy to create a menu of any structure, pages to display the necessary information and adjust the design of a theme. It is possible to control the site through the intuitive dashboard and editing web pages is performed in a drag-and-drop manner.
Joomla templates are extremely versatile and created with users in mind. Therefore, these pre-made solutions have handy navigation and a stunning design.
Among other advantages of Joomla templates are:
Built-in basic SEO functionality. Thanks to this feature a site will get higher ranking in search results and bring more traffic.
Multilingual support. The ability to reach different audiences nowadays is in great demand for any online business.
Mobile-first philosophy. Since most users rely on mobile-held devices, you can't lose this audience only because you have the only desktop version of the site. Responsive design adapting the page layout to any screen size is of immediate need.
A huge library of extensions. You can widen the functionality of their websites by adding the components you need, like a blog, forum or an image gallery.
Terrific eye-catching features. Joomla themes boast amazing background videos, Parallax effects, and animation. These serve as attention-grabbers and add charm to any design.
Today we are going to have a look at the selection of Joomla themes and templates that refer to real estate issues. These solutions can highlight products and services in a new and compelling way and offer detailed descriptions, and comprehensive real estate tools and other helpful resources for buyers, sellers and investors.
Homes - Real Estate Joomla Template based on Custom Fields
The Hot Homes is a responsive real estate template for Joomla! It extensively uses a relatively new Joomla! feature: Custom Fields. Thanks to this powerful core feature, our template has everything that's needed for development of a complex real estate agency website.
Real Estate Rent Joomla Template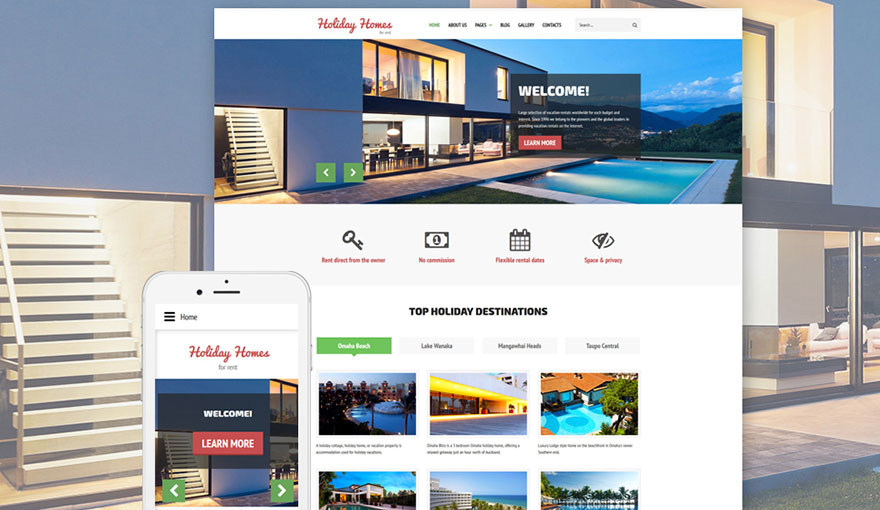 This real estate theme with a polished design and a subtle animation effect will be attractive to many concerned parties from buyers and sellers, to commercial property investors. The theme highlights the essentials and offers high-resolution property images to the visitors' attention. It has the well-spaced and well-organized layout and has nothing in excess. The fully responsive design make the theme look perfect on any screen sizes and it will be compatible with all browsers. The Advanced theme options allow smooth customization, and you can spice up your site with a rich kit of UI elements like lists, pricing tables, and counters. The theme allows placing a lot of informative content in its inner pages and offers pre-designed pages for blogging, a forum, a gallery, pricing, history etc.
Dream - Construction Joomla Template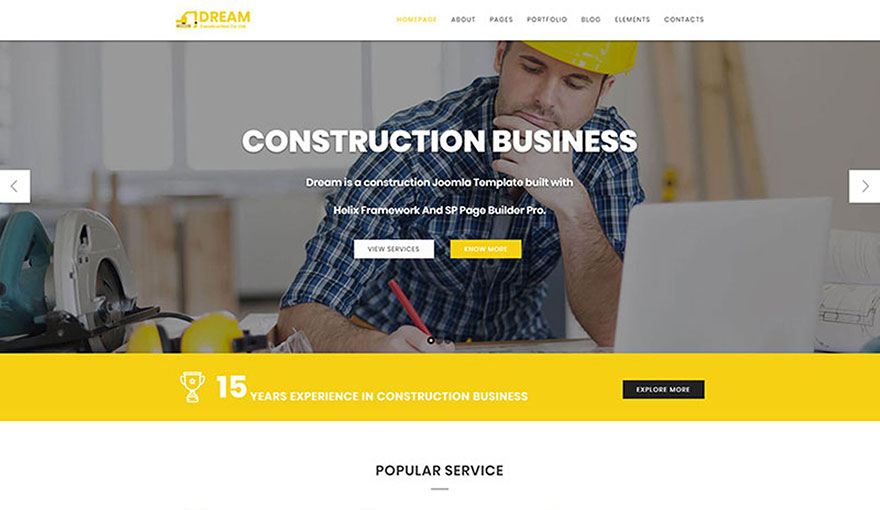 This energetic construction template represents the unique energy and expertise of building agencies and construction advisory services. The visitors to the site will be impressed by the easy straightforward navigating experience, the neat design, and the engaging Parallax animation. The theme is utterly flexible and offers 4 home pages, banners, and sliders to choose from. It boasts a fully responsive layout that guarantees a perfect look on any screen. The theme is well-documented and supported by all the latest browsers, so you won't lose a single visitor because of malfunction. A simple page builder helps in creating a complex Joomla layout without any coding skills.
Jedi - Multifunctional Joomla Template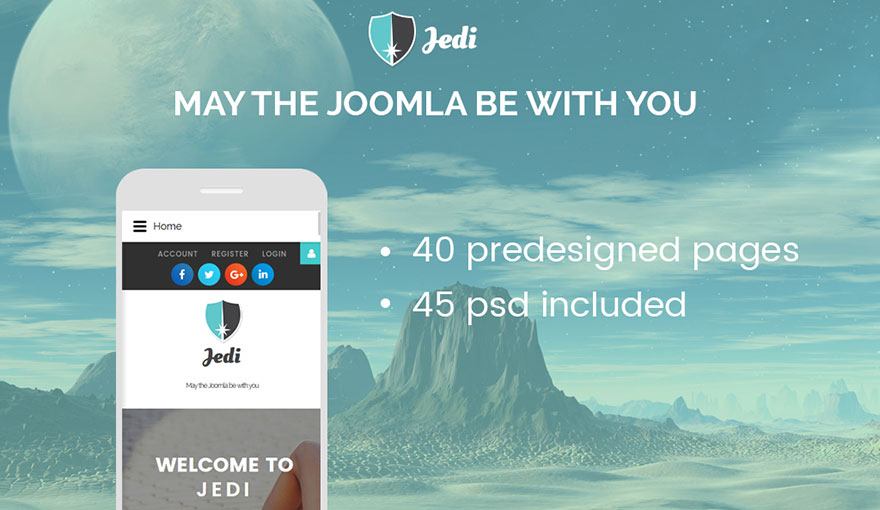 Let us introduce a universal solution that can serve any purpose, including real estate agencies, property businesses, and companies. This incredible theme is equipped with design, marketing, and administration tools. The well-organized layout makes sure that the page does not overwhelm the visitors and overall design is non-obtrusive. The theme boasts a really fast performance and the ability to adapt to any screen, 40 predesigned pages, multiple headers and footers, and 45 PSD. A social media integration allows a user to share your content easily and promote you on the web. SEO-optimization allows get the higher ranking in search results and get more visitors and new clients.
Real Estate - Renting Agency Responsive Joomla Template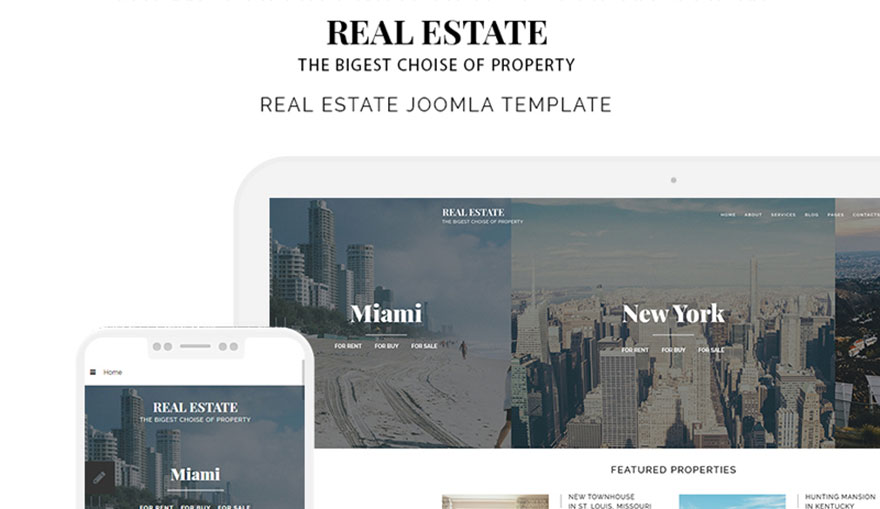 This elegant theme was specially designed for real estate agencies, realtors, and rental services websites. It goes with a built-in forum, galleries to showcase property listings, and a blog to offer good advice on a real property purchase. The visitors to the site will appreciate the advanced property search feature and a convenient contact form. By adding UI elements you will ensure a detailed description of any piece of property, using pricing tables, progress bars etc. The website template goes with several skins and you can freely choose the one that expresses your companies identity best. The theme color switcher allows playing around with the color palette to get the result that satisfies your vision.
Real Estate Responsive Joomla Template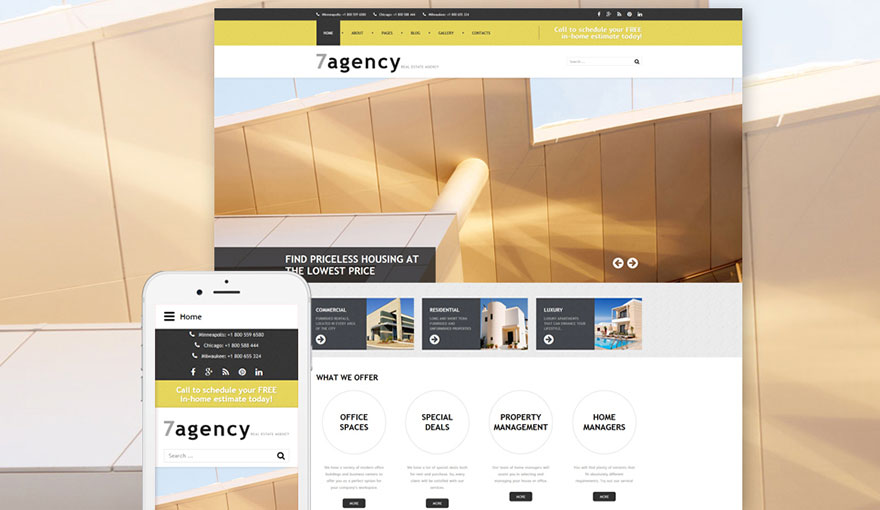 Meet an impressive real estate template designed to increase your sales. From the first sight, it will grab client's attention and the parallax animation adds to the charm of the theme. It goes with the built-in forum functionality and boasts a professional blog and amazing galleries to showcase the real-estate products you offer. The Bootstrap front-end component library makes the website design completely responsive. The template guarantees a very simple installation and has attached documents to help you solve the problems. The theme goes with integrated Google fonts and maps.
Jumerix Multipurpose Joomla Theme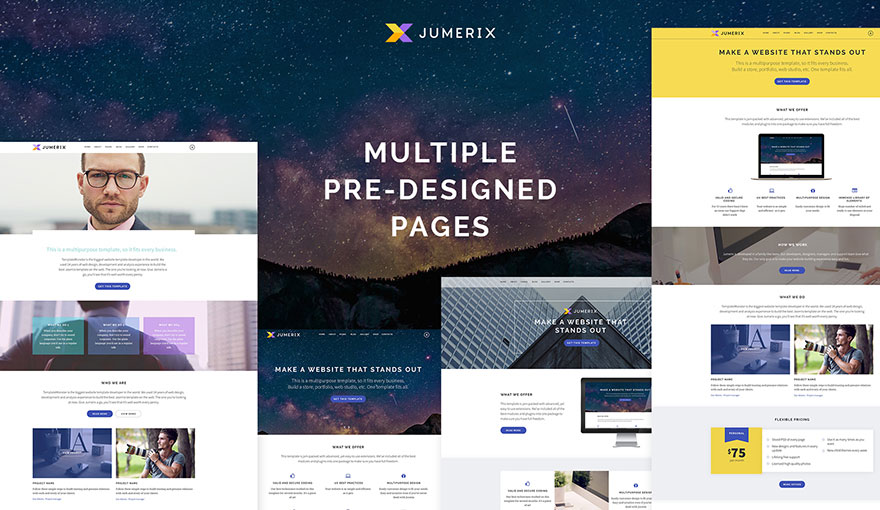 This universal template with an amazing functionality is able to boost conversions of any business website. It can easily be adapted to the real estate niche. It has a responsive design and a depth-adding Parallax with a background video will attract a viewer's attention from the first sight. The drop-down menu, back-to-top button, and the sortable gallery will make the navigation user-friendly. The theme is well-documented so you will not have any troubles with managing the site. A full-featured forum lets get a quick feedback from clients and will be helpful in solving their problems.
Perfecto - Luxury Hotel Responsive Joomla Template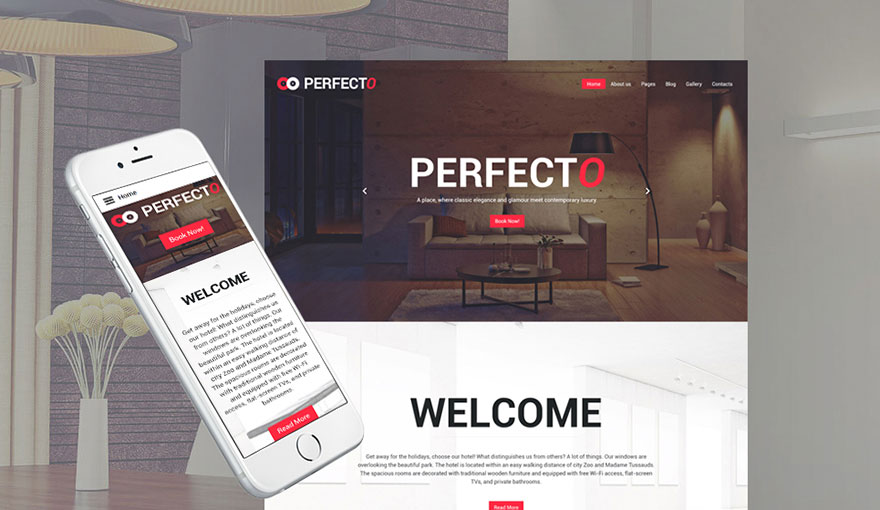 Meet an elegant hotel theme packed-full with an array of features that will satisfy both the website owner and clients. The website slider on the main page will efficiently display all the booking options and grab the visitors' attention. The pre-designed additional pages will any information to its advantage whether it is your clients' feedback or the information about your hotel's history. The responsive design makes the theme look good on any screen, and the theme is fully cross-browser compatible. You can play around with a color palette of your website with Multiple color options tool and make your site unique.
Villa Hotel Joomla Theme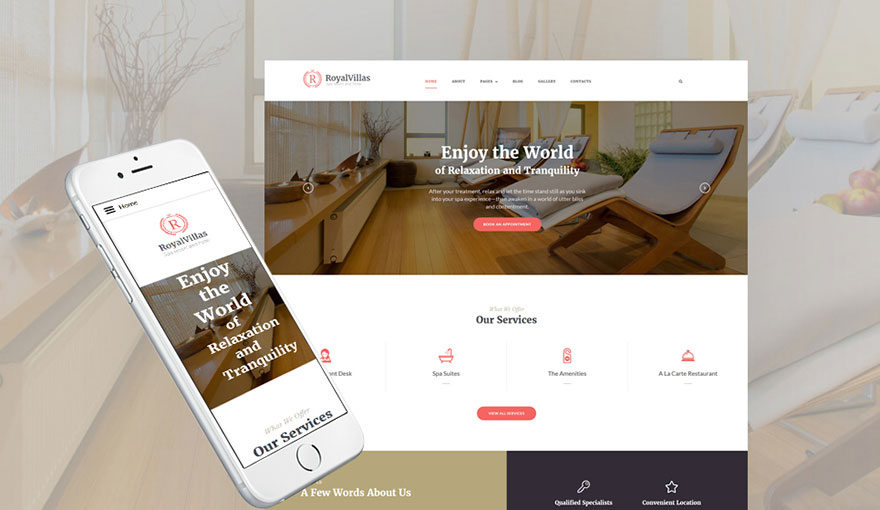 Another elegant, functional, and quality Joomla template crafted with care will make a stylish website for a hotel or spa resort. The theme has a clean and a fully responsive design, a user-friendly navigation, and a full cross-browser compatibility. The theme is equipped with a booking form and a search form for the convenience of your clients. You will be able to present your hotel's history, portfolio, a team, and your clients' reviews on specially crafted pages. A wide range of versatile UI elements will help you to build the site to your liking.
Hotels Responsive Joomla Template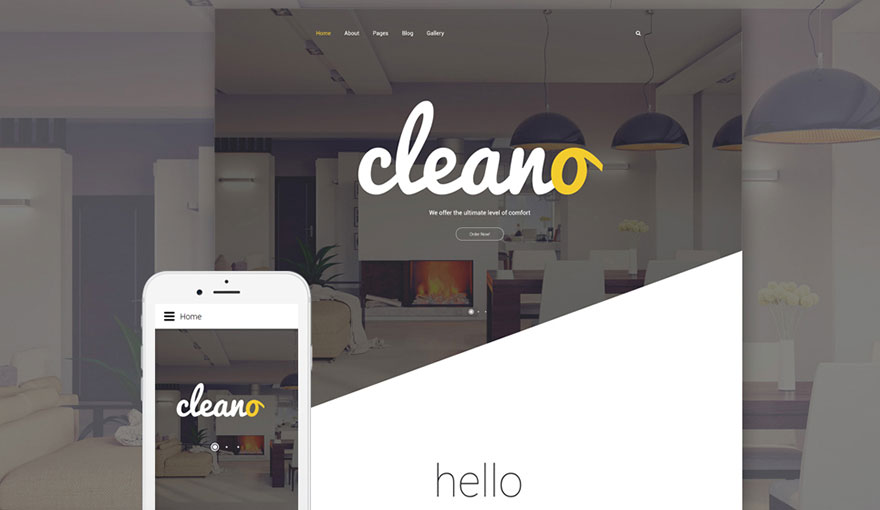 This outstanding hotel template has a fully responsive design and an eye-catching slider to show your booking options to their advantage. This well-documented theme will make no trouble in the process of installation and customization. A large number of UI elements help to spice up your website and adding various counters, price tags etc will not be challenging. The additional pages are helpful in presenting all the details about your hotel, its history and clients' testimonials. Your guests will find social login and a Google map inviting and helpful, while a Parallax and lazy load effect will enhance their online experience. The theme color switcher and Megamenu designing tool will help you customize the feel and look of your hospitable site.
Casino & Hotel Joomla Template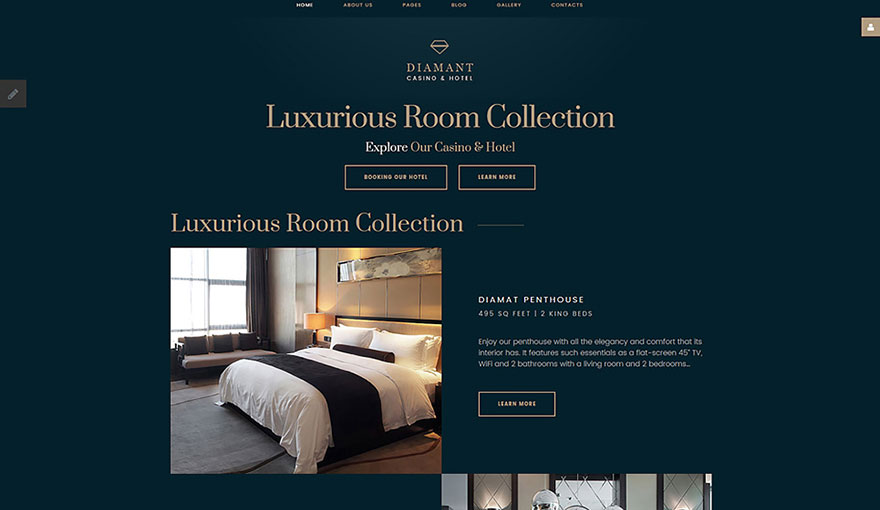 Choose this professional luxurious theme with adaptive design to present your hotel in the most favorable light. The stick-to-top menu and social login facilitate your visitors' navigation. The booking and contact forms are extremely convenient to use, and the site is spiced up with progress bars, counters and other UI elements of your choice. The theme is fitted with a pack of pre-designed well-detailed pages for a blog, forum, and the staff presentation. The template is built on a clean and valid semantic code which guarantees its flawless performance. Adding different Google fonts and pre-made forms, you will create a unique site to suit your needs.
Summarization
As you can see, it is easy to run a website and enjoy a seamless web development at the same time. Along with a professional design, you get great tools to create a perfectly performing website to fit your niche. Developed with the best design practices, these themes will exceed your expectations and they are definitely worth trying!