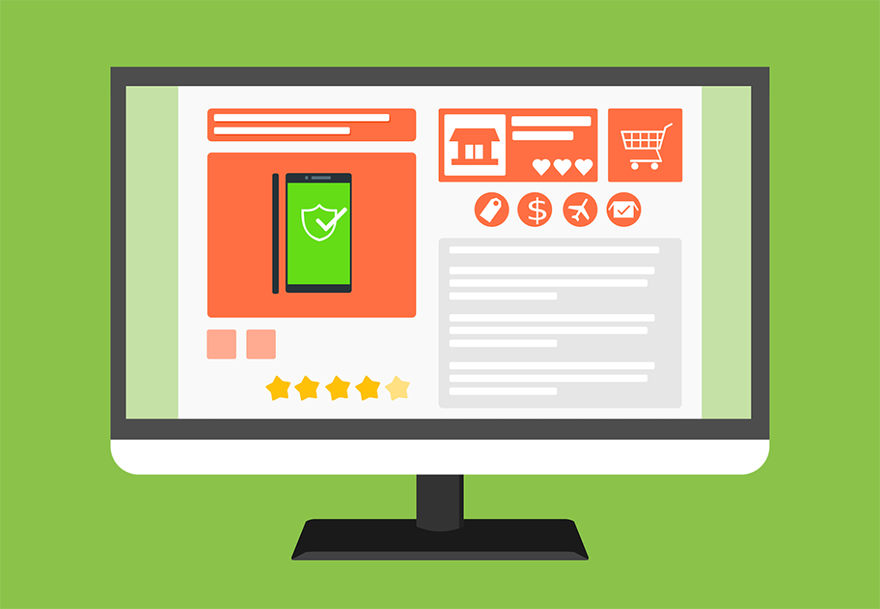 The e-commerce sales share of the total global retail sales is poised to reach 17.5% by 2021, and the upward trend is set to continue for many years to come.
That means that the opportunities for selling online are abundant, and as more people become accustomed to getting everything from everyday items to bigger purchases online, there probably isn't a niche that you couldn't succeed in as an online business.
However, with rising demand, the competition is increasing as well, so those that want their e-commerce store to work must know the best practices and strategies that will bring results in 2019 and beyond.
So, if you want to stay ahead of the curve, read below for five of the most important things you should consider when building your e-commerce store.
Pick the Right Niche
Many aspiring e-commerce marketers get overly eager about finding the next big strategy for making their site a success, but they forget the essential step that will ultimately decide if there's any hope at all, which is finding the right niche that has potential to deliver a steady profit.
Some try to focus on going into the big markets where there are the most consumers and the most profits to be made, but the truth is, breaking into these niches can be all but impossible.
That's why the soundest approach for finding a niche is to look for something that actually interests you – that way, you'll not only have more knowledge about the area but will also have a passion that will allow you to invest time and push through various challenges.
Don't Neglect SEO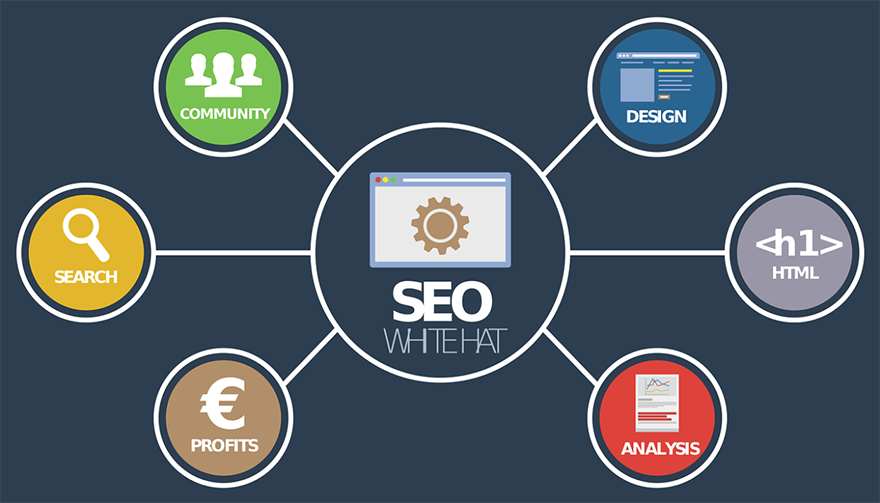 There probably isn't an e-commerce marketer that doesn't know what does SEO stand for or the potential it can have to success when operating online.
However, it seems that every year some online marketer proclaims SEO to be dead, with some new hot marketing trend supposedly being the all-end solution to all e-commerce store owners.
However, just like ten years ago, and probably just as ten years from now, Search Engine Optimization will be at the forefront of any comprehensive marketing strategy for e-commerce stores, as it is still the most cost-effective way to guarantee a steady stream of leads to your site if you know how to execute it properly.
Now, the truth is, succeeding with SEO is getting more difficult – a competition to rank for the best keywords is becoming steeper every year, not to mention the fact that Google algorithms are making it almost impossible to cheat the system by stuffing keywords or using low-quality backlinks.
But at the same time, this means that those that stick to providing value and building their site's SEO rankings through legitimate methods are poised to succeed even more.
There are proven and effective ways to boost the SEO rankings that don't require you to spam anyone's site or try to game the system by stuffing your content with keywords.
Instead, by following the best practices such as the Google Webmaster Guidelines, you can ensure that you make it easy for Google and other search engines to understand what your site is about, and position your site in a way that it actually is the most relevant result for the keywords that you want to rank for.
If you take the time to develop your website and your content according to Google's recommendations, and then seek out some valuable backlinks from relevant sources, your results will eventually start paying off.
And since you didn't have to resolve to cheap tactics or quick hacks, you'll know that the next Google algorithm update isn't a threat to your rankings and your traffic.
Make Your Site Look Professional
One of the most important factors to consider when building an e-commerce store is the perceived trustworthiness of your site – since there are plenty of scammers trying to deceive people online, people are naturally wary and are looking for even the slightest inclination that a site might not be reliable.
That's why you need to make an extra effort in designing your site in a way that shows that your business can be trusted and is legitimate.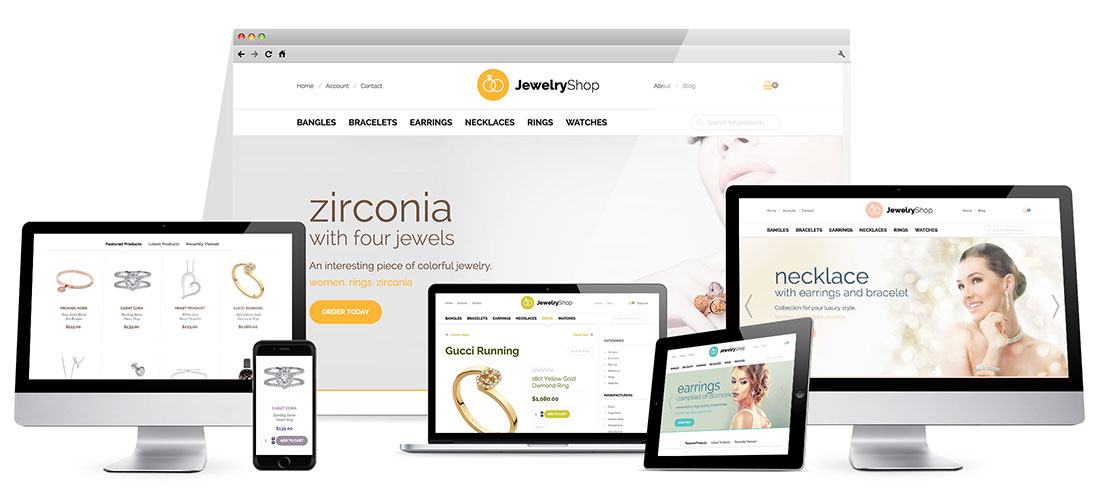 The picture above shows the Hot Jewelry Joomla template. This is a responsive e-commerce Joomla template, powered by VirtueMart component for the development of modern online stores. Beside that, we have a collection of Joomla e-commerce templates.
The first step of the process is picking a domain name that looks professional and trustworthy – although the newer domain extensions are becoming more popular, it's still a safer bet to go with a traditional .com domain, even if you have to play around with a domain name generator until you find the perfect available domain.
If you manage to find a memorable domain and sounds good, it will add value and make it easier to sell your website should you ever want to in the future.
But having a solid domain name is just the first step.
You need to make sure that the visitor of your store feels comfortable and safe from the very first second of his visit until and beyond the moment he makes the purchase.
One thing to help with that is having a site with an SSL certificate which ensures that no personal information can be stolen by you or a third party. In fact, having an SSL certificate on your site is no longer optional – Google's Chrome browser already labels sites without a certificate as "Not Secure," which is not something you want your site's visitors seeing next to your site's domain name.
Your site should also be easy to navigate and convenient to use on all devices – try to make everything as clear as possible, and make sure you are upfront about any additional clauses or fees so that you don't break the trust with your prospects.
An often overlooked aspect of making a site look more professional is the way that you present your products - many e-commerce stores still think they can get by with using stock photos provided by the product manufacturers or using low-quality images that don't portray the products in the best light.
Unfortunately, you'll have a tough time getting anyone to buy your products if they don't look appealing in the photos. That's why it's a good idea to take the time and do a professional photoshoot of all of your products or use a related professional stock photo from a reputable stock agency like Shutterstock.
A beautiful, light background and high-resolution images will allow you to showcase your products in the best light and maximize your chances of making sales. Even if most of your products are white, you can still photograph white products on white backgrounds – if companies like Apple do it to promote their products, you can be sure that it's quite effective.
Ensure Your Customers Are Happy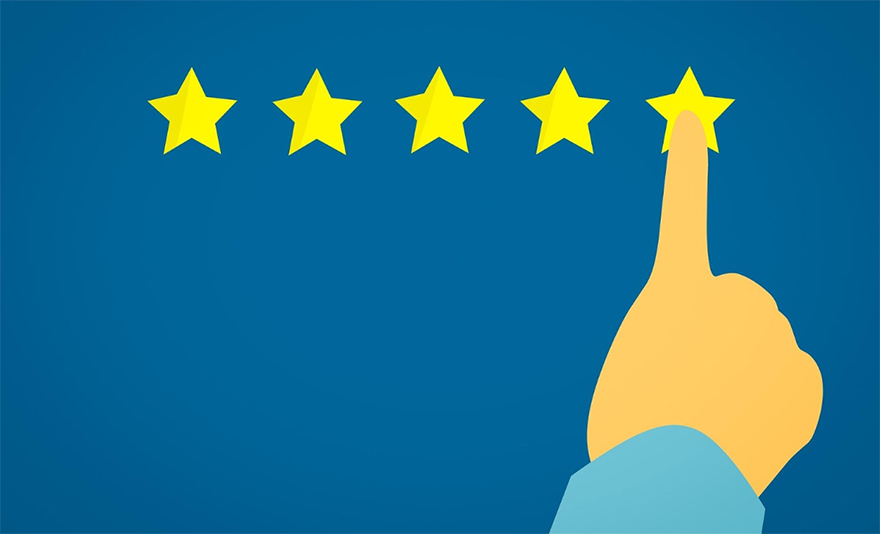 You can't expect to succeed as an e-commerce store owner if your customers aren't having positive experiences when shopping on your site. If the quality of your services or products is lacking, you can be sure that there will be plenty of better alternatives for them to choose from.
However, keeping your customers happy is becoming more challenging, as their expectations and online shopping habits are evolving rapidly over the past few years.
Today, the majority of all web traffic comes from mobile devices, so you need to take this into account and design a seamless and convenient shopping experience for your mobile visitors.
You might even want to consider developing a mobile app to provide more functionality to your mobile shoppers and make it easier to offer them special deals and a more personalized experience.
Another thing you should focus on is providing top-notch support wherever your target audience prefers. That means that you should not only have a contact form for voicing concerns or asking questions but also consider adding a support phone number and a chat system so that you can address issues faster.
Many companies are finding success with offering support through their social media platforms, but you should decide on the specific ways you want to communicate with your audience based on their preferences and habits.
No matter which platforms you end up choosing, the important thing is to be available and ready to help solve any issues promptly because poor support can be the ultimate factor in poor user experience and a low online rating, even if everything else was top notch.
One thing you should do to avoid a lot of the potential complaints is set up an effective e-commerce shipping fulfillment system that's able to ship out orders quickly and without mistakes.
If your customers get their orders quickly, that will solve a lot of the potential support queries before they can happen and that will help you establish a reputation as a reliable and efficient seller that can be trusted.
Use Multiple Marketing Approaches
When starting out, the biggest challenge is often getting those first few sales that get orders going and allow you to cover some of the initial expenses.
After all, if you can't start making sales for months, it will be tough to stay motivated and keep sinking money into an e-commerce store that doesn't bring any results.
That's why you can't wait around for your long-term marketing strategies such as SEO to start bringing results and instead need to be proactive in using other strategies to try and get your products in front of your target audience.
One of the strategies that can help you get sales as soon as day one is cold emailing.
While you may think that cold emailing is an outdated marketing approach that will only get your prospects annoyed, the truth is that it's making a strong comeback because companies in numerous industries are seeing excellent results.
There are now numerous courses and social media groups that focus on developing the most engaging and compelling cold emails with the help of some humor and a targeted message.
But how to get started with creating an effective cold emailing strategy for your e-commerce store?
Well, the good news is that you don't have to figure everything out on your own – there are plenty of cold email outreach templates that can provide you with a solid framework that you can customize and adapt to your needs and your audience.
By experimenting and tweaking based on the results that you get, you can start seeing consistent results with cold email marketing and use it as a pivotal strategy until your passive lead-gen methods become more effective.
Keeping your network secure is one of the most important things you can do to protect your data. Something as simple as changing the name of it can make a big difference, although there are countless other steps and considerations, some of which have been listed, that you should be mindful of.
The takeaway, at the end of the day, is that you also shouldn't neglect doing this, whether it's for business or personal reasons.