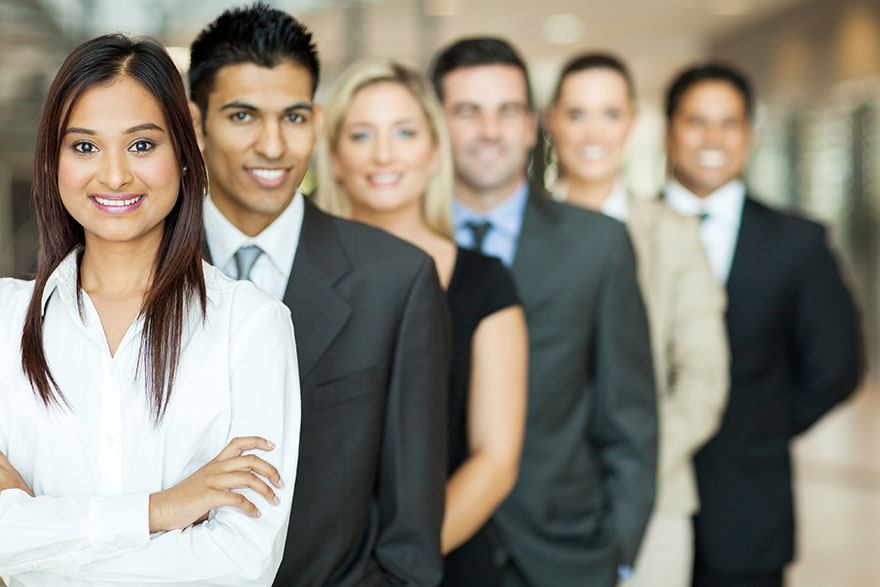 Growing a business online isn't something that's unheard of in 2019. People are taking advantage of how convenient and cost-effective it is to run businesses digitally. One type of business that can be run this way is a digital business. This could refer to anything from starting a digital marketing agency to launching an e-commerce business. Whatever it is that you decide to do, you're going to need a strong team to help you grow your company and execute your overall business objectives. Here are 6 professionals that you may want to hire if you're thinking of starting your own business.
Web Designer
One professional that every digital business is almost always going to need is a web designer or web developer. Seeing as they're going to need a functional website that represents their business, they'll need someone to put it together and help manage as well as update it. The exception to this rule is if they can do it themselves by registering a domain and choosing a ready-made Joomla template or something similar.
To become a web designer, you don't necessarily need a degree as it is a skill that you could self-teach. However, formal education could make you more employable as well as give you far more knowledge than you'd learn on your own.
Statistician
Another professional would likely be hired in a large-scale business that had tons of data to analyze is a statistician. What they do is analyze and make sense of data that is gathered, whether it be about current customers, prospective ones, or industry related. This type of professional would gather this data, make sense of it, and then offer solutions.
In order to become a statistician, you'll need a degree in mathematics or a related STEM subject. To advance your career, you could also consider doing a Masters in statistics online while working.
Social Media Manager
Aside from the mentioned, having skills when it comes to social media would also put one in a position to be hired in a digital business. This is for reasons such as helping to grow their online presence as well as their social media community. Find below a few skills you're going to need as a social media manager.
Copywriting: A lot of what you'll be doing on social media as a manager is coming up with content to share. A significant amount of this content, even if it's just a caption, will require you craft engaging and interesting copy. For this reason, you should have copywriting skills that drive both engagement and clicks.
Design: In addition to knowing how to compose some great copy, having design skills is also a must. Seeing as social media posts with images receive more engagement, designing and creating visual content is now becoming an essential skill.
Public Speaking: On most social media platforms, you can now find live videos and streaming which is captivating audiences everywhere. It's a chance to get up close and personal as well as see what the day in the life of your favorite brand or public figure is like. In light of this, you should know how to speak in public or in front of audiences in case you ever need to do one.
Community Engagement: One of the things a digital business will need is engagement on social platforms, so beyond just posting, you'll need to be able to show results in this department too. To boost engagement and shares, you'd need to do things like share videos and tag guest bloggers in your posts.
Digital Marketing Manager
To manage all digital affairs, a digital marketing manager would likely also be hired. You'd need to have knowledge of most of the jobs mentioned above and understand how to bring them all together to create magic online. In order to succeed as a digital marketing professional, you don't necessarily need a degree as it's something you can learn own. You should, however, be able to demonstrate your success in the digital marketing space and have enough experience under your belt.
SEO Specialist
One of the most vital positions a digital business can fill is that of an SEO manager or specialist. Without search engine optimization, it's difficult for any business to gain traction online. By hiring a specialist, however, they should find their presence online growing and more traffic being driven in their direction. On that note, below are some areas you would need to be conversant in as an SEO specialist that wants to make an impact.
Keyword Optimization: being able to research and choose keywords that will work best for the company you're working for is a must as an SEO specialist. This is one of the primary things that will ensure you're able to rank high in search engines, so learning how to do this well is essential.
Information Technology: Having a strong background in HTML as well as CSS and a number of programming languages would help you as an SEO professional too. You never know what operating systems or hardware platforms that you'll end up having to work with.
Content Generation: Knowing what content to post and why is important if you want to make an impact online. Get familiar with the types of content that work and also how to make it SEO friendly.
Copywriter
Although mentioned briefly, digital businesses often need a range of different copy, so they may need to hire a full-time copywriter as a result. This role would require that you have a way with words and know how to craft messages in a witty and clever way. In order to become a copywriter, focus on learning human psychology behind their purchasing decisions. In practical terms, this would mean understanding that to say as well as how best to arrange text, pictures, and buttons to increase sales.
As a copywriter, you can expect to put content on a range of different things whether it be social media posts, ads, press releases or even scripts. It is also a flexible role as you could decide to work on a freelance basis or be hired for a fulltime position instead if that's what you'd like. For the most part, there is room for growth and landing larger clients as you progress in your career.